Imagine waking up with a set of full, long dark lashes in the morning.  Eyelash extensions give your eyes the pop they need without a coat of mascara.  Eyelash extensions are semi-permanent lashes that are hand-glued on top of your natural lashes. They can look very natural or super-glam depending on the look that you are going for. We wanted to get a professional opinion on the ins and outs of eyelash extensions, so we turned to expert Brittni Alexandra, the owner of B.Beautiful studio in Toronto.
Why Eyelash Extensions May Not Be Right for You Right Now
Alexandra has actually turned people away for lash extensions. Some reasons are medical, for example, if the client has pink eye, their eye looks irritated or of they have eczema around the eye area. She also considers the condition of the client's lashes. If their eyelashes are weak and not healthy enough or their lashes are too short, eyelash extensions are not a good idea.
If the client has had eyelash extensions in the past, and the esthetician did not apply them correctly, they may cause your natural lashes to rip. At that point, the client needs at least a two-week break from getting new ones. Sometimes people naturally have very short lashes. You can get shorter extensions to provide more fullness, but when people want mega volume, and you have thin lashes, the extensions will just pull them out. In Alexandra's own words, "There are a million people out there that will do the extensions, even if the person isn't a good candidate. I'm just not that person."
Improve the Condition of Your Eyelashes
Make sure that you are cleansing your eyelashes. Extensions or no extensions, you need to clean your eye area and your lashes. Your lashes need makeup, debris, dead skin and bacteria removed – they all get caught in lash hair. If you don't keep the area clean, you are more susceptible to eye irritations. If the hair follicles get clogged, you will not have proper growth.  You can use lash shampoo and if you have lash extensions, make sure that it is oil free. You can also use a gentle eye-makeup remover that is alcohol-free.
If you are trying to grow your lashes, try a lash serum. Alexandra likes GrandeLASH Lash Enhancing Serum – one of her studio's best sellers. It is also safe to use while you have lash extensions. If you don't have long lashes and want fullers extensions, it's a really great product to use
The Process of Lash Extensions
Alexandra starts off with chatting with the client to learn what their expectations are and what they want the final result to look like. If they are on the same page, and the expectations are realistic, there is a consent form. She needs to know your medical history – if there is anything you are doing or taking that can conflict. She'll give her opinion on what she thinks will be flattering to their eyes and most times, they agree. If they are looking for a more specific look, as long as their lashes can take it, she'll go ahead with the service.
Most people want to look like a star and have full on glamourous lashes. According to Alexandra, "Usually clients want their look to be like Kim Kardashian – that is the number one photo that I get. What people don't realize is that she has a makeup artist sitting there. She has her lashes done every day. To go to sleep like that every day is not healthy nor is it attainable."
Alexandra will show photos for reference when it comes to shape and style. If people have had lash extensions before, they know the length they want in millimeters and they go from there. Sometimes, they don't want people to know that they have extensions or they want them to be really full and exaggerated. One more tip – when you go to the studio for your appointment, do not wear eye or face makeup. Cosmetics can affect how your lashes will turn out.
The Application Process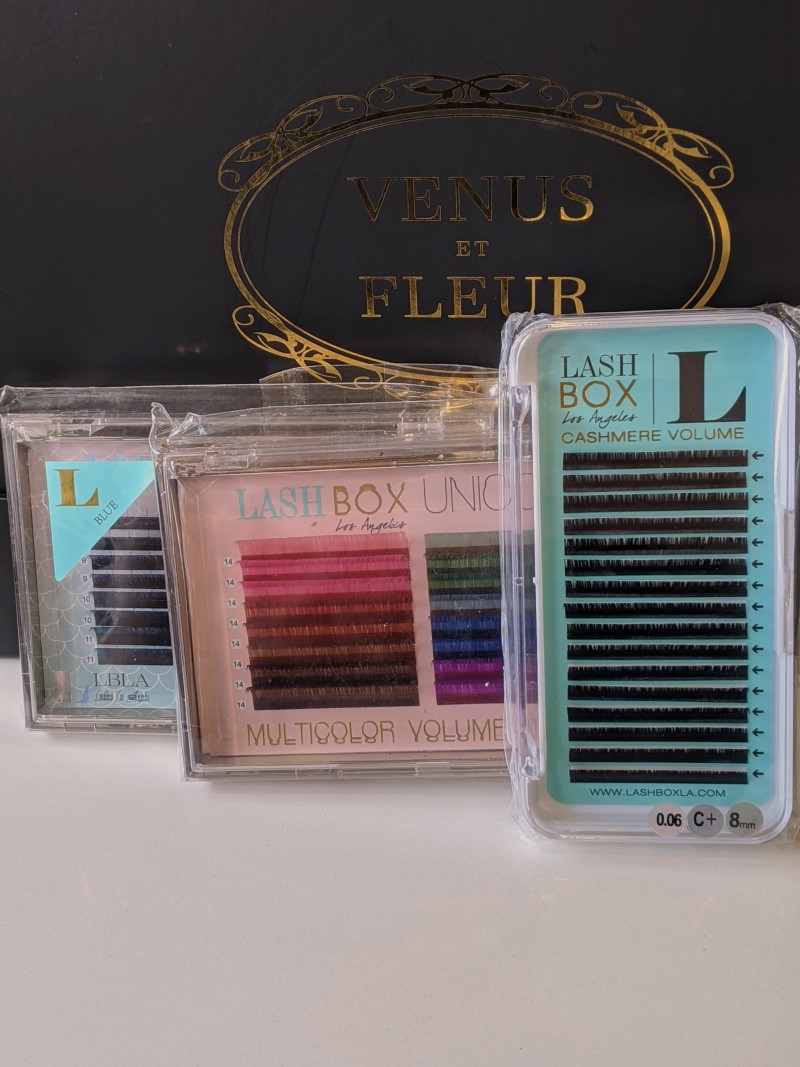 It takes anywhere from one-three hours depending on the style that you choose and how difficult your lashes are. If you have perfect, straight lashes, She can do them in approximately forty minutes. Most people don't have that lash type. Some are short, some are curly, some are longer so you have to watch each lash. You are literally separating them with tweezers, isolating each individual eyelash.
Walking us through the process, Alexandra explains, "I have isolation tweezers in one hand and tweezers to grab the lashes with in the other hand. You isolate the lash first so that you can only see one eyelash and then you either make a fan for volume extensions that are thin lashes all on one strip or classic lashes which are single eyelashes that are attached to one isolated lash."
How to Clean and Maintain Your Eyelash Extensions
You have to take care of your extensions by not touching them, playing with them or ripping them out. A lot of people like to play with them and see what they feel like and you end up crushing the glue and ripping out the lashes by accident. It happens a lot to people the first time they have extensions because they want to feel it.
The best thing that you can do is not to touch them for the first 24-48 hours. Don't get them wet and don't brush them. Lash shampoo is crucial. It is an oil-free product to clean the lashes. You can use it to remove eye makeup too. You have to stay away from oil-based products including makeup in the eye area.
Everyone's lash growing cycle including lash shedding is different. The extensions typically last anywhere from two-four weeks. You'll still have some, but you will want to fill in the lashes that have fallen out.  Eyelash extensions shouldn't damage your natural lashes if you maintain and properly care for them.
If you are more of an eyebrow wiz, read At Home Eyebrow Maintenance: Tips from an Expert