We are visiting Southern California's Temecula Valley for our latest Traveling Tastebuds stop. When people think of California wines, they often think of Napa or Sonoma Valleys. Temecula Valley has become a Wine Enthusiast Top 10 Wine Destination. It is also home to the Bel Vino Winery. Their restaurant's Executive Chef, Nathaniel Phillips, creates many delicious dishes and desserts, including the Panna Cotta With Port-Pomegranate Sauce that we are sharing with you.
"Many of our guests dine at the bistro as part of their wine-tasting experience at the vineyard," says Phillips. "This modern take on the classic dessert gives visitors an opportunity to experience Bel Vino Vintner's Select Prima Port, one of our most special wines, not only by the glass, but as a component of the dish."
And now, for the Panna Cotta With Port-Pomegranate Sauce recipe: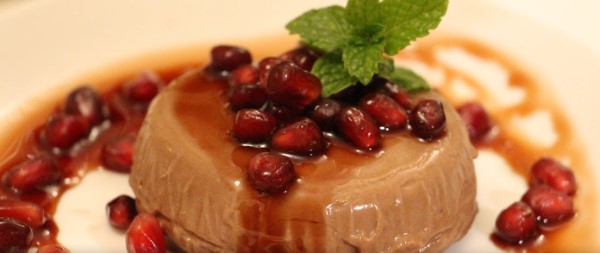 Ingredients:
Panna Cotta:
o 1 tablespoon gelatin
o 3 tablespoons milk
o 2 cups heavy cream
o 1/2 cup sugar
o 1/2 cup dark chocolate chips
o 1 tablespoon vanilla
o Pinch of salt
Port-Pomegranate Sauce:
o 1 cup of port, preferably Bel Vino Vintner's Select Prima Port
o 1/4 cup sugar
o 1/4 cup pomegranate seeds
Instructions:
1. To make panna cotta: In a bowl, add gelatin to milk; set aside and allow gelatin to begin to thicken milk. Meanwhile, in a medium saucepan, heat cream and sugar until simmering. Whisk in chocolate, vanilla, and salt. Add reserved gelatin-milk mixture and whisk to combine. Pour custard into six ramekins and transfer to refrigerator to set, about 4 hours.
2. To make port-pomegranate sauce: In a small pot over medium heat, simmer port and sugar until reduced by half. Remove sauce from heat and allow to cool; stir in pomegranate seeds.
3. To serve, use a knife to carefully unmold custards onto individual dessert plates, then pour port-pomegranate sauce on top. Serve immediately.