Canada has natural beauty that leaves many breathless. Around 90% of the country is uninhabited, meaning that there are plenty of untouched natural wonders to see for anyone that visits. It is a place where people can see the Northern Lights, marvel at dinosaur graveyards, traverse vast expanses of unblemished romantic wilderness, and more. Therefore, it should come as no surprise that Canada is a travelers' hot spot, hosting more than twenty-two million travellers per year, contributing an estimated $43.5 billion to the country's Gross Domestic Product annually.
Given that it boasts such high tourist numbers, Canada is not short on places where people can stay, with over four hundred and sixty thousand rooms spread out across eight thousand hotels, motels, and resorts. Naturally, resorts are venues that cater to every vacationer's wants and needs and are the premium option for those with deep pockets. We are taking a look at the top couple resorts below.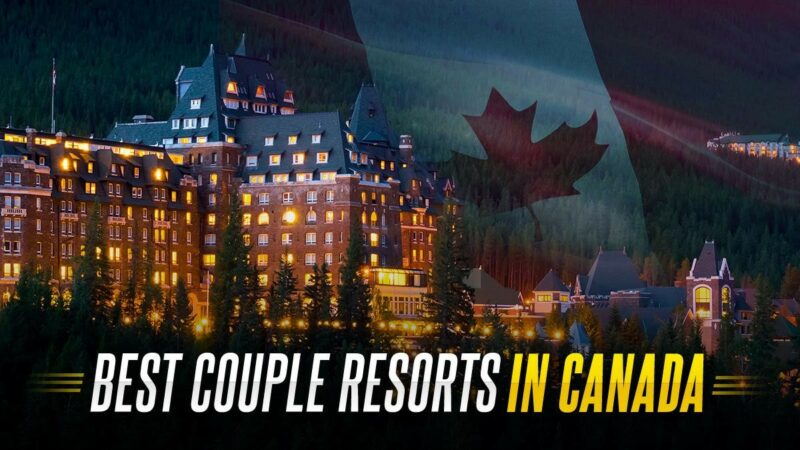 Four Seasons Resort and Residences Whistler
Located on 4591 Blackcomb Way, in Whistler, British Columbia, this resort represents an intimate retreat in the heart of one of North America's most beautiful ski destinations, on the hills of the Blackcomb and Whistler mountains. It is the perfect spot to relax while basking in the wonders of stunning snow-covered vistas. The Four Seasons Resort in Whistler takes great pride in its picturesque surroundings. It also offers first-rate services and upscale lodging. The Braidwood Tavern is an excellent place to rest and reconnect, enjoying playful cocktails and local craft beers, while the SIDECUT is a beloved on-site eatery that serves up hand-cut steaks and fresh seafood. There is Ski Concierge service at this Four Seasons, and the guest rooms feature sophisticated wooden interiors with gas fireplaces. It is a place to reconnect and a great couple resort.
Fallsview Casino Resort
There cannot be a rundown of places to stay in Canada without mentioning at least one in Niagara Falls, likely the most famous set of waterfalls on the planet. The Fallsview Casino Resort, overlooking Horseshoe Falls, is a vital part of the city's skyline and likely Canada's most renowned gaming establishment. Fallsview is the ideal destination for anyone looking to test their blackjack strategy tricks. Aside from casino gambling, this resort also offers eighteen restaurants, a nightclub, a thirty-store shopping center, a five thousand-seat entertainment venue, a fifteen hundred square feet health and fitness area, and a concert showroom. It is a robust complex with a little bit of something for everyone.
Fairmont Banff Springs
Found in Banff, at 405 Spray Avenue, inside the Banff National Park, a UNESCO World Heritage site, the Fairmont Banff Springs is a year-round luxury mountain resort that provides unparalleled skiing fun in winter and premium golf action in the summer. There are twelve acclaimed restaurants, a forty thousand square foot award-winning spa, and too many resort activities to count. Guests can ice skate in spring and winter and enjoy biking, hiking, and paddling in fall and summer at Fairmont Banff Springs. The Bowl Valley is an entertainment-based section of this resort castle and offers bingo and bocce. Of course, it also features Canadian five-pin bowling. There is a fully-licensed bar next to the lanes here, and it is popular, so we advise pre-booking before you visit.
Fairmont Chateau Lake Louise
Lake Louise is a glacial lake in Banff National Park, around five kilometers west of Hamlet and Highway 1. The road distance between it and Banff Springs is sixty-two kilometers. So, even though they are in the same national park, they are not too close together. Staying at one does not automatically mean that the other resort is not worth dropping by for a holiday. On the contrary, the Chateau on Lake Louise supplies jaw-dropping views of the neighboring emerald lake. In winter, taking a sleigh ride here is a super popular activity, while in summer, many prefer to go whitewater rafting or horseback riding at this resort. The Walliser Stube is a dining establishment at the Chateau that feels much like an upscale pub nestled in the Alps, and perfect for couples.
Brentwood Bay Resort & Spa
Situated around twenty kilometers from downtown Victoria, the Brentwood Bay Resort usually receives a lot of praise for its ornately decorated lodgings and serene atmosphere. Its address is 849 Verdier Avenue, and is known for its hospitality. The property has a marina, a spa with an outdoor pool, shops, a premium pub, and the Arbutus Room, a restaurant with live music that serves dishes with local ingredients. It is the ideal couple resort.
For more gambling news and reviews, visit OUSC.