Most of us want our skin to look and feel it's best, so we have a daily skincare routine that we follow. Collagen has been added to skincare for decades but more recently, supplemental collagen is becoming more and more popular. We are now understanding more of the science behind what collagen can do for our skin and if it's the fountain of youth that we are looking for. To find out more, we spoke with Dr. Renée Beach, M.D., Dermatologist, founder of DermAtelier on Avenue in Toronto and Adjunct Assistant Clinical Professor, Faculty of Medicine, University of Toronto. We did some sleuthing of our own to tell you what you need to know about supplemental collagen.
What is collagen?*
Collagen refers to a family of proteins (amino acids) that are the primary structural component of connective tissues, such as skin and cartilage, according to Yale University.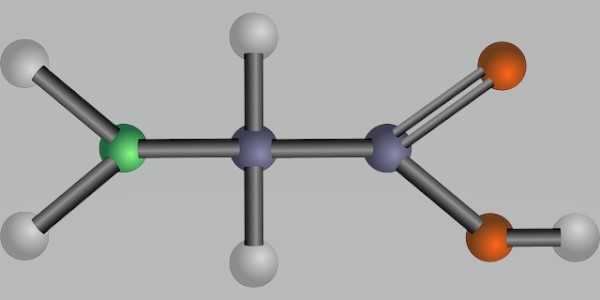 It makes up about a third of all the protein in the human body, more than any other type of protein in the body by mass. There are 16 different types of collagen. About 90% of the collagen in the body is type 1, and is found in the skin, tendons, internal organs and organic parts of bone, according to Healthline. It's really the glue that holds your body together.
Why do we need to take a supplement?
We typically derive most of our collagen from natural sources, like the food that we eat. Foods such as chicken, fish, shell fish, beef, bone broth, eggs, citrus fruit, berries, garlic and dark leafy greens are all boosters. A varied diet that includes foods rich in Vitamin C, proline (an amino acid), glycine (the simplest naturally occurring amino acid) and copper are essential.
As you age, your body naturally produces less collagen. Factors like exposure to the sun and smoking also deplete your body of collagen.
What are the benefits of a supplement?
In an eight week study of women from 35-55 years of age, the researchers looked at skin elasticity, and it actually increased for the control groups taking collagen (especially for the group taking the 5g dose). Interestingly, the results lasted for four weeks after the control group stopped taking their last dose. It may also help decrease skin roughness and increases skin hydration and density.
Do you need to commit to taking a collagen supplement for life?
According to Dr. Beach, "It depends on a few things. If you go by the study data, there was a continuation of results when they checked at 4 weeks. But, like most things whether it is a psoriasis medication or injectables, they need to be used on an ongoing basis. I tell people all of the time that it's like your toothbrush. You don't stop using it because you have had your teeth cleaned. It has to be used on a continual basis. If you are speaking about collagen supplementation, you should continue to take it unless there are not reasons for one not to. For example, we don't know if people who are pregnant or breastfeeding can take it. Some supplements may have other ingredients in them that are not supposed to be taken in certain doses long term."
Additionally, just as we strive to understand the long-term effects and best practices for treatments like collagen supplementation, the same goes for other aesthetic procedures. For instance, many patients often wonder about the process behind tattoo removal. If you're curious about the science and technology behind it, understanding how tattoo removal works can shed light on the intricacies of the procedure. Similar to maintaining skin health through continuous care, tattoo removal often requires multiple sessions and a dedicated aftercare routine to achieve optimal results.
What if I am a vegan or vegetarian?
Some supplements are bovine (beef) based and some contain fish. If you are vegan, you are looking at options that may come in pill or powder form. The powder form is more likely – you have to think about how a pill is encapsulated and that is where you will find animal by-products like gelatin. Dr. Beach couldn't quote the efficacy in terms of absorption and side effects for these collagen sources, but felt it was important that these sources are available.
Can you use a cream instead of a pill?
According to Dr. Beach, "That's the whole debate. The debate is how much of the molecule can actually get absorbed through the skin. The answer is not a lot, but we can provide nutrients and vitamins that support collagen growth. Putting collagen in our skin through creams means that it isn't getting to where it needs to be which is the dermis."
She further stated: "The purpose of these bio-active specific peptides found in supplements are able to absorb into the small intestine and transfer their way into the vasculature (the blood vessels or arrangement of blood vessels in an organ or part of the body) that then feeds from the bottom up. From a biologic and physiologic standpoint, it makes sense to go the supplemental route. I think the question has always been does it get to where it needs to go and are there any draw backs and safety concerns. More recently, specifically, the last three years, it's gotten to where it needs to go based on the research and peer review and there haven't been issues with regards to intolerance or side effects."
Where can I find collagen supplements?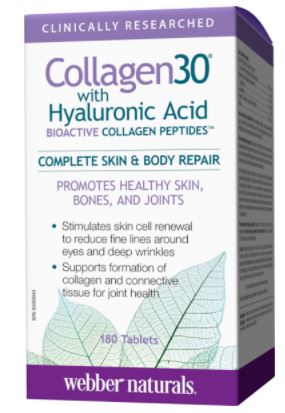 Webber Naturals has a complete collagen supplements such as Collagen 30 with Hyaluronic Acid for complete skin and body care. Webber is a Canadian owned and operated company that is vigilant about testing and meeting Health Canada requirements and using naturally sourced, non-GMO ingredients. The supplements do not contain artificial colours flavours or preservatives. You can find them in pharmacies, drug stores and grocery stores across Canada
If you are a vegetarian or vegan, you can find plant based options on Amazon.ca and health food stores across Canada.
Consult with your family doctor, dermatologist or your pharmacist to determine if taking a collagen supplement is right for you.
*Source – Live Science, What is collagen? By Rachel Ross, January 23, 2020