Vitamin C (also known as ascorbic acid) has been a popular additive to skin care products for years. Over time, as more studies have been conducted, Vitamin C serums have become a more popular way to dispense the ingredient. Vitamin C is said to brighten skin, provide a more even complexion and even help with wrinkles. The truth is, the appearance of your skin depends on a number of different factors ranging from heredity, to lifestyle (tanning and smoking are aging – we all know that) and diet. Using good skin care products with quality ingredients can help improve the appearance of your skin, but everybody's skin is different and what works for your best friend may not work for you.
Why Use a Vitamin C Serum?
We all have Vitamin C in our skin, but as we age, the levels in your skin reduce. The goal of serums is to supplement the ascorbic acid present in our skin. Applying it topically, through a serum, is the best way to deliver the ingredient. It neutralizes free radicals that damage the collagen in your skin. Free radicals include the sun, environmental factors like pollution and even stress. A serum may help increase the collagen production in your skin improving the appearance and texture. Vitamin C serums may even protect against sun damage but that doesn't mean that you can go without a sunscreen.
What You Need to Look for in a Serum
When you are looking for a serum, the most potent ingredient is something called L Ascorbic Acid. The challenge with L Ascorbic Acid is that it has a very short shelf life. This means it may oxidize and the active ingredients will no longer work. Pay attention to the expiry date of the product once it's opened. If it says 6 months, it truly will only last for 6 months. Your other option is to buy a serum with esters of Vitamin C which means that the active ingredient is bound with ethyls to make it shelf stable.
If you are buying a Vitamin C serum, opt for one that comes in a dark or opaque container to keep the light out. Look for products that come with an airless pump to keep the air out. Both light an air can cause the serum to oxidize and lose its effectiveness. Finally, having a helper antioxidant like Vitamin E or Ferulic Acid is important. Vitamin E helps to increase the stability of the serum and protect the skin. Ferulic Acid, found in food like bran, oats and rice, is supposed to assist with stability and increase its ability to minimize sun damage.
Patch Test
Whenever you try any new skin care product, it is important to patch test it before using it on your face. Some people experience redness, dryness and itching from Vitamin C. If you know that you have sensitive skin, look for products that have a lower level of the ingredient and build up your tolerance. You can also apply it once a day versus twice a day.
When to Use It
The best place to start is by reading the instructions on the bottle. Some serums are meant to be used twice a day, some are meant to be used only once. Put a serum on after cleansing and toning, but before you moisturize for maximum benefit. Let it completely soak into your skin before layering other products on top. A good rule of thumb is to wait about five minutes.
The Products
Four different serums were tested, each over a four month period or as long it took to use up the product. They all worked well, but they all had different benefits. The main thing that I noticed was that they helped with skin texture and clarity. I did not notice any improvement on dark spots, although you may. I would recommend each one for different reasons. Remember, you have to use serums consistently, over time to see results. You will not see any changes in the first week. All products came in an opaque container and all had a pump and are cruelty-free.
Drunk Elephant C-Firma Day Serum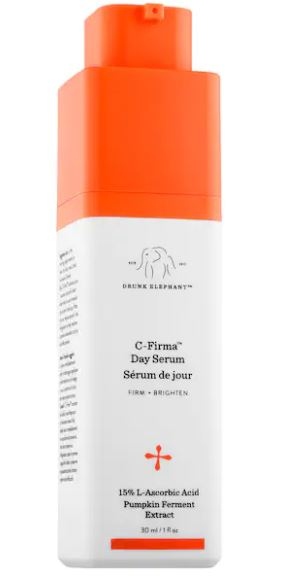 This serum is one that is considered the gold standard by many. The C-Firma Day Serum contains 15% L-ascorbic acid with Vitamin E and Ferulic Acid. It is a really good serum with clean ingredients. This product only has a 6 month shelf-life (upon opening) and you will notice some oxidization after that. It made a difference in the texture and brightness of my skin.
Insensya Illuminate Serum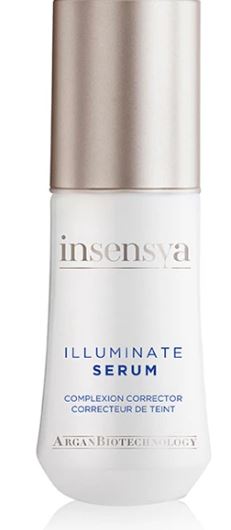 Insensya is developed and manufactured in Canada. The shelf-life of the product is 12 months. It also contains Vitamin E which is important. Unlike the other serums, this was more hydrating and had a milky appearance. This may be due to the Algae and Argan Cell Biotechnology. If you have dry, sensitive skin, this is a good place to start. It also seemed to improve moisture in my skin. This is gentle enough to use morning and night. It is also a vegan product.
MONAT C. Radiance Illuminating Serum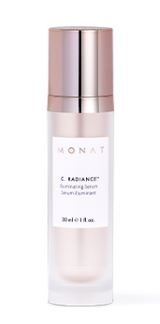 MONAT's serum is infused with 15% vitamin C from MONAT's Kakadu Plum Complex and includes Ferulic Acid. This vegan serum is also clean and is gluten-free. The biggest change I noticed with this product was that my skin felt really smooth – so much so, that I didn't need to use a makeup primer. It really brightened my complexion too.
OLEHENRIKSON Banana Bright Vitamin C Serum
OLEHENRIKSON's serum contained 15% Vitamin C with Vitamin E to help stabilize the formula. In addition, it contained 5% PHAs (Polyhydroxy Acids) which are chemical exfoliators. It is important to always use a sunscreen, but particularly with chemical exfoliators. This did a nice job of smoothing the skin. It also helped with brightness.
Vivier GrenzCine Face

Vivier GrenzCine Face contains ingredients like their proprietary Polyamine-DAB, Vitamin C and Activ8 Complex so it isn't strictly a Vitamin C serum. It is supposed to help thicken your skin to reduce the appearance of fine lines and wrinkles. Vivier, a Canadian company, has professional grade skincare products meaning that you won't find them at a drugstore.
I decided to use the entire bottle of GrenzCine Face to really see if there were results, especially with the hefty price tag, and the verdict is that is does work. You won't get dramatic results and it's not going to happen overnight, but if you use the product as directed, over time, you will notice a difference in your skin.
Updated: November 12, 2022