Don't wait until the new year to start eating healthier meals. Salmon is a delicious way to eat healthier and not give up flavour. It is a particularly healthy dish. Salmon is rich in omega-3 fatty acids, high in B vitamins and is a great source of protein. It is a versatile fish and pairs well with almost any kind of flavour from salty to sweet to sour (think citrus).
It also pairs well with the secret ingredient in this dish –  Puro Pura's Extra Virgin Passion Fruit Oil. It's bold flavour pairs especially well with fish and seafood including salmon. It is also the first-ever unrefined cold-pressed cooking oil made from passion fruit. All Puro Pura products are made 100% from pure, raw ingredients, left untouched in their natural state and without the use of harmful chemicals, wastewater, animal byproducts, and GMOs.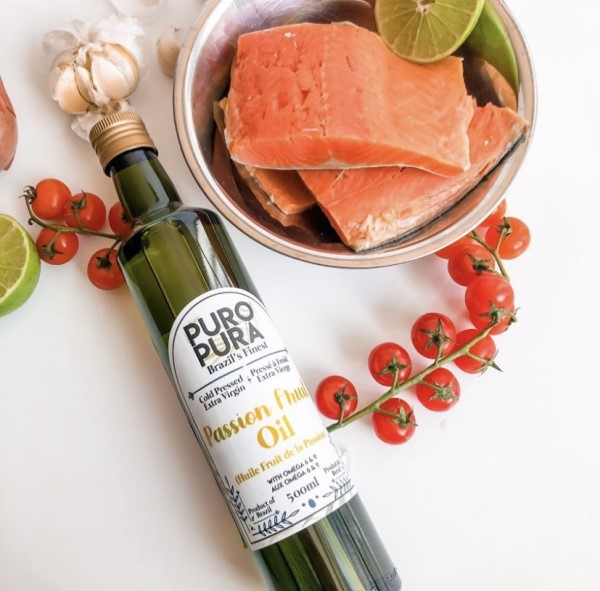 And now for the recipe: 
Ingredients
2 Salmon Fillets
2 limes
2 garlic cloves
Puro Pura passion fruit oil
Fresh Thyme
2 shallots
Cayenne pepper
Himalayan pink salt
Black pepper
Instructions
In a bowl, combine freshly squeezed lime juice, minced garlic cloves, thyme, thinly sliced shallots, cayenne pepper, Himalayan pink salt, and black pepper. Place both fillets into marinade, and place it in the fridge for approx. 1 hour.
Preheat the oven to 350F degrees.
In a pan, add enough Puro Pura passion fruit oil to very thinly cover the bottom.
Place on low-medium heat and wait for oil to get hot.
Once oil is up to temperature, place in salmon fillet and sear for 1-2 minutes on each side.
Take fillets out of the pan and place on a baking sheet. Put in the oven for 8-10 minutes or until fully cooked.
In partnership with: