We are all washing our hands now more than ever before.  It's essential to wash your hands frequently as part of day to day hygiene.  Proper hand-washing is also an essential part of reducing the spread of COVID-19.  Many people have been suffering from dry, itchy hands due to the increase in hand washing.  If you are looking for a hand cream to soothe your dry, hardworking hands, we have a list of our favourites for you.
Herbalind Hand Cream – Best Overall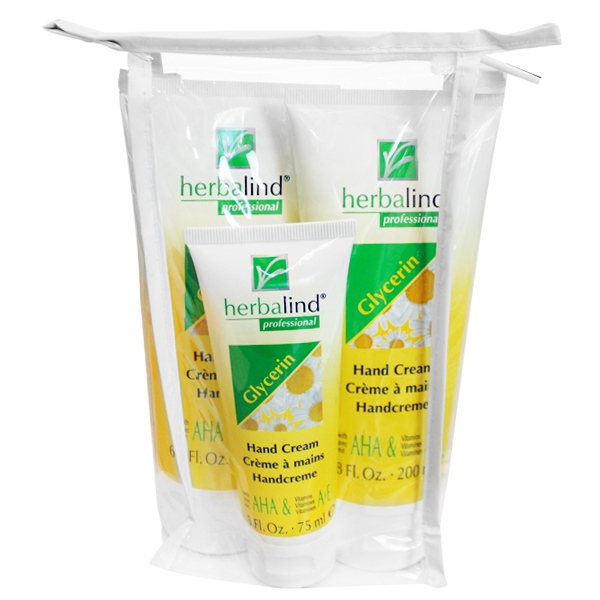 This is a standout for dry hands!  Herbalind contains a blend of natural ingredients, glycerin, Vitamins A & E, and Alpha Hydroxy Acids (AHAs), all of which help provide moisture to your dry skin.  The AHAs provide cell turnover for younger-looking hands.  It spreads easily and absorbs quickly and doesn't leave your skin feeling greasy or sticky.  The product comes in two different sizes, a 75ml size that is perfect for your purse and a 200ml size to leave near the sink.  Herbalind has a light, pleasant smell and there is also an unscented version if you are sensitive to fragrance. It leaves your hands feeling smooth and even helps with dry cuticles.
Good to Know: Herbalind contains AHAs which increase sun sensitivity.  Make sure that you always wear sunscreen with an SPF 30 on your hands if you are going to be outside.  Herbalind can also be a challenging product to find.  Your best bet is online or at a beauty salon or beauty supply store.
Herbalind Hand Cream 200ml $12.00 at Nail Depot (prices may vary)
Scentuals Scentfree Hand Repair Cream – Best for Sensitive Skin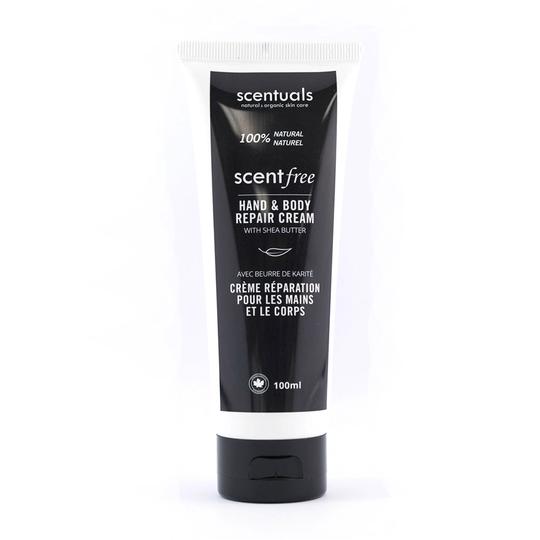 Scentuals is made in Canada and contains natural and organic ingredients including shea butter, cocoa butter and organic aloe.  It left our hands feeling soft and smooth.  The product is also vegan, ethically sourced and cruelty-free. It was a really pleasant surprise and is recommended for people with sensitive skin, eczema or psoriasis.  This product was developed in collaboration with the Canadian Cancer Society.  3% of each sale goes directly to the fight against cancer.
Good to Know: This did have a slight scent.  It is definitely free of perfumes or essentials oils.  The smell isn't strong or overpowering in any way, but just something to keep in mind.
Scentuals Scentfree Hand Repair Cream 100ml $11.50 at scentuals.com
Eucerin Complete Hand Cream – Best at the Drug Store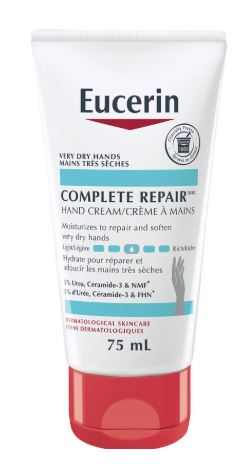 This is a great pick for dry skin.  It contains Ceramide-3 to lock in moisture. Urea, which is found in this hand cream,  is a humectant, and can absorb moisture from the environment and draw it to the skin.  It softens and smooths your hands.  Eucerin Complete Hand Cream is also fragrance free.  All Eucerin lotions are rich, so even if you have one of their regular lotions at home, it will work well for around the house.
Good to Know: The product can feel tacky when you first put it on and it takes a little while to completely absorb.
Eucerin Complete Repair Hand Cream 75ml: $10.49 at Shoppers Drug Mart
Neutrogena NORWEGIAN FORMULA Hand Cream – Best Basic Hand Cream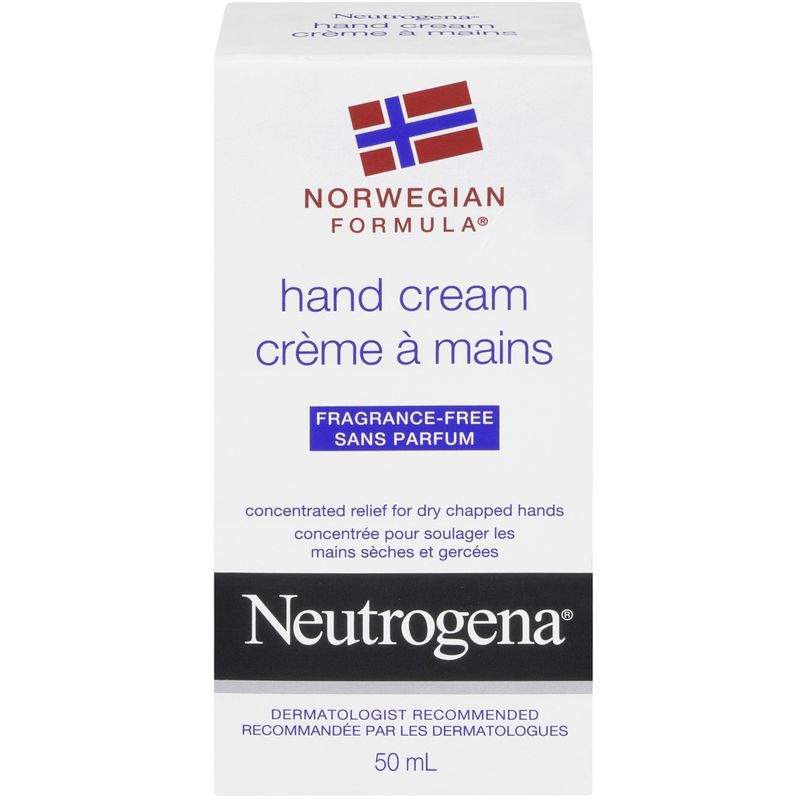 Neutrogena is a really good, basic cream.  Glycerin is the main ingredient and this will make your hands feel less chapped.  This is an inexpensive option that will really moisturize. It is especially good in cold weather.
Good to Know: Neutrogena even says a little of this goes a long way.  It does not absorb quickly, so use sparingly.
Neutrogena NORWEGIAN FORMULA Hand Cream 50ml: $7.99 at Shoppers Drug Mart