Flowers are the simplest way to show you care on the recipient's special day. Of course, every flower has its beauty and significance, but choosing something they will genuinely appreciate is important.
Finding the right birthday flowers can be daunting, with many options available, but you don't have to feel overwhelmed. With some research and knowledge of what different types of flowers mean, picking out something for your friend or loved one will become much easier!
In this article, we'll discuss seven different flower types best for birthdays and explain why each is well suited for the occasion.
Why Flowers for a Birthday?
Birthdays are a time to celebrate life and the special people in it. Flowers can be one of the most meaningful gifts for someone on their birthday. They not only show your love and appreciation, but they also add beauty and joy to the special day.
Flowers can express various sentiments, from "Happy Birthday" to "I Love You." Each type of flower has its symbolic meaning, and choosing the right flower can convey your message perfectly.
We hope you find the perfect type of flower in our list below, which symbolizes your thoughts and feelings about someone on their birthday, and if they don't know the meaning, now you can let them know too.
Best Types of Flowers for Birthdays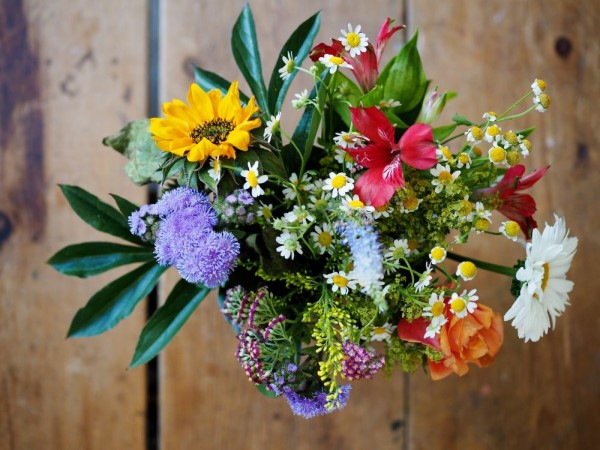 You can choose fresh flowers or dry floral bouquets; both are great options for people to appreciate!
Daisy
The daisy is a beautiful and cheerful flower that symbolizes innocence, purity, and hope. Its scientific name, Bellis perennis, means "everlasting beauty." The daisy has many colours, including pink, red, white, yellow and orange. The classic white daisy with its yellow center is the most popular variety.
The daisy is the perfect flower to give on a birthday because of its association with innocence, purity, and hope. In addition, the daisy's bright colours will surely bring a smile to the recipient's face and make them feel special.
Rose
The rose symbolizes beauty and love, making it the perfect flower to give for any special occasion. The rose has been a symbol of love and passion since ancient times and is iconic for special occasions like birthdays.
The rose has long been associated with Aphrodite, the Greek goddess of love and beauty, so the meaning of roses often includes romance and passion. Giving someone a rose on their birthday will show them how much you care and make them feel loved.
Carnation
Due to its meaning and symbolism, the carnation flower is a popular choice for birthdays and other special occasions. This flower has been used for centuries in different cultures to express love, admiration, and loyalty. Its name comes from the Latin carnis, meaning "flesh" or "heart," reflecting its traditional association with strong emotions.
Carnations come in various colours, including pink, red, yellow, and white. Each colour has its special meaning and symbolism associated with it. For example, pink carnations are a symbol of admiration and gratitude, while red carnations signify passionate love. White carnations represent pure love and innocence, making them perfect for someone's birthday.
Sunflower
The sunflower is a symbol of adoration and loyalty. Its sunny yellow hue and tall, sturdy stems make it ideal for expressing admiration and appreciation. In addition, the sunflower's large blooms bring joy to the recipient, making it a popular flower for birthdays.
Sunflowers are associated with the sun, so they have bright petals and long stems. This makes them a perfect symbol of optimism and positivity. A sunflower on someone's birthday will surely bring a smile to their face and remind them of the sunny days ahead!
Tulip
The tulip is a popular flower that has long been associated with love, passion and romance. It is also a symbol of rebirth and new beginnings, which makes it an ideal choice for celebrating someone's birthday. The beautiful tulip comes in many colours, shapes, and sizes, making it easy to find the perfect one for any occasion.
Tulips represent perfect love, so giving someone a bouquet of tulips on their birthday will surely make them feel special. In addition, the bright colours of the tulip are sure to brighten up any room and show the recipient just how much you care.
Chrysanthemum
The chrysanthemum flower is a symbol of joy, happiness, and optimism. In addition, it is believed to bring good luck, long life, and fidelity. In some cultures, the chrysanthemum symbolizes joy and celebration, making it an ideal flower to give someone on their birthday.
The chrysanthemum is also associated with the sun due to its bright yellow colour, which makes it a perfect way to show someone how much you care. In addition, the chrysanthemum will surely bring a smile to the recipient's face and make them feel loved.
Orchid
The orchid flower is a beautiful and unique flower that can bring a special touch to any celebration, especially a birthday. Orchids are known for their graceful beauty and delicate petals, making them an ideal gift for someone special. They are also symbolic of love, beauty, strength, and luxury, making them the perfect choice to honour someone's special day.
Orchids come in various colours and sizes, so you can find the perfect one to express your feelings. They are also very long-lasting, making them an ideal choice for a birthday gift. Giving someone an orchid on their birthday will show them how much they mean to you and make them feel exceptional.
What Flowers Will You Give as the Birthday Gift?
When giving birthday gifts, flowers can be a great choice. Not only are they beautiful, but they also represent love and appreciation. Depending on the occasion, choose a specific type of flower that will bring extra meaning to your gift.
Whatever you choose will surely brighten the day for your best friend, family member or special someone on their birthday!