October is Breast Cancer Awareness Month and we are bringing you the stories that touched us.  The treatment and side effects for breast cancer can be difficult for even the strongest of us.  In addition to fatigue, nausea and other sometimes debilitating side effects, patients may also lose their hair.  Their skin tone and texture may change as they battle the skin irritation and sensitivity that chemotherapy causes.  The hallmarks of treatment may bruise a woman's self-esteem and confidence when she is already fighting a difficult battle.
Look Good Feel Better is an organization whose mission it is to help women facing any type of cancer, feel more like themselves again.  The two-hour complimentary workshops provide tools and techniques dealing with skin care, loss of brows and lashes and make-up hygiene. It provides women with cancer a place where they can take some time for themselves and connect with other women facing similar challenges.
Over 10,000 Canadian women a year are helped through a Look Good Feel better workshop.  Some  93.5% of women felt very or somewhat confident after attending the program compared to 52.4% prior to.  We recently had the chance to speak with a volunteer from Look Good Feel Better – team leader Madeline Della Mora.  Not only is Madeline a dedicated volunteer, but she is also a beauty, fashion and lifestyle blogger in her "spare" time.  She grew to appreciate makeup as a performing ballerina in her youth.  Her interest in makeup and skin care and science behind them inspired her to start her blog and YouTube channel. Madeline discussed about why she volunteers and gave us her tips for women who are dealing with the hair and skin issues that cancer treatment may cause.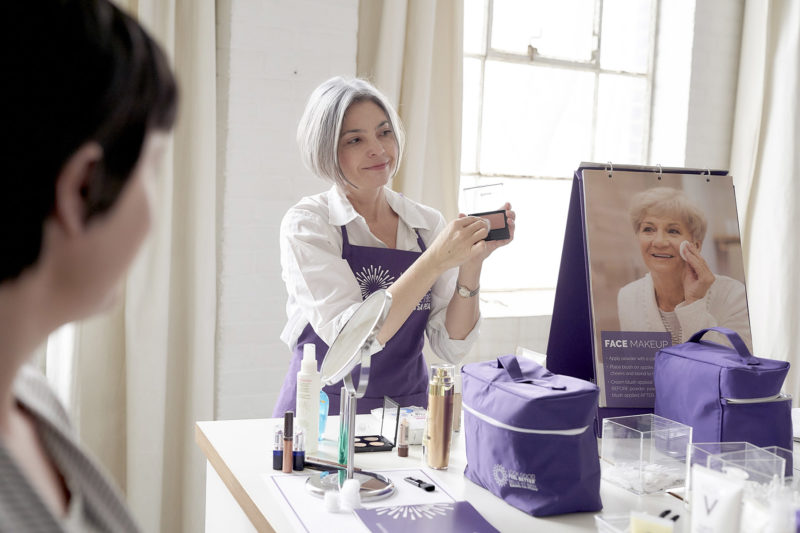 How did you get involved with Look Good Feel Better?
My sister encouraged me to sign up as a cosmetic advisor.  She works in health care at Cancer Care Ontario and she was alerted through the organization and knew that this was something that I would be interested in.  I was aware of the organization before through ads that I saw in magazines and at Shoppers Drug Mart.  Between my blog and the freelance makeup that I do on the side, this was a perfect fit.  I applied and got in right away.
What does a team leader at Look Good Feel Better do?
As a team leader, you guide the two hour workshop.  All of the volunteers will perform makeup steps with the participants, but the team leader will select one person as a model and do half of their face.  The model will then do the other half.  This shows the group the signature steps to help them follow along.  We have a great mix of volunteers from fashion backgrounds to people, like me, who have self-taught beauty backgrounds.  I've read about 200 beauty books!
We are now working on getting more participant involvement in the workshops.  Some of the feedback that we get is that although they love the workshop, they also love connecting with other women.  We are leading their workshop – this is their time to shine and be inspired by each other.  There are women of all ages and backgrounds  attending and we work to be as inclusive as possible.
We try, as best as possible to identify with the women as they are going through their cancer journey.   The thing is, that they are not alone.  That's why we bring together so many women in the workshops.  We are there, we are listening, we are an ear and so is everyone else who is attending.  Everyone in the room is always touched by the stories.  At the end, they are exchanging numbers, taking home an awesome kit of products that makes them excited again.  Most importantly, we want to continue to help the participants community build and leave with a smile.
Often the treatments for breast cancer and other types of cancer can change your skin.  What changes to your skin care regimen do you recommend for someone undergoing treatment?
Although we are cosmetic advisors and know a lot about products, one thing that we start off saying is we are not doctors at Look Good Feel Better.  Each individual is going to have a unique experience with their treatment.  We like to ask participants what they are experiencing and what they would like to focus on at the beginning of the workshop.  For example, a lot of participants going through radiation cannot put products on their dry, irritated, sensitive skin.  Although we do provide many fragrance free options, we always remind participants to check with their doctor if they are experiencing any type of hyper-sensitivity.
For general dryness, especially on the hands and around the nails, we recommend washing your skin with very gentle cleansers.  Great skin care starts at cleansing.  We are out in the elements all day and can slap on as many hydrating moisturizers as we want, but if we are not cleansing properly, everything that you put on top is just going to go to waste.  We recommend and provide a cream, non-foaming cleanser that is non-stripping and non-drying.  We also suggest using tepid water versus hot or cold.  Don't forget to cleanse and moisturize your scalp if you are in the process of or have lost your hair.
What tips do you give women on how to change their makeup routine to deal with the loss of skin vibrancy and their eyebrows and lashes that treatment may cause?
We have started re-working our workshops focusing more on the basics. Whenever we are sick, whether it's with cancer or any other type of illness, you notice it in your skin tone.  Once our participants have cleansed their skin and moisturized, I encourage them to try a high coverage concealer only where they need it.  We like concealers that stay dewy and vibrant on the skin.  You don't need a mask of foundation.  A pop of coral/peach blush is always a great choice.  A nice, natural lip is next.  We have been using eyeliner more than mascara.  Mascara can be messy, especially if your eyes are sensitive or your lashes are falling out.  Our signature step is the eyebrow, although it can be challenging.  We provide a great guide for our participants on how draw them on.
As leaders, we are really focusing on cosmetic hygiene right off the bat.  Your immune system is compromised because of the drugs that you are taking when you are undergoing treatments.  This includes when to throw out products like mascara and how to buy them.   It is also important to apply products with disposable applicators.  We want to help eliminate issues that may occur from using old expired products or harsh skincare.
What changes do you see in participants when they walk out of a workshop?
Usually people are a little timid even though we say it's the only appointment you will have at the hospital where you won't be poked and prodded.   We welcome the participants with big smiles and welcoming arms.  It's exciting for them to see all of the great cosmetics and skincare that they get to take home with them.  When their partners and family see how great they look either during or after the workshop, it lifts their mood.
When a woman loses her hair, it's can be so difficult.  What tips for finding a wig would you give to a woman who may need help?
It is normal to feel very attached to your hair.  It is good to normalize those feelings of grief when you lose your hair.   One of the things that we have been providing our workshop participants with is a soft cap.  We also recommend clipping your hair down to half or ¾ of an inch long at a salon.  Never shave your head with a blade or razor.  It can cause cuts and invite infection and ingrown hairs.  If your hair is falling out, we suggest wearing a soft cotton cap at bedtime.  The first step of taking your hair off can be quite traumatic, but some women embrace it.  We say be bald, be beautiful, be you.
Book an appointment at a wig salon – many do not do walk-ins.  We suggest taking a lock of your hair or a photo of it before it completely falls out and bring that to your appointment. Some women who work at the wig boutiques are former hair dressers and stylists.   They can fit you with the most incredible wigs.  Synthetic wigs are recommended more often than natural hair.  The price is more affordable and natural wigs are harder to take care of.  They need to be washed and styled like you would regular hair.  You still need to wash synthetic wigs, but they keep their shape.
Modern synthetic wigs are now more breathable and are less sensitive to heat.  Longer haired wigs don't last as long.  They can get tattered at the ends if you are wearing hats and hoods and jackets in the winter.  You can braid or make a pony tail with longer wigs to protect them.  You should get your wig professionally fitted and trimmed so that it sits on your head properly.
There are also face framers that you can make with your own hair.  You can bring your hair to a wig shop and they can create a hair band that you put a hat or cap on top of.  It won't be a full wig, but you can have bangs and ends and put a hat on top.
Is there a particular story that deeply touched you?
With our teen workshops especially, emotions are so high, particularly with the parents that come with their daughter.  We have had a lot of older teens in our workshops.  There was a girl at one that had no hair and she just looked fantastic.  She had a great sense of fashion.  She just instilled the most incredible sense of calm for the parents who was sitting across the table.  Their daughter was clearly at the beginning stages of treatment.  They were still in shock that this was happening and very scared for their daughter.  The fact that this young woman was so confident  with no hair signaled to the other participant's Mom that this was OK, that her daughter would be fine without hair and that it would grow back.