We couldn't cover Breast Cancer Awareness Month without speaking to someone who is a survivor of their battle with the disease.  Breast cancer doesn't discriminate.  It doesn't care who you are, your race, your religion or even what sex you are.  No two patients will react to treatment the same way or even have the same type of breast cancer.  There are different stages.  Some will win the battle with the disease, and some, sadly, will not.  One thing that is important for women, in particular ,is being able to feel like they are doing something for themselves that isn't resting or going to an appointment.  This is where Look Good Feel Better comes in.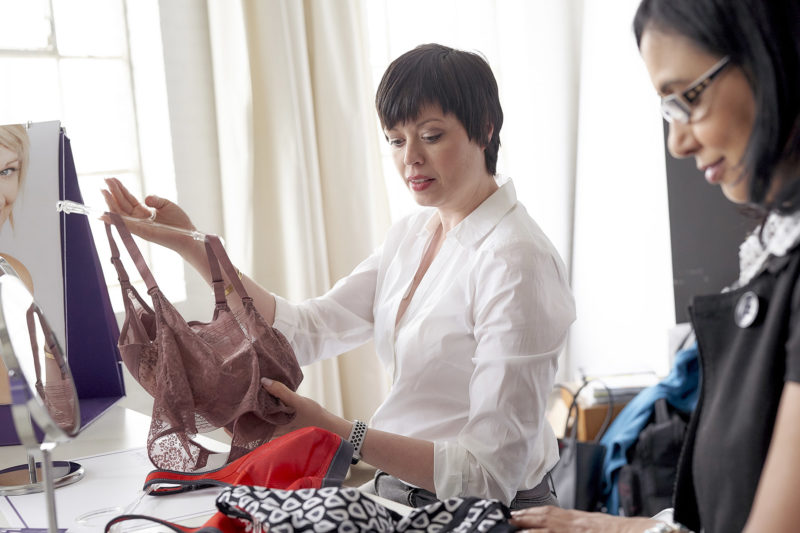 Look Good Feel Better provides women with cancer a place where the can take some time for themselves and connect with others facing similar challenges.  They help women with every type of cancer, but they do have a Breast Care Workshop.  Their new Breast Care Program, offered in select workshops, helps women feel confident in returning to everyday activities.  This may include physical activity, feeling comfortable in their clothes, or hugging their loved ones after breast cancer.  It provides tips and resources on appropriate wear and fit for everyday bras during treatment and into recovery.  There is detailed information on post-surgical bras and prostheses provided.
Look Good Feel Better Ambassador, Jutta, now 40, was diagnosed with breast cancer in November of 2017.  She is the mother of 2 boys, that she describes as the light of her life.  Jutta had the support of her devoted husband throughout her journey.    She had no history of breast cancer in her family.  She discovered a lump during a self-examination.  Knowing that something wasn't right, she immediately went to the hospital.  At first she was told it could be a cyst or another benign tumour.  After a biopsy, she lost that glimmer of hope, and found out that she had cancer.
Jutta spoke to us about her life before, during and after her breast cancer diagnosis.
What was it like when you first heard the words breast cancer coming from your doctor's mouth?
At first, it is a lot to process, and I was shocked and concerned about my two young children.  Obviously everything that comes after that is a struggle of it's own.    I had a really good nurse that gave me a lot of information and pamphlets.  She even said, "Everything I say to you now, you probably aren't processing."  It's so true.
What was your breast cancer treatment plan?
My cancer was HER2+ and luckily, it wasn't hormone based.  The treatment protocol is similar to others with this diagnosis.  I had 6 rounds of chemo with starting with one cocktail and then starting another half-way through.  To be honest I felt OK during the first round.  It was the second treatment cocktail that was much more difficult.  I did 25 rounds of radiation and I chose to have a mastectomy.  It took about 18 months in total.  I just finished my last Herceptin in January.  I'm in remission, but you always have that fear, so now it's a mental thing, versus a physical.  I try to appreciate each day.  You definitely become more mindful after having cancer.
On the days that you didn't feel especially well, how did you cope?
I forced myself to be out and about and do things.  It could be as simple as going for a walk or doing something with the kids. It personally helped me to just keep active on the days that I could just to have that change of scenery.  It was important to do things that were fun for the kids and that I could enjoy along with them.
How did you deal with the appearance-based side effects that come along with cancer and chemotherapy?
The hair loss happened quite rapidly.  It started to come out 15 days after my first chemo.  I did decide to cut my hair down so that it was really short.  It was traumatizing to pull out these long strands of hair.  It was less traumatizing when the hair was short.  All of these side effects are daunting.  At first, you feel them inwardly, then once the physical side effects happen, everyone looks at you like a cancer patient.  It can feel isolating and it happens rapidly.  Your hair has so much to do with your identity and the way you see yourself.  Your skin starts drying out and sometimes feels raw.  You lose your eyelashes and eyebrows, which is never really the best look to be honest [laughs].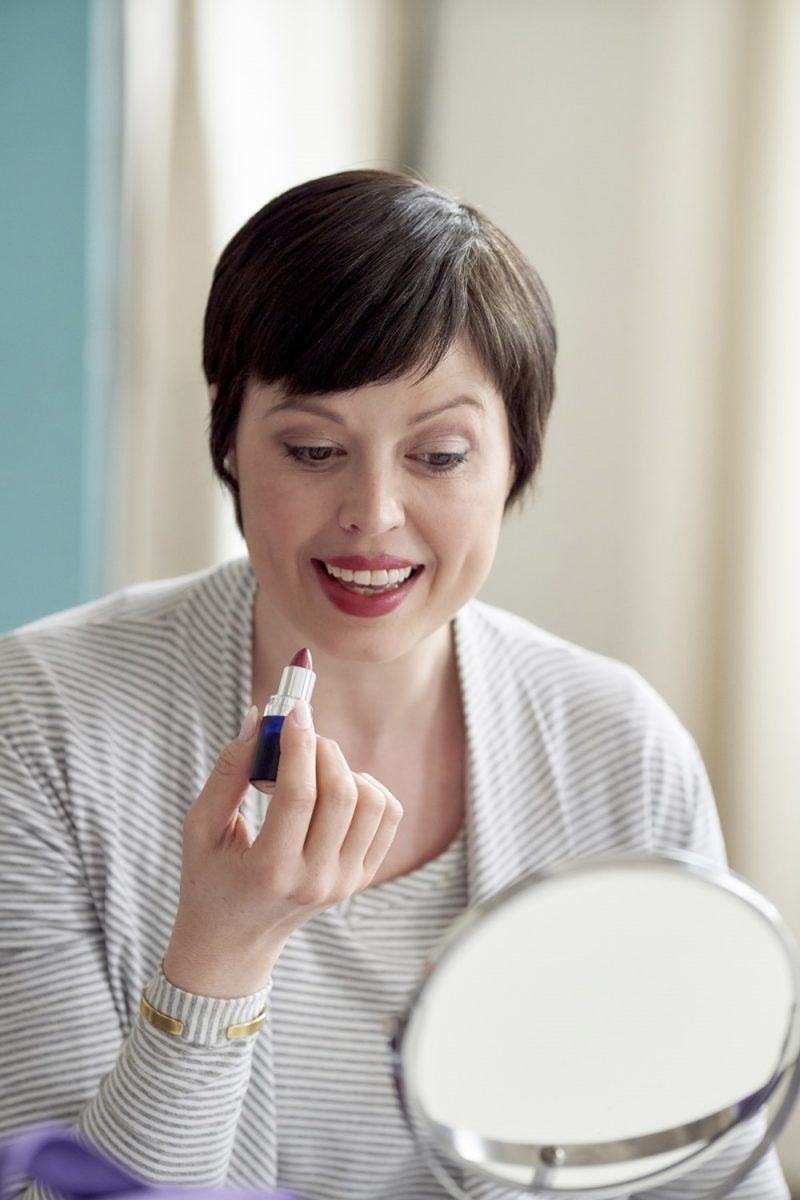 What tips did you learn at the Look Good Feel Better Workshop?
I was really happy when I took the Look Good Feel Better Workshop.  That was one of the pamphlets that the nurse gave me and she encouraged me, the day that I received my diagnosis, to check out this one program.  They really did teach tricks and techniques on how to minimize those physical side effects.  They talked about how to draw on eyebrows.  They talked about what cleansers to use.  I always wore makeup, but there are so many things that you don't think about when you are going through chemo.  It is easier for you, for example, to get an infection, so you have to be careful with mascara.  You do lose your lashes pretty quickly though.
They showed you how to apply eyeliner and if I did it really well, you couldn't tell that I didn't have lashes.  It made me feel better when I stepped out the door or if I went out with the kids or to their Christmas concert.  It felt good to minimize the appearance-based side effects. I felt normal, you know….and it was less scary, even for the kids.
What was it like both preparing to go to the workshop and once you got there? 
It took me a few months – I sat on the idea of going for awhile.  They were very accommodating with my schedule and they do offer the workshops in so many different places.  I was able to pick a venue and a date that worked for me.  I'm so glad that I went because aside from the tips and tricks that they teach you, you are sitting in a room full of women who are going through a similar experience.  They have very similar fears and similar questions.  You start feeling like you are part of a community and can make friends and be understood.  Cancer often feels isolating.  I ended up having a great time with the woman that I set next to.  We were learning the different techniques, trying on makeup and we bonded through that.  We had some laughs and it felt nice.
With cancer, your life changes, so dramatically in such a short period of time.  When you first walked into the Look Good Feel Better Workshop, on your own, and you saw the other women there, how did that make you feel? 
I'm nervous in big social settings and didn't know what to expect.  It was hard to know how far along these women were and how they were going to react.  Everyone was really nice and it's a guided workshop.  They take you through skin care, then makeup, then hair.  By the end of it, everybody was trying on different wigs and having a good time with it.  It became empowering.  There are so many things that are taken away from you and you lose control.  This actually put a bit of control back into your corner.  It was like, yes, I'm going to lose my eyebrows, but I can draw them right back on.
It was fun and there are so many great companies that donate the makeup and skincare.  It was nice that we got to take home this package.  They said that they could teach us the techniques and then you can go home, use the products and try them out on your own.  When you look at yourself and you feel like you are looking OK, you feel better inside.  You feel like you can go out and people aren't going to look at me as just a cancer patient.  You feel more empowered to face the day.
What skincare and makeup tips did you find the most helpful?
The reminders about moisturizing and buying bottles that have pumps so that you aren't contaminating the product helped.  You can use tubes, but tubs that you dip your hands into should be avoided.  You can also use a utensil to get the cream out to keep things clean.  They also told us to avoid lotion with perfume in it.  Moisturizing was important, because as the chemo went on, my skin got drier and drier.
As I mentioned, learning how to properly use eyeliner to mimic lashes and drawing on eyebrows was very helpful.  It becomes very real when you don't have any hair where it should be on your face.  The eyebrows did take a little bit of practice to be honest.  At the beginning, you have a bit of an outline still and then that goes and you have to guess where your eyebrows were.  When you aren't used to drawing them on, you can make some interesting looks [laughs].
Once you had your eyeliner on and your eyebrows drawn on, and sometimes I would wear a headscarf or a wig depending on how I felt, from a distance, I thought, yes, I can face the day.  I remember at my son's Christmas concert, one of his teachers saw me in the hall and we had a conversation.  After a few days, she called me and apologized saying that she had no idea that I was ill.  I thought I must be doing something right.  I thought, I can do this and make it work somehow.
Are there any tips that you learned in the workshop that you still use today?
Yes!  I use sunscreen for sure.  I follow the hygiene tips that they gave us about throwing out the wands and sponges.  I may not use a different sponge every day like I used to, but I try to keep everything really clean.  I still use the same fragrance-free cream that was recommended.  My eyebrows are back, but aren't as dark as they used to be, so I still use powder to darken them.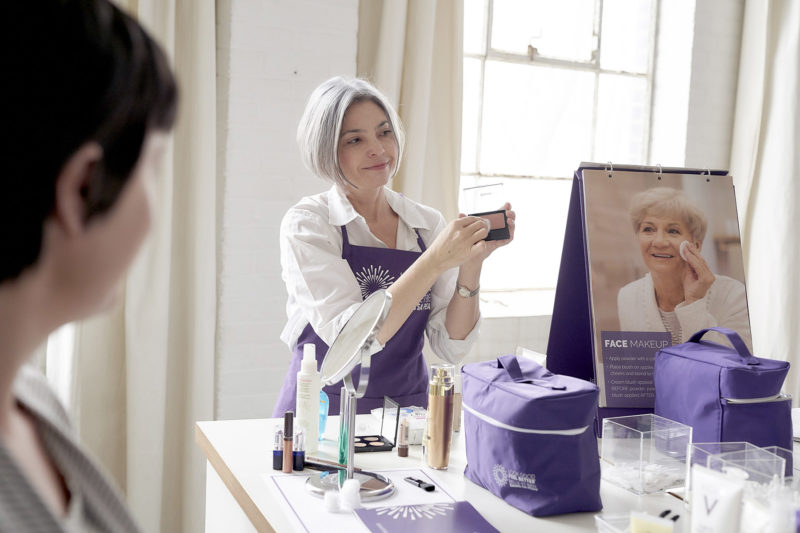 What surprised you the most about the workshop?
How many volunteers are donating their time to help women like me who are going through this.  They were helping us to create a community and to give the tools that we needed to feel empowered.  It was nice to see this and all of a sudden, I didn't feel as alone.  I saw that there were so many great people and organizations like Look Good Feel Better that really get it and are there to help you through cancer.
What would you say to a woman who is hesitant to do the workshop?
I would say that not every workshop will be right for you, but if you don't try, you will never know.  I made a really great friend out of it.  You might get more out of it then you ever thought possible.  I'm so happy that I took the chance – it helped me a lot. The more support and outlets that you feel that you have, and women around you that want to lift you up, the better.
Jutta was a warm, wonderful interview subject.  Everyone at DIVINE is thinking about her and we thank her for being so open.