What you see isn't necessarily what you get with Jay Manuel. People of course know and love him from stints on America's Next Top Model and Canada's Next Top Model, but you have to expect the unexpected from him. He is intelligent and well-spoken which if you have watched him on TV makes sense, but he also has a warmth that belies his time in the fashion industry. He is a true Renaissance man – he is a host, a creative director, experienced executive producer, author and as you will find out, so much more.
The US born, Canadian bred personality knows the ins and outs of the fashion world and was the ideal choice to curate this year's Cashmere Collection. The theme of the popular fashion show was Celestial Awakenings: A Celebration of Strength, Hope, and Compassion. The collection featured unique, beautiful designs crafted entirely from the new and improved Cashmere UltraLuxe Bathroom Tissue.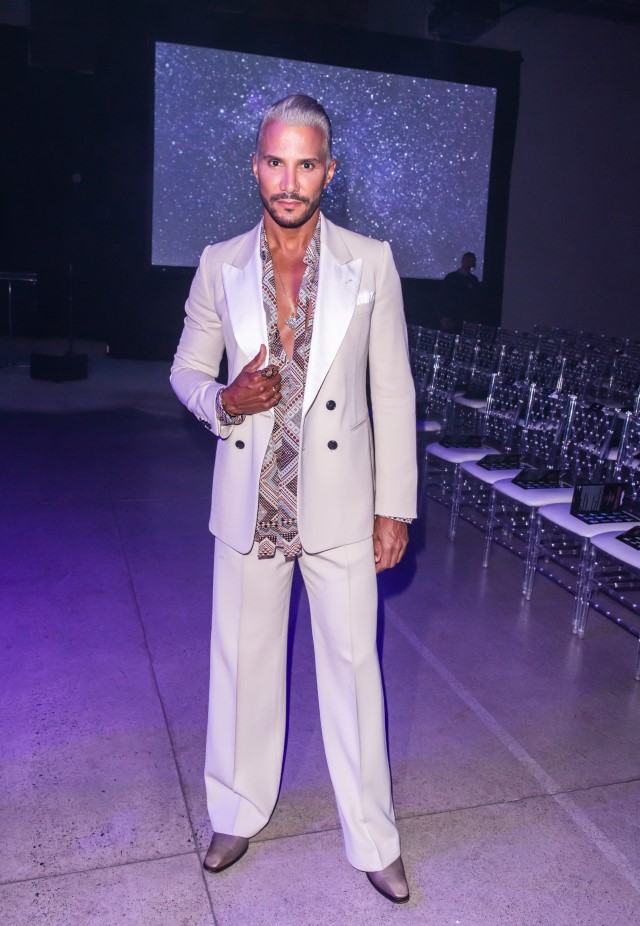 We recently sat down with Jay Manuel to learn more about the event, the impact that breast cancer has on his life and what he's learned about himself through his numerous creative endeavours.
You just curated the 19th annual Cashmere Collection. What was your role as Curator and how did the partnership come about?
I started working with the team earlier this year as the Curator. The theme this year was Celestial Awakenings which is why we have the twelve designers and the 12 houses. It was all about working with the team, honing in on that theme and then as everyone narrowed down the designers, it was coming together and being here as a support for them and their vision in executing their designs.
The partnership started with a phone call. Years ago, when I was hosting "Canada's Next Top Model", there was an integration with Cashmere. We brought the collection on the show. That was my first time seeing these designs up close and I thought what an amazing opportunity to bring awareness to breast cancer. I became an instant fan.
When they called and asked if I would be the Curator this year, I didn't even need to think about it. I've been a fan for many years, and I was just honoured that they asked me to be a part of it.
Canadian fashion has never been more exciting.
There's such a wealth of amazing talent here. What I love about this year's collection and the diverse group of designers, is that they really have stuck to their own voices within the garment designs. During the presentation where you had the videos, you got to see a bit of their process. You could see everyone's individuality in their approach and their final designs which speaks to this broad base of talent that we have here.
The designs this year are so intricate. How can the designers use a fragile material like Cashmere UltraLuxe Bathroom Tissue and still have it hold up?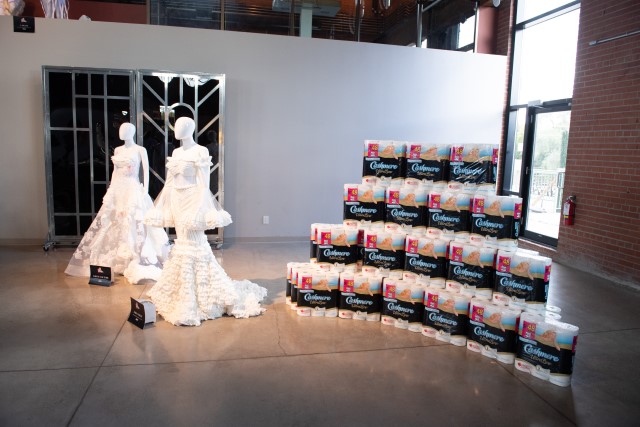 The designers aren't given rolls of toilet paper. I think that's the biggest misconception. They are given large bolts of the raw material. This year, it was Cashmere UltraLuxe. It's the softest bathroom tissue that they've ever produced, but at the same time, everyone realized that it was the biggest challenge because it was the most fragile product that they have ever had to work with. It did cause a few problems in coming up with the final execution for a couple of designers, but they worked through it. They used different techniques, and it was great to see how they approached it.
What up and coming Canadian designer should we be on the lookout for?
It is so hard to pick! I love seeing Greta Constantine grow, especially now on the international stage. I love that people are talking about Canadian designers on an international level.
So many people have been impacted by breast cancer. How has it touched your life?
I have several stories and they are really hard to talk about. I have friends that were recently diagnosed with breast cancer and also one of the closest people to me and my family is undergoing treatment and will have surgery. It's just being that support for people going through chemotherapy. People don't realize how important it is to have that caregiver present. I'm an optimist. I look at where you are around diagnosis and how you will move forward even though that sounds cliché.
One of the reasons why I love the Cashmere Collection event so much is because of the breast cancer awareness component. I think that so many people think that they can get screened another time or skip a mammogram, but early detection is a life saving technique and we are seeing advances in research. I have family members currently undergoing chemotherapy and even looking at the last 5-10 years, so much has changed. Early detection and getting into treatment as soon as possible are the messages I want out there because there are people with the opportunity of finding something small, having it removed and not having to go through aggressive treatments, but that only comes from early detection.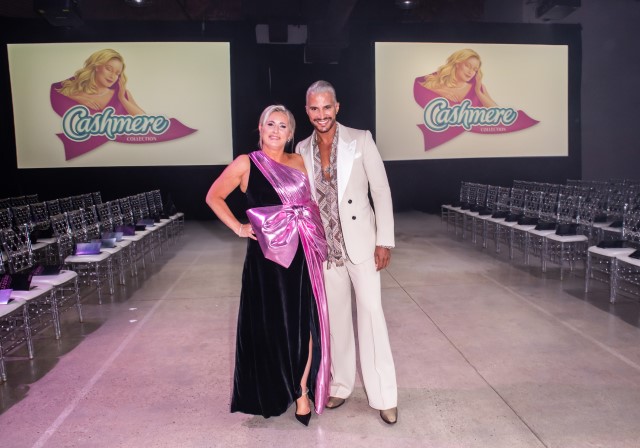 We've heard a very emotional story during the event. Susan Irving, [the CMO of Kruger Products, the parent company of Cashmere] spoke about how one of her closest friends was complaining about back pain and she was told to go to the chiropractor. That can be an indication of cancer that is metastasizing, and it turned out that's exactly what it was. You want to do is get ahead of that metastasis. That's where again, the messaging around early detection is so important.
You literally have done it all from being a creative director in the fashion world to designing fashion collections to reality TV star and host to writing a book. What was the process of writing "The Wig, The Bitch and The Meltdown" like for you?
I didn't have a ghost writer for the book. I think if you're a writer, you have to be honest. A lot of people look at the protagonist as being inspired by me. Part of Pablo (the protagonist) is inspired by me but part of him was not. I think if you're really honest about writing your book yourself, every character is really a piece of you, even the characters that we don't like. It has to come from somewhere and you have to dig deep and find these areas of yourself to explore.
It's funny, my whole career has been collaborative in nature. When you write a book, it is very isolating. I found it an interesting, eye-opening journey to self, and I enjoyed the process of it, especially, when I was working on those final drafts getting ready to turn in the manuscript. In the last few months, I went so hardcore and just shut myself off. I enjoyed that kind of isolation and working with myself.
Is there going to be a sequel?
A lot of people including my publisher would love that. The ending of the book is left open ended. I did create an outline of what the continuation of "The Wig, The Bitch and The Meltdown" will look like. But I also wrote a whole other treatment that I became very inspired by. It is a completely different book that has nothing to do with these characters.
I know my book made a lot of noise. I was very lucky during the pandemic that I got a lot of press and TV coverage around the book. It is a piece of satire. It is meant to be a little salacious with people questioning what was fact and what was fiction. If I release a second part to it, I don't want people to think that that's all that I can write because it's so inspired by my life.
Currently, I'm a co-writer on a screenplay, which we just shot a proof of concept for and I'm very excited by it. I got to do a lot of interesting psychological work around very complex characters that aren't inspired by my life in any way. It's more important for me to focus on something that shows that I can write away from what I know. They say writers should write what they know and that's why I went that route first, but I want to release something that will surprise people.
What did you learn about yourself through the writing process?
I've never really spoken about my own adoption story. I felt it was really important to add that into Pablo's character because it helped me share something and add a vulnerability to that character. It opened up to what he was going through and what he had to process, which was a little bit of my process early on in life.
There were some really interesting scenes that I had so much fun writing, where you're dealing with a battle of emotions between characters, egos, and wills. When you're actually writing, it's your internal dialogue as your own internal struggle hits the page. When you get to the end of the book, you realize that Pablo has been struggling with himself, his own sense of worth and where that value comes from. He's always been looking outside of himself for it when it needs to come from within.
I thought about my own struggles while writing this book. Viola Davis has always talked about having imposter syndrome. I love how honest she is around her own emotional process. I have had the opportunity to be in incredible places including the Oscars and work with huge creative visionaries my entire career like Richard Avedon and Annie Leibovitz. I've been in all these places that most people only dream of, and you find yourself in that space. You ask yourself why am I here? How do I fit in? Then you stand back and look at life and say, what is real? I think that's the journey that we all go through. In order to find our true of level of comfort is to realize that everyone is asking themselves the very same questions.
I think people looked at the title of my book and the surface content and thought it was going to be a fluffy satirical piece. But there was really a gravitas to it that was meant to make people think and look at themselves and that's why in the third act of the piece, I wanted to have this beneficial moment and break the fourth wall in a way that's very unconventional in the literary world.
Very early on, I had a publisher who loved the book and the characters. They loved how honest I was being but for them, there were rules around fiction where you don't expose it in a metafictional way the way that I did. They found that very jolting and wanted me to remove it or change it. When I wrote the book my agent and I had great conversations and she felt that I always kept the reader in the know in a world that might be foreign to them. I couldn't take that out because of conventions in the literary world where you don't bust open the fourth wall. I kept it in and another publisher loved that part of my book.
What is your favorite platform to work on and why?
I don't look at anything as a favourite. I look at everything as a journey. I feel honoured and blessed to have had a chance to work in so many different mediums both in front of and behind the camera. Some people think that being in front of the camera is the best part. I actually love creation – the creative work and the production work that I've done. I produced on America's Next Top Model and Canada's Next Top Model. I wasn't just on camera. I genuinely executive produced. It wasn't a vanity title.
I love putting things together, working with others to come together with a vision and working with budgets that seem impossible. That's the challenge – how are we going to make it work? I look at whatever I'm working on at the time as the most important, versus whether I prefer this platform or that platform.
How did taking a social media break this year help you?
When people announce "I'm taking a break. I'm leaving social media" all of the press report that Channing Tatum is taking a break, he's working on other things. That in itself becomes such an egoic moment around feeding oneself and so I just recognized before the real break started that I wasn't really using social media as much. I was working on these other projects that are more behind the scenes and really dedicating a lot of time to them. The break just started when I was very busy. My focus was elsewhere, and also my family really needed me as well.
My home life and my career take up so much of my time. I really felt as I approached 50 that I needed to place my energy and be somewhere 100%. I just took this break, and it was incredible. I didn't think about social media. I didn't have this sense of FOMO. I didn't delete the apps. I just never opened them, and I was able to find such a great sense of joy and presence in everything I was doing. It actually felt like it used to before social media took over our lives. Everyone says that social media is here to stay, but I think people are learning new relationships with it. I was able to really focus on what was important.
What's funny is I shot so much content around everything that I was doing, but it was really just for me. I've always been someone who even before iPhones always shot everything on cameras. I have videos on everything that I wanted to capture and all of this behind-the-scenes content that's just for me. Maybe one day I'll release it or maybe I won't, but I wasn't trying to shoot for the 'gram or Facebook or another platform. It was fun just being in life.
One of the things you just touched on was turning 50. How do you think the recent conversations about ageism will impact the fashion and beauty industries?
I got into the beauty and fashion business because I have always been about the empowerment of women. Even the people that I have worked with in my own beauty and fashion lines have been women in positions of power.
For instance, I know Paulina Porizkova has been writing several essays around this topic. I'm a friend of hers and know her very well. I champion her and I support everything that she has written. She's had people attack her for the way she's representing herself. So yet again, you're seeing people attack women who are trying to highlight this issue and tell her to sit aside which is ridiculous.
I'm using her as an example, but Paulina loves to represent that women can be desirable at any age. She is not trying to turn back the clock in any way artificially. She celebrates her body the way it is right now. She's a stunning woman and always has been. But for some reason, when we want to look at images, we want to look at twenty-somethings. I do feel that that is going a little out of vogue so to speak and I'm really happy to see that just recently at New York Fashion Week, the Vogue World Show was truly inclusive with people of every size, ethnicity, and age group. It felt authentic, not forced and I think that's where we're moving right now – around the acceptance of everyone.
What's next for you?
I'm working on a screenplay. In addition to that, I've always had a passion for interior design and architecture. I redeveloped two thirds of my property, but I've been very private about my home space. I didn't work with a design company – I did all of the design work myself for the outdoor project. I created all of the renderings, the CAD renderings, all the specs and did a lot of the work myself.
I wasn't going to share any of it. I shot videos and photos every day for six months, but I just recently gave a glimpse of it in a video that I created. It really was a labour of love. There is interest for me to move into that space. That's what I want to explore and maybe on television.
We'll be tuning in for that. Follow Jay Manuel on Instagram or visit jaymanuel.com to learn more.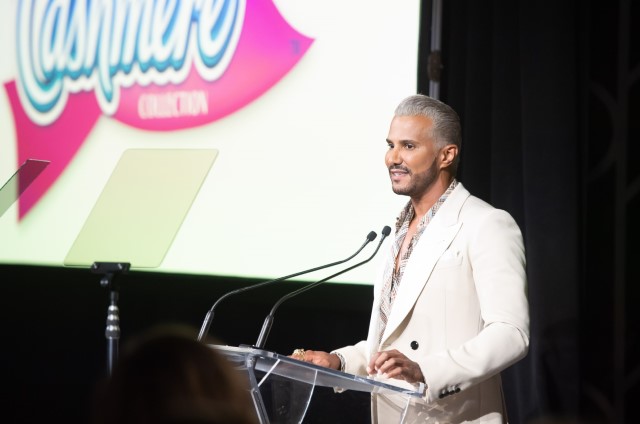 Visit cashmerevotecouture.com to see the Celestial Awakening Collection and cast your vote for your favourite design. With every vote, Cashmere will donate $1 to to the Canadian Cancer Society and the Quebec Breast Cancer Foundation, up to a maximum of $15,000. You can also win $1,500 CAD or a year supply of Cashmere UltraLuxe bathroom tissue just by participating.