When it comes to interior design, there are no hard and fast rules. However, by following the same steps used by professional interior designers, you can create a space that is both comfortable and stylish. Whether you're moving into a new home or just want to refresh your current one, these tips will help you create a look that reflects your personal sense of style.
Basics of interior design
Rules for style are made to be broken, so don't be afraid to experiment. Have fun with your space and let your personality shine through. After all, it's your home and should reflect who you are. According to the Canadian company bouclair.com, styling your home should be an expression of your personality.
Piece of art
One way to add personality to your space is with art. Choose pieces that you love and make you feel happy. Hang them at eye level for the best effect. If you're not sure where to start, try a gallery wall. This is a great way to display multiple pieces in one area. Another option is to create a focal point by hanging a large piece of art over a sofa or console table.
Light is always important
Another important element of interior design is lighting. The use of good lighting can completely transform the appearance of a room. It can also be used to accentuate particular areas or certain objects. For example, placing a lamp on a side table will create a warm and inviting atmosphere in your living room.
Furniture
When it comes to furniture, comfort is key. You want to be able to relax in your own home, so choose pieces that you love and that are comfortable. If you have a small space, opt for smaller pieces or try a futon instead of a sofa. And don't forget about storage! By choosing furniture with built-in storage, you can keep your space looking clean and clutter-free.
Play with colour
One of the best ways to add personality to your home is with colour. It can be used to create different moods and atmospheres. For example, using light colours can make a space feel airy and open, while dark colours can give a room a cozy and intimate feeling.
When it comes to choosing paint colours, there are no rights or wrongs. However, if you're unsure where to start, try looking at some paint swatches at your local hardware store. Or take a look at some inspiration online. Pinterest is a great resource for finding colour schemes that you love.
Focal points
Creating a focal point in your room will help to make it feel more pulled together. A focal point is an area or object that you want to draw attention to. It can be anything from a piece of art to a fireplace.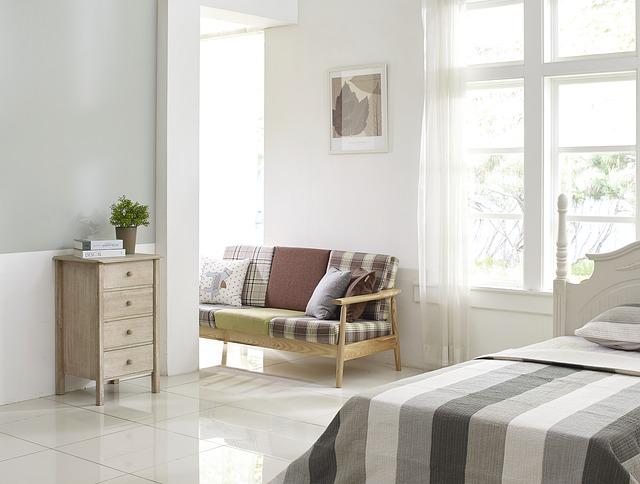 In this bedroom, the bed is the focal point. By placing it in front of the window, it becomes the first thing you see when you enter the room. The bedding and pillows also add colour and texture, making them even more inviting.
Another way to create a focal point is with symmetry. This can be done by hanging two identical pieces of art on either side of a sofa or by placing two matching lamps on end tables.
Now that you know the basics of interior design, it's time to get started on creating your own stylish home. There are no rules when it comes to style. The best way to decorate spaces is to have fun and let your personality stand out. With these tips, you'll be well on your way to creating a space you love.
How to style your home like a pro
Start by taking an inventory of your belongings. This will help you determine what pieces you need to keep, what can be sold or donated, and what needs to be replaced. Once you have a good idea of what you have to work with, it's time to start planning your design.
Create a mood board or inspiration folder to collect ideas for your space. This can be done online or in a physical notebook. If you're not sure where to start, take a look at magazines, blogs, and Pinterest for inspiration. Once you have an idea of the overall look you want to achieve, it's time to start shopping for japandi furniture and décor items.
When choosing furniture, always opt for quality over quantity. A few well-made pieces will last much longer and look better than a bunch of cheap, trendy items. When it comes to décor, don't be afraid to mix and match different styles. It's okay to have a few statement pieces but be sure to balance them out with more subdued items.
And finally, don't forget the little details. Throw pillows, candles, and rugs can all help tie a room together. By following these tips, you can create a stylish and inviting space that reflects your unique sense of style.