The LG V60 ThinQ 5G Dual Screen launched in Canada on April 9 and I had the opportunity to test it out for almost 3 weeks.  The goal of the review is to not get too technical, but to give you an overview of the product, first impressions, unique features and final thoughts. I looked at it from the perspective of how I would use the device and its features.  All opinions are my own.
Even though this review will not be too technical, you do need the basics:
Display: 6.8-inch 20.5:9 FHD + P-OLED FullVision (2,460 x 1,080 / 395ppi)
Cover Display: 2.1-inch Mono
Size: 175.9 x 86 x 14.9mm
Weight: 134g
Memory*: 8GB RAM / 128GB / microSD (up to 2TB)
Camera:

Rear:
64MP Standard (F1.8 / 0.8μm / 78˚)
Pixel Binning to 16MP
13MP Super Wide (F1.9 / 1.0μm / 117˚)
Z Camera (ToF Receiver / Emitter)

Front:

10MP Standard (F1.9 / 1.22μm / 72.5˚)

Battery: 5,000mAh
Operating System: Android 10
You can find it at Bell and Koodo stores nation-wide. Koodo has the list price of $1,100.
First Impressions
I'm not a gamer, so I was lost when I first received the phone.  I was trying to think of what I would use it for.  It is easy enough to set up – there is no intimidation factor and it comes with clear directions.  It is adaptable, meaning you can use it as a stand-alone phone or enjoy the dual screen experience.  Initially I was impressed by the clear resolution of the screens.  The aspect ratio did mimic the movie going experience and the sound quality was also good.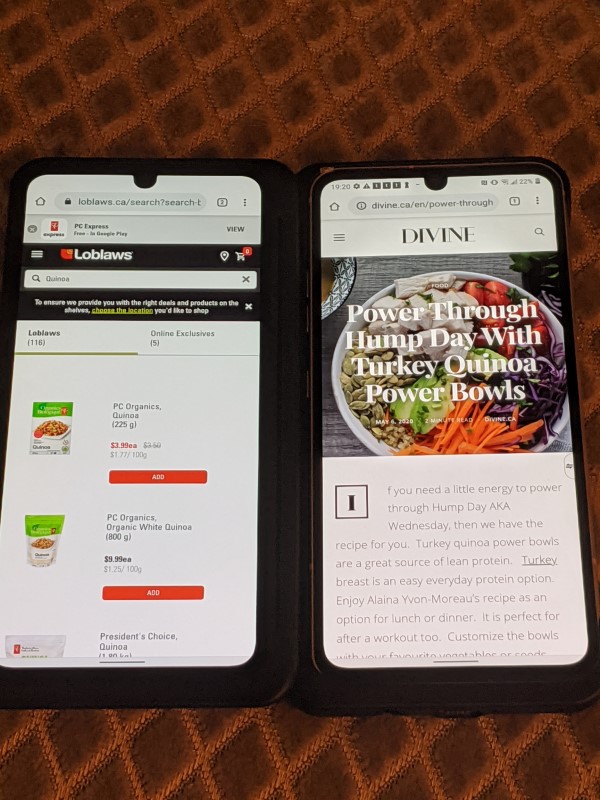 I adapted to the dual screens quickly.  From a lifestyle perspective, you can look at a recipe (who isn't cooking more) on one screen and have a grocery delivery site open on the other and order what you need.  This was a huge convenience. I was also able to look for recipes for mains on one screen and side dishes on the other.  You can also comparison shop any product more easily.  It came in handy when I wanted to watch YouTube videos and clear up some emails at the same time. You quickly find uses for the second screen and it is difficult to go back to a single screen.
Final Thoughts
I really ended up liking the option to have a dual screen. The battery life was incredible – one charge lasted for three days of use (not continuous).  It beats any phone that I have ever tried before.  The camera was good and there were a few unique features that I haven't seen on other smart devices, but it does not have a telephoto lens.  The quality of video was excellent – it was smooth even when I was distracted and had shaky hands.  The only real downside though, is that it is bulky– although, that is true of most smartphones.
Some things come down to preference. A lot of people will only use iPhones or only use Androids.  I have one of each, and there are advantages and disadvantages to both.  The user experience on either platform is not that different, again, it comes down to preference.  The decision is whether you need a dual screen device.  I, personally, enjoyed having the option.