I was offered the opportunity to "test-drive" the LG Gram 17 for a week and I jumped at the chance.  I bought a laptop in 2019, and within a few weeks, I realized that it is too heavy for my needs.  Like many, transporting a laptop can be a cumbersome experience.  I use a laptop for meetings, bring it to the office, work from home and move it around the house to either watch videos or look up quick cleaning or cooking tips.  This review will not get too technical, but will give you an overview of the product, first impressions and final thoughts.  All opinions are my own.
About the LG Gram 17
The laptop has a lot of features.  In one week, I used it the same way that I would use my regular laptop.  As someone who isn't a gamer, some of the tech specs did not apply, so they will not be reviewed.
The LG gram 17, is the World's Lightest 17-inch laptop at 1350g. Remember that when you measure the size of a computer screen, it is corner to corner on the diagonal, not straight across. The body is 15.6 inches.
It features clear imagery without any colour distortion at any angle, and displays more information on a screen for increasing your productivity. The 16:10 aspect ratio made the screen feel even larger than laptops with a standard 16:9 aspect ratio.
The laptop comes embedded 80Wh battery, providing up to 17 hours of battery life. The actual battery life will vary from specifications depending on the model, settings, and user environments.  I used mine exclusively at home due to our current situation with COVID-19.
10th Gen Intel Core Processor which essentially means that the "brains" of your PC will run faster. It is important for streaming, managing photos, editing and gaming.
DTS:X Ultra is truly immersive 3D audio rendering over speakers and headphones, provides the most believable surround experience.
The keyboard is backlit, which helps if lighting is dim.
You can find it online at Costco.ca, BestBuy.ca, CanadaComputers.com and Amazon.ca. Prices vary by retailer.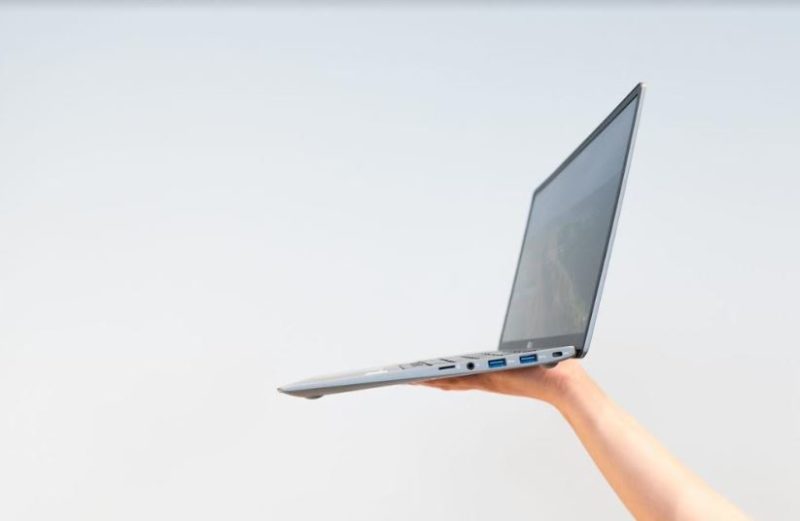 First Impressions
Simply put, it was love at first site.  This is a very sleek looking laptop.  The silver case gives it a very modern look, but it's not what's on the outside that counts.  It's the overall performance, of course.  Before setting it up, I had to see what 1,350 grams (2.97 pounds) feels like in a laptop bag.  I walked around with it on my shoulder and it was so much lighter than my other laptop.  It made a huge difference.  I didn't feel weighed down on one side and I was easily able to fit everything into my bag since it is not only lighter, it is also thinner.
All PCs require the same type of set up which is simple enough.  After setting it up, I browsed a few sites to get a sense of the resolution and sound.  I have a 15.6-inch laptop.  This felt huge in comparison.  The picture quality for both video and static imagery was incredible.  I noticed a huge difference.  It is like comparing SD (standard definition) TVs to the 4K sets that are now available.  The clarity was very different and the colours were more vibrant.  The sound quality was also much clearer.
Final Thoughts
This laptop was great strictly from a user experience standpoint.  I loved working on it.  It was so easy to transport from room to room because it was so light.  The audio/visual experience continued to impress me.  I even found the track pad easier to use than the one on my current laptop.  The battery life is exactly what they claim.  My current laptop can get about 4.5 hours off of a charge. The LG Gram's battery life was just under 17 hours.  This meant that I could work from any room in my home and not have to worry about charging it.  If you like PCs, then I definitely recommend this one.  If you are a gamer, seek out reviews that are based on your needs.  The only downside is that it is expensive.  The lowest price that I found it for was $2,199.99.