The Apple Watch Series 8 is expected to launch in September. I've had the opportunity to test the Apple Watch Series 7 and it's been a case of I didn't want to love you, but I do – oh how I do. The goal of this review isn't to provide a comparison between different Apple Watches and if you need to buy one. It's simply to share some specs, unique features and what I love about the watch. I really looked at how the device fits into my life, and how it may fit into yours.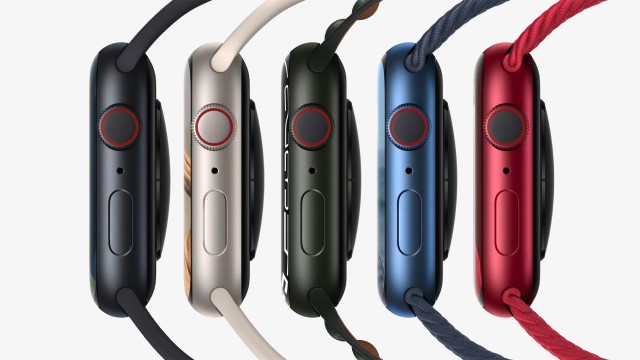 45mm or 41mm Cover
396 x 484 pixels; 1.7mm border width for the 45mm case
352 x 430 pixels; 1.7mm border width for the 41mm case
Comes in aluminum, stainless steel or titanium
Chip: S7 with 64-bit dual-core processor
Built-in rechargeable lithium-ion battery
USB-C magnetic fast charging cable
Swimproof: Apple Watch Series 7, Apple Watch and Apple Watch Series 3 have a water‑resistance rating of 50 metres under ISO standard 22810:2010. This means that they may be used for shallow-water activities like swimming in a pool or ocean. However, they should not be used for scuba diving, waterskiing or other activities involving high-velocity water or submersion below shallow depth.
Series 7 is rated IP6X dust‑
Always-On Retina display – this means that the display never sleeps, so you can always see the time and information that's most important to you.
The Apple Watch Series 7 has multiple health features including: Blood Oxygen app, ECG app, High and low heart rate notifications, Irregular heart rhythm notification
It also comes with Emergency SOS, International Emergency Calling (check online for country availability), Fall Detection and Noise Monitoring
Price starts at $529.00 (GPS) or from $659.00 (GPS + Cellular)
You can find the Apple Watch Series 7 at Apple Stores across Canada or online, Best Buy, Staples, Bell Mobility, Rogers, Telus and other fine retailers.
The Beginning: Setting Up Your Apple Watch
What I love about Apple products is how intuitive they are. Everything is made to be as easy as possible from set up to everyday use. I always worry about changing watch straps – with the Apple Watch, they easily slide into place. Unlike a typical watch, there aren't pins to fuss with and lose. Step one was complete in about 30 seconds.
Step 2 is to press the side button. There should be enough of a charge to set the watch up. If not, charging is easy. Place the magnet on the back of the watch and plug into an Apple charger.
The set up is simple. The watch (and your iPhone) gives you a series of prompts. Follow them, and your watch is set up. Yes, it's that easy. It took minutes and wasn't complicated at all. Anyone can set them up. If you are unsure, you can always make an appointment at your local Apple Store. Finally, go on the Apple Watch app on your phone and pick your watch face (or faces).
First Impressions and Uses
Communication
I adapted to the Apple Watch immediately and after a day, I didn't know what I would do without it. It doesn't mean that you need to go out and buy the watch. What it means is that the convenience that the watch offers saves me time.
I no longer have to carry my iPhone with me everywhere in the house. The watch works with the phone, allowing you to use and access your apps, answer calls and reply to texts. I'm able to put my makeup on in the morning and if a work call comes in, I can pick it up and continue with what I'm doing. I can also see if it's a spam call and ignore it.
It is easy to text quick messages using the microphone, but typing is a bit challenging if it's longer than a few words. You can also see when you get an email and if you need to reply immediately. I can even check my calendar. You get all your social notifications too.
Health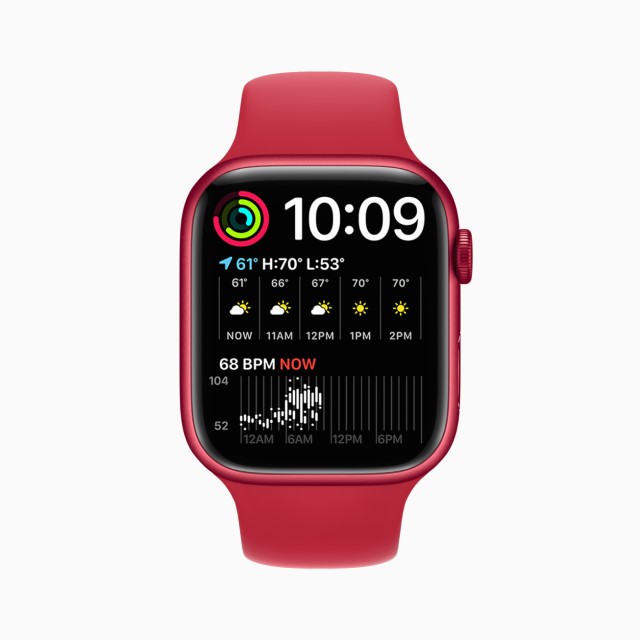 There are so many health features on the Apple Watch Series 7. You get a free 3-month subscription to Apple Fitness+ which I'll be reviewing. The feature that I use the most is the Fitness app. It tracks your steps, I set up a standing reminder and it also tracks your exercise goals. "Closing your rings" became part of my daily life (rings on the app show your progress throughout the day – the goal is to close them). It holds you accountable. The watch has all the features of other fitness devices and then all the communication features and access to apps that you need.
It came in handy when I had COVID-19. I wanted to keep an eye on my blood oxygen, so I used the app to see if everything was ok, and it gave me peace of mind. I can track my heart rate – which is important when I'm exercising. It's just convenient.
Other
I can easily skip songs that I don't want to listen to. I can use the watch to control the camera feature on my phone if I want to take a photo that isn't a selfie. I also like the fact that the watch vibrates when I'm getting a text, call, when my alarm goes off and with social messaging.
Final Thoughts
If you couldn't tell by the review, I would highly recommend the Apple Watch Series 7. I love a nice dress watch, but I can't see going back now. It's just been such a convenience. It even charges quickly.
People have asked me if there is anything that I don't like. There are always a few things that show up the longer that you test a product, but nothing major. Sometimes when I'm trying to track a cross-fit workout, the app pauses if I bend my wrists a certain way which means that it isn't tracking everything that I'm doing. I'm going to have to look for a solution to that.
I also find that because the watch case is thicker than the average watch, that I accidently hit it on things. Your wrist also needs to breathe, so I recommend taking it off at night when you are ready to go to sleep unless you want to track your sleep patterns. I didn't buy a cellular plan for the Apple Watch; I simply use it on Wi-Fi so remember that if you leave your phone at home accidentally.
Some things come down to preference. If you prefer an Android, then you have to keep your that in mind. I wanted to give myself three months to form an opinion on the Apple Watch and I find it just as useful and user friendly today as I did the first time that I put it on.
The Apple Watch Series 7 was lent to me for review purposes. Opinions are my own.