Our second recipe from Canadian Chef, Christine Flynn's cookbook, A Generous Meal, is crispy chicken thighs over vinegar beans. It's a delicious, easy to prepare meal for those cold winter days. A Generous Meal releases on on February 21st, 2023 and includes over 100 fresh, comforting, easy-to-follow recipes.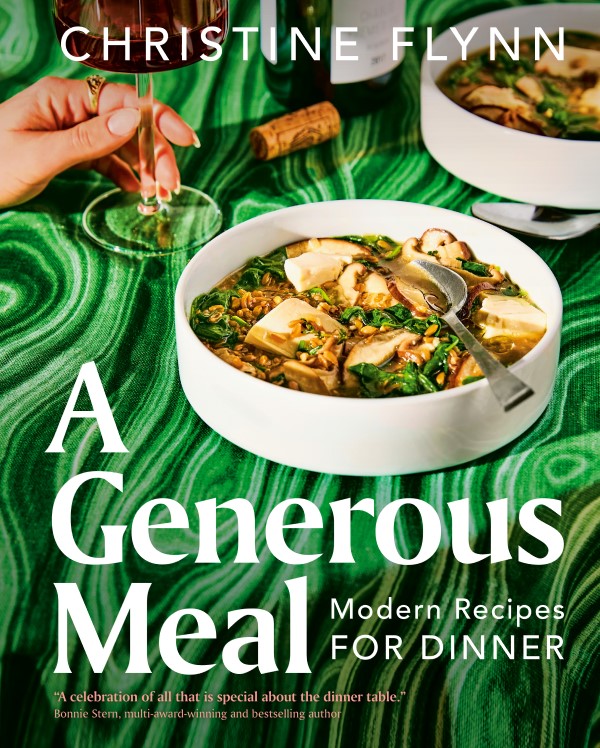 This dish feels very French to me, for no particular reason, I suppose, other than that it's brothy and rather beige. While those descriptors may not be for everyone, to me, brothy and beige is beautiful. I love this recipe for a quick and straightforward dinner. Chicken thighs are my favourite part of the chicken, and here they are well seasoned and fried until the skin renders and is juicy and crisp. The thighs are then set aside while onions, wine, butter beans, citrus, and olives are quickly introduced to each other in the same hot pan. Then the chicken is returned before everything gets placed in the oven so that the chicken cooks through while the other flavours deepen and catch all the chicken juices. Simple, but so good. Mais oui!
Crispy Chicken Thighs over Vinegar Beans Recipe
Serves 4 to 6
6 bone-in chicken thighs or 3 legs, separated
Salt and cracked black pepper
1 tablespoon (15 mL) neutral oil, such as canola or grapeseed
1 medium yellow onion, thinly sliced
2 cloves garlic, finely grated 1 red bird's eye chili, split
½ cup (125 mL) dry white wine
2 tablespoons (30 mL) white wine vinegar
2 cans (14 ounces/400 mL each) butter beans, drained and rinsed
1 cup (250 mL) low-sodium chicken stock
½ cup (125 mL) large green olives Pinch of granulated sugar (optional) 1 whole lemon
Preheat the oven to 350°F (180°C).
Pat the chicken dry and season all over with salt and pepper. In a deep ovenproof skillet or Dutch oven over medium-high heat, heat the oil. Add the chicken, skin side down. Sear until the skin is crispy and golden, about 4 to 5 minutes. Flip and cook on the other side for 3 minutes. Transfer the chicken to a clean plate. Pour all but about 2 tablespoons (30 mL) of the rendered chicken fat and oil into a small bowl and reserve it for future use (see page 10 for suggestions).
Reduce the heat to medium, add the onion to the skillet, and cook for 2 to 3 minutes, stirring to prevent browning. Add the garlic and chili and cook for 1 minute. Increase the heat to high. Add the white wine and let it reduce for 2 to 3 minutes. Add the vinegar, beans, stock, olives, and sugar (if using). Using a vegetable peeler, remove the peel of the lemon in large strips. Add the peel to the skillet.
Return the chicken, skin side up, to the skillet and transfer it to the oven. Bake, uncovered, for 20 to 25 minutes, until the chicken is cooked through or reaches an internal temperature of 165°F (74°C). Remove from the oven and squeeze the lemon overtop. Serve immediately.
Store leftovers in an airtight container in the fridge for up to 4 days.
Excerpted from A Generous Meal by Christine Flynn. Copyright © 2023 Christine Flynn. Photographs by Suech and Beck. Published by Penguin, an imprint of Penguin Canada, a division of Penguin Random House Canada Limited. Reproduced by arrangement with the Publisher. All rights reserved.