In a bold move that transcends the boundaries of the beverage world, Pepsi has taken innovation from the cola world into the arena of the condiment with Pepsi Colachup. Blending the familiarity of a beloved carbonated drink with the tomato-y goodness of ketchup, Colachup is letting you enjoy your burger (or hot dog) your way just in time for National Burger Day on August 24. But wait – there is more. If you are in Toronto, you can try Colachup for free! Here is what you need to know:
The Event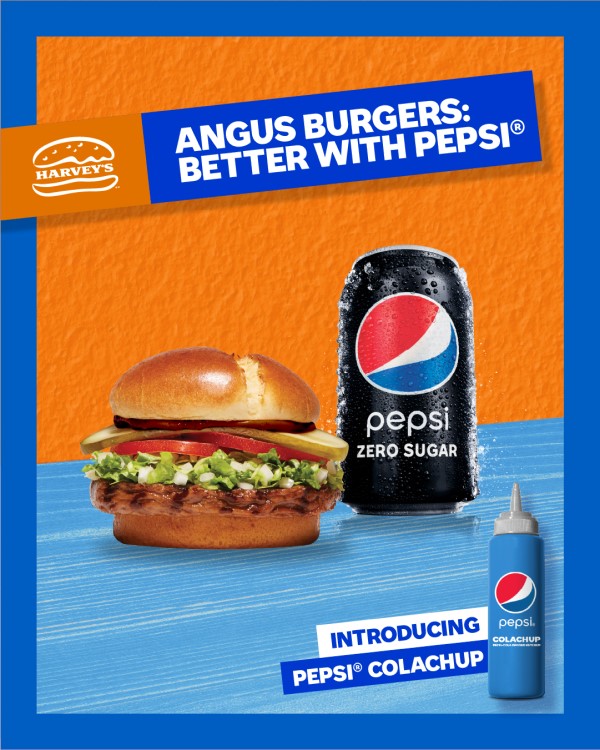 On National Burger Day, August 24, fans can visit the Harvey's RV Tour in Toronto at Yonge and Dundas Square from 12:00 p.m. – 2:00 p.m. & 3:00 p.m. – 5:00 p.m EDT for the first taste of Colachup. You can enjoy a complimentary classic Harvey's Angus or Veggie burger paired with Pepsi® Zero Sugar cola and be among the first in Canada to try Pepsi Colachup, while supplies last.
"We know that burgers are Better With Pepsi. That's why we're giving burger-lovers a chance to taste the delicious flavour of an iced-cold Pepsi cola on top of their favourite Harvey's burger, first-hand," said Reid Black, Senior Director, PepsiCo Beverages Canada. "We created Pepsi Colachup to reinforce just how well Harvey's burgers and Pepsi go together."
If you can't attend the National Burger Day celebration in Toronto, you can still get in on the fun. Starting on National Burger Day and continuing all weekend long, through to Monday, August 28, snap a photo of your favourite foods that go #BetterWithPepsi and tag @PepsiCanada. The first 100 fans each day will receive a $20 Harvey's gift card to try a free Pepsi Zero Sugar cola and Angus burger.
Colachup – What About the Taste?
The heart of Pepsi's Colachup lies in its innovative use of Pepsi as an ingredient. While Pepsi is typically enjoyed as a refreshing beverage, this is a brand new way to enjoy the flavour of your favourite cola blended with ketchup. From what we understand, the sweet and citrus flavours will be the standout notes and the texture is similar to barbeque sauce.
Chef Kyle Shadix, CRC, MS, RD and former Chopped contestant shared: "The signature flavour and bright citrus blend of Pepsi cuts through the fat and gives a juicy hamburger a fresh, clean and delightful taste," said Kyle Shadix, PepsiCo's Corporate Executive Research Chef for Global Beverages. "It's a classic kitchen trick us chefs use. Just by adding a touch of citrus, you can heighten flavour, add brightness and lift the entire flavour profile of foods and beverages."
In case you were wondering, more than two-thirds of Canadians say that ketchup is their top condiment on burgers. No word yet on how many of those people will turn into Colachup fans, but we know that people will definitely be curious.