We had the chance to attend a baking demonstration at Mississauga, Ontario based Bread and Salt Bakehouse recently.  Their Executive Chef, Kira Desmond taught us how to make this beautiful, festive Damson Plum Jam Star.  This sweet pastry has Syrian roots and includes mahlab.  The aromatic spice from the seed of the Mahlab cherry, gives Bread and Salt Bakehouse's Damson Plum Jam Star a slightly almond/cherry flavour.  It is especially popular around the holidays.  If you can't find this ingredient, Desmond mentioned that nutmeg, cardamon or a combination of almond extract and star anise can mimic the flavour.  Baking should be a shared experience, so why not get your family involved in preparing this tasty pastry?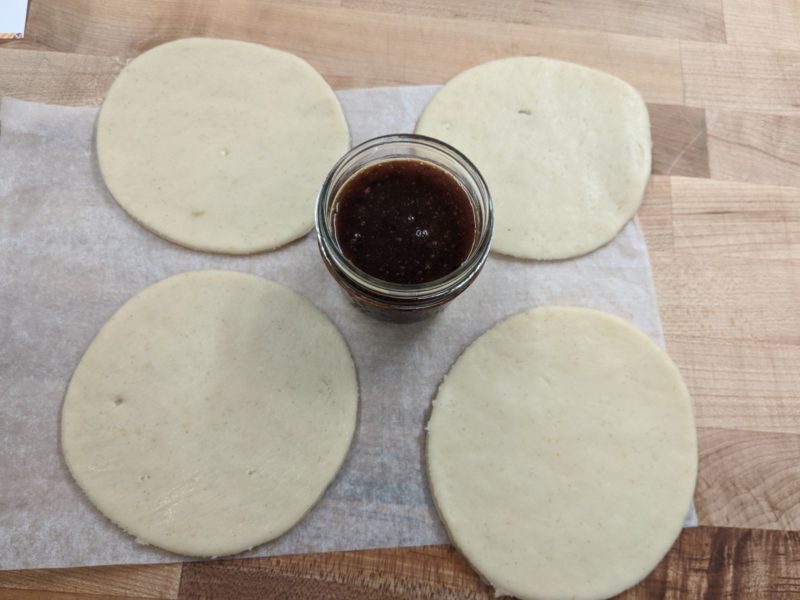 INGREDIENTS
Marouk Dough Starter
3g instant dry yeast
12g sugar
70g lukewarm milk
48g all-purpose flour
Final Dough
322g all-purpose flour
50g softened butter
36g canola oil
70g sugar
47g milk powder
2g baking powder
5g mahlab
5g instant dry yeast
5g salt
5g vanilla extract
153g lukewarm milk
Filling
6 tbsp Bread and Salt Damson Plum Jam (or another plum jam)
1 large egg, beaten with 1tbsp water and pinch of salt (egg wash)
Toppings: icing sugar and crushed pistachios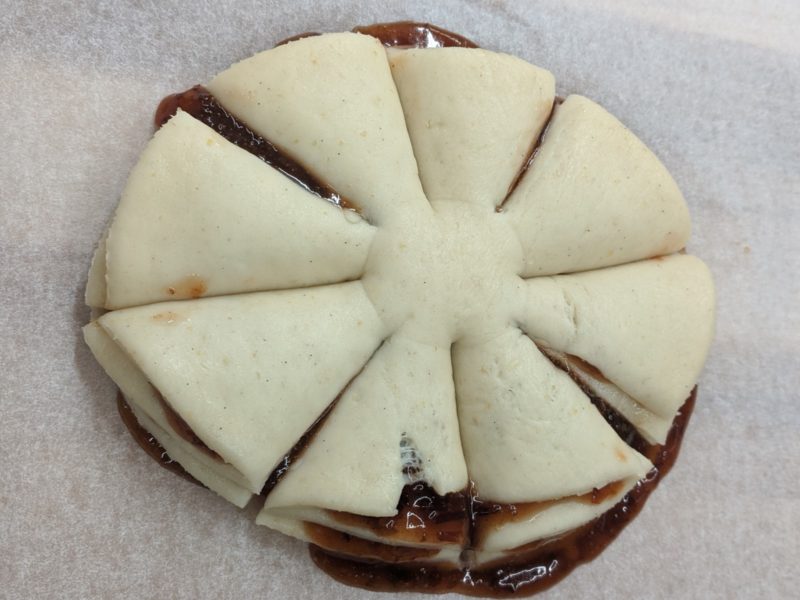 INSTRUCTIONS
Whisk together the marouk dough starter ingredients and let rise at room temperature for 45 minutes, covered with plastic wrap.
In a large bowl, whisk together the milk and milk powder, then add in the starter, canola oil, butter, vanilla and sugar.
In a separate bowl, whisk together the flour, salt, mahlab, baking powder and yeast.
With an electric mixer on low speed, mix the dry ingredients into the other mixture. Once combined, increase to medium speed and continue to mix for 5 minutes.
Move the dough into a greased bowl and cover with plastic wrap. Allow to rise for 60 minutes in a warm place.
On a lightly floured surface, divide the dough into 8 equal balls. Roll the balls out into 6 inch flat circles. ** Keep the work surface and dough lightly dusted with flour to avoid sticking. Keep the dough covered, so that it doesn't dry out.
Place one of the circles on a parchment-lined baking tray and spread 1 tablespoon of jam on top while leaving a ½ inch perimeter with no jam. Place a second circle of dough on top of the first jam layer.
Repeat these steps again, to add a third and fourth layer. Do not spread jam on the top layer.
Repeat the above steps to make a second star. Once complete, cover and refrigerate until slightly firm, 20 to 30 minutes or in the freezer for 10 minutes.
Mark the centre of the circle, using a 1 inch round cutter. Using a paring knife, make 12 cuts (equal distance apart) from the outer edge of the inner circle to the edge of the circle. Be sure to cut through all four layers.
Take two adjacent strips, and twist them away from each other twice. Use your finger to seal the inner seam. Turn the outer corners under and press to seal.
Repeat with the remaining strips. Cover and allow to rise on the counter for 45 minutes.
Preheat the oven to 325°F. Brush the star lightly with egg wash, top with crush pistachios and bake until golden brown (approx. 25 to 30 minutes.)
Let stand for 5 minutes on the tray and then move to wire cooling rack to fully cool. Once cooled, dust lightly with icing sugar.