This tastes like a meaty burger, but it's not. This vegetarian burger blends black rice, mushrooms and eggplant to replicate a meaty texture which, when combined with the other ingredients, creates an incredible depth of flavour. This is a must-make recipe!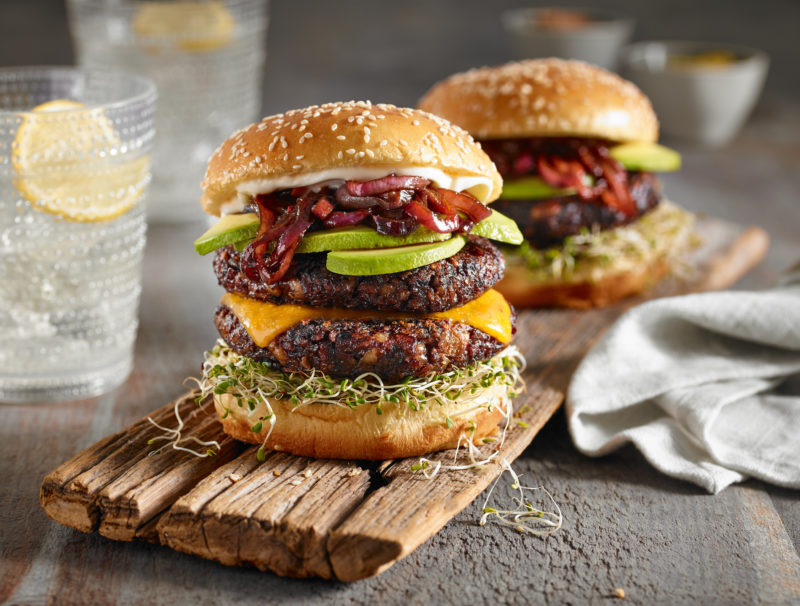 1 cup (250 mL) U.S.-grown black Japonica rice
30g dried mushrooms
1 tsp (5 mL) each salt, garlic powder and onion powder
2 medium Chinese eggplants
1 tsp (5 mL) smoked paprika
½ tsp (2 mL) chili flakes
200 g cubed halloumi cheese
1 tbsp (15 mL) soy sauce
3 tbsp (45 mL) sweet (glutinous) rice flour
4 tsp (20 mL) olive oil, divided
6 brioche buns
Balsamic Onion:
1 large red onion, sliced
3 tbsp (45 mL) balsamic glaze
To serve (optional):
4 tbsp (60 mL) garlic mayo
1 avocado
alfalfa sprouts
Directions
In a small saucepan, combine rinsed rice, 2 cups water, dried mushrooms, salt, garlic powder and onion powder. Bring to a boil; cover and reduce to simmer for 30-40 minutes until rice is tender.
Meanwhile, chop eggplant into large chunks and pulse in a food processor to the size of peas. Dry sauté eggplant with paprika and chili flakes over medium-high heat in a large non-stick pan until tender; about 5 minutes. Transfer to a large bowl.
Place hot rice/mushroom mixture into a food processor and pulse 5-7 times. Remove half of mixture into eggplant bowl. Add cubed halloumi to remaining half of rice/mushroom mixture and pulse about 4 times or until cheese is pea sized. Scrape into eggplant bowl; stir in soy sauce and rice flour until well combined. Form into 6 equal sized patties. In a non-stick skillet over medium-high heat, cook patties in 2 batches with 2 tsp olive oil until golden brown. Serve with balsamic onions and suggested garnishes.
For balsamic onions, cook onions and balsamic glaze in a non-stick skillet over medium heat until tender and caramelized.
Makes 6 patties.
Source: riceinfo.com