Kate Austin launched her fashion and lifestyle brand in 2017, focusing on colourful, print-forward, upbeat casual clothing. Kate is a designer whose clothing, accessories and housewares match her personality –  bright, fun-loving and ethical. The local Toronto designer's pieces are ethically made in Toronto, Peru and India with additional inspiration from Ecuador and Ghana. Ethics, sustainability and goodwill are at the forefront of the Kate Austin brand. From her fair-trade partnerships to the original print designs hand printed by artisans on fine organic cotton, silk, linen and wool using earth-friendly dyes and recycled water systems – social consciousness and care are key components to every Kate Austin item.
Kate's clothing line is built around core styles, re-envisioned with every collection in new prints and colours. This is not fast fashion. She thinks about every piece. Each has a purpose and that is to make women's lives easier by helping them feel great in their clothing. That is just another reason why we decided to learn more about Kate Austin Designs in our latest Behind the Seams.
Your prints are so vibrant and fun. What inspires you?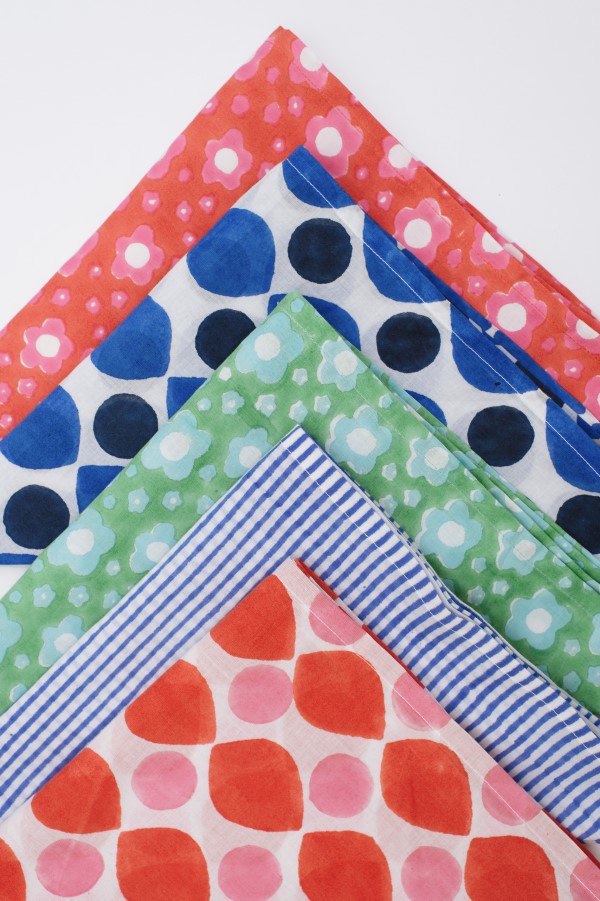 I'm very inspired by nature. I am a big flower gardener, so I'm always taking photos of my flowers. I've always taken a ton of photos and I use photos of my flowers as inspiration. I like to be outdoors, so use my garden, walks in nature, the sky, the seasons, the lake – anything to do with nature
Ethics, sustainability and goodwill are at the forefront of your brand.  Tell us about the research that goes into your fair trade partnerships.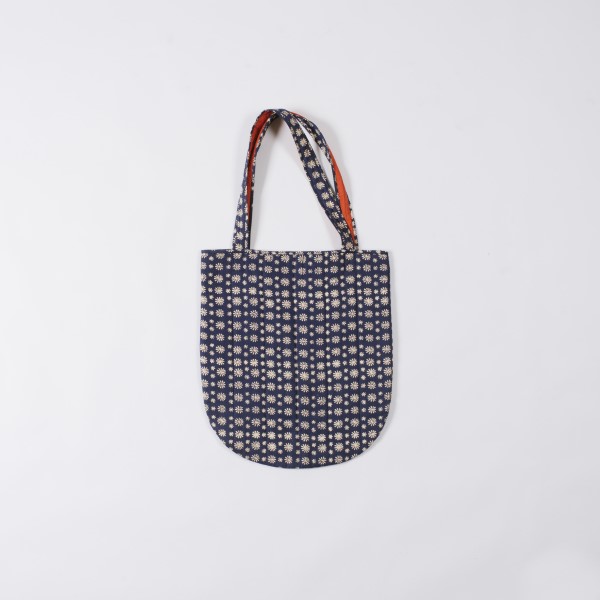 It is very important to me. In any field, the goal is to do the least amount of harm possible. It is our responsibility to make the world a better place. I like to have some personal connection to my production partners. My first production partner that I found in India was through a friend that spent a lot of her time there. She traveled extensively and was interested in a certification in fair trade. She was connecting with people at a few of the production studios across India, which has been at the forefront of that movement.
I was not only interested in the fair trade aspect of it, but the craft in terms of maintaining the heritage of that specific region. There are a lot of global artisans that are disappearing because they are no longer valued by the local culture, since there is a global economic culture now. There are these trades that are getting lost. The new generations are either moving away or they are trying to find work in other fields. I was also interested in building up and maintaining those traditional crafts and these amazing skills that have been passed down for generations.
My first production partners were in Rajasthan – the block printing [by hand] centre of India. My training is more in screen-printing but I feel like I can design a repeat pattern for any kind of clothes. To respect the tradition of that area, I only want to work with block printing there because we want to keep those incredible skills coming down through the next generation.
The partners that I have in Ghana and Ecuador, new projects that I have been working on, have come about organically, and I've really enjoyed working with them. It's very different. I'm open to anything that I can put a pattern on or use my expressive, creative brain on. These two opportunities arose via my summer intern students. One is from Ghana originally and has connections to weavers there. The other is from Ecuador and did her undergrad there in Indigenous craft traditions. She was plugged into different crafts from the Indigenous communities there. She was able to connect me, and I didn't really have an agenda. I just wanted to find out what they made and it happened organically. It was like; that's amazing and so Kate Austin Designs, let's make some of those! Its been a collaboration and conversation between myself and the craftspeople. That's my favourite way to work.
It's almost pattern first versus design first…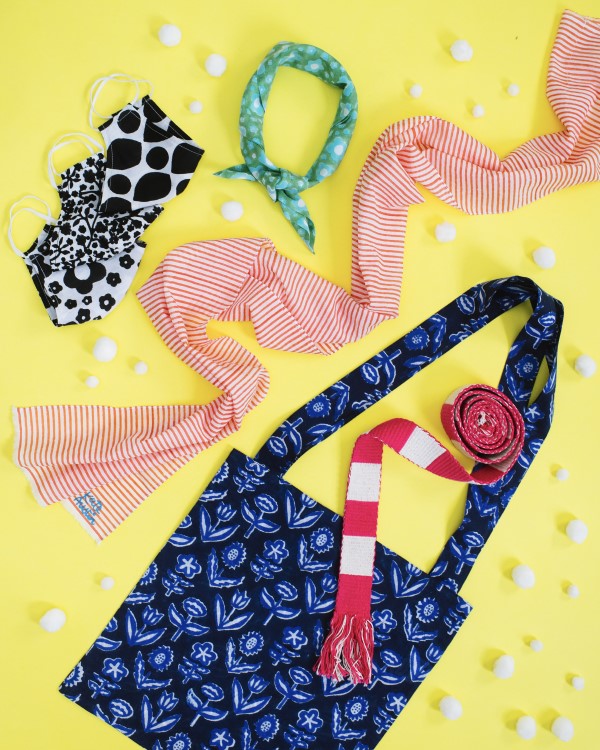 That's very fair. I think I work very intuitively. It's not a conscious decision to do that. My inspiration and driving force is to make these patterns, but also to play with colour. I have a few pieces coming that aren't so patterned. But there's still colour and it's all about the full collection. It plays with those relationships and how patterns and colours interact. It definitely leaves me open to whatever is possible, as opposed to me saying that I want to make this or I want to make that and have a strong agenda. I love this organic way of working where I let the universe show me what's possible and then go for it.
Your business model is unique in that you have core styles, but it's your prints and fabrics that change. Why did you decide to go this route?
When looking at art or fashion history, I'm very inspired by Marimekko or Liberty of London. The idea is that their brand is identified by the pattern and the pattern can be applied to anything. It's like livable art – like you are wearing art. For the core styles, it's how I like to dress. I love the idea of having a uniform. I remember when I was 20, a good friend of mine went to Vietnam. She came back with this incredible wardrobe and it was just the same skirt, the same dress, the same top and jacket. They had all been tailored perfectly to her body and she just chose different silks, different weights of cotton and different wool. She had this incredible uniform that was so fun.
I like the idea of not fussing so much when you are getting dressed in the morning. You grab your piece, you put it on and you just go. There is no angst – it's just easy. That is part of that core style ethos. You get a piece, you know that it fits you well and you just get it in all different types of fabrics, prints, patterns and colours.
One of my favourite shops is MUJI – the Japanese department store. They have these core shapes and they just change the fabric. I think it's an amazing business model, especially for online shopping. Then, all you need to know is that the Katherine shirtdress fits amazingly and you know that every season, you will have new options for it.
In addition, you are one size fits many from XS-XL – explain how one size can work for many?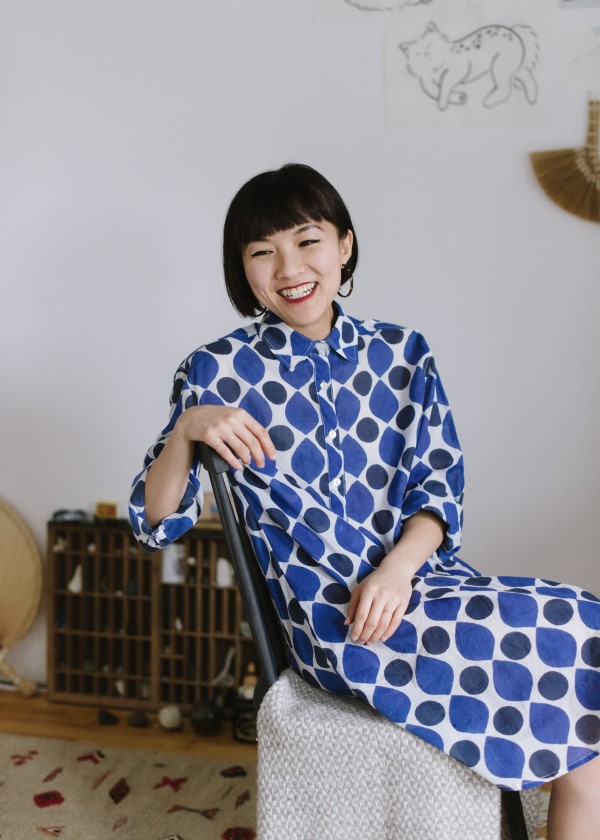 You can be a different size in the same brand, and that drives me crazy. A size 10 in one line, may not be the same in another line and it happens a lot in fast fashion. That is one of the reasons that I decided to get away from sizing. I feel like we can get so bogged down and defined by sizing and when it's so arbitrary, I just think why bother with that agony? I felt it was about that ease of living. If you get pregnant or lose 50 pounds, you'll still be able to wear your clothes. You don't have to buy a whole new wardrobe.
In terms of the size inclusivity movement, my pieces don't fit that completely, that's why I always say one size fits most. It is impossible to have one piece that will fit every single body. I have been thinking about it a lot. I don't ever want to make somebody feel left out. I want to make clothes for everybody. I may introduce some bigger sizes and I can always do custom pieces. I have been thinking about how I can communicate that I can do custom sizing and make it fit for you, hopefully for the same price. Some of my pieces will fit from XS-XL and others may fit from XXS-XXL. The kimono robe is very generous and fits a lot of body types beautifully. Some pieces like the Katherine Shirt Dress will have size 12-14 as the upper limit. It's a little bit vague because one company's size 12 can be much bigger or smaller depending on the cut. I would say upper end is 14 and lower end is a size 2.
I just started doing it intuitively and kind of because I had a piece that looked great on somebody that was skinny and great on someone that is a little larger. I started challenging myself to do that more. I didn't think of the politics of it so much, but now I love that it's more accessible in that way too.
You have said that you are designing for Gen X women,  which has become the lost generation when it comes to fashion. Why target this group of women?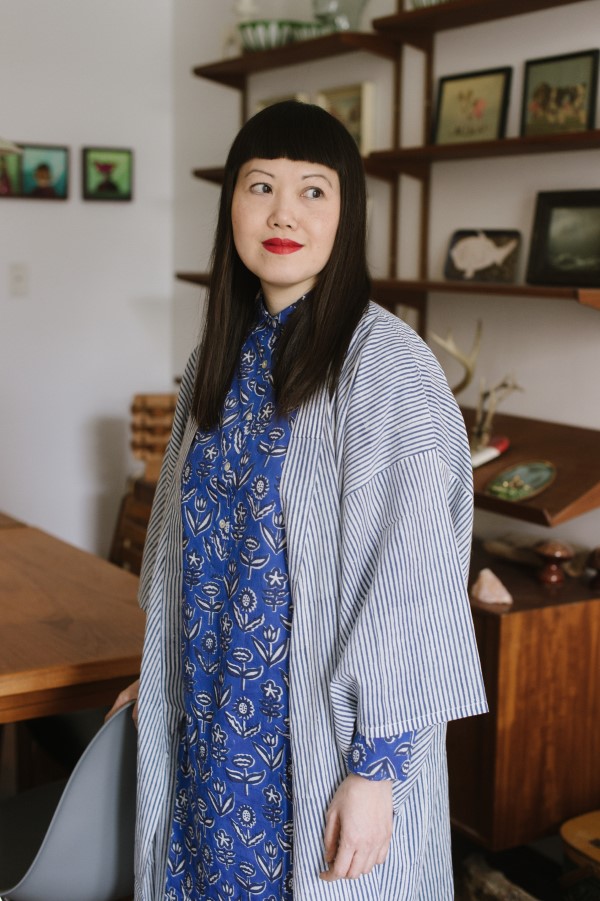 The short answer is because I am Gen X. It's completely self-serving [laughs]. If I can't feel passionately about something, then I don't want to sell it. That's just what makes sense to me. When I started thinking about it and analyzing it more, I again started from this intuitive spot. As I dug deeper, it seemed crazy because Gen X women are amazingly self-possessed. It's a great time when you have travelled through life a bit so that you have this confidence. I love the confidence of women in their mid-thirties and up. There is just something that with age. You get this incredible confidence and you feel less attached to trends. There is an understanding of the value of things when you have had the experience of owning something for 20 years and seeing that some things last and some things don't. Seeing the value of quality is something that you can appreciate once you have owned or lived with things for awhile.
I also like to serve the underdog. People aren't designing things for us. We want to look and feel great too and we care about the environment. Generation X women are very engaged and very connected to activism; more so than any other age group. We were early feminists. I really connect with that aspect of Gen X women as well. Men's clothes are just so easy and so well made, a lot of the time. I want to offer that as well. When you are in your 30s, 40s and 50s, you're busy, you have kids, you have a busy job, you don't want to be fussing and taking an hour to get ready in the morning. You want to be able to pull something on, feel great, look great and be ready for the day. It's just another reason why I thought that these women needed to be served.
What is your favourite piece to wear and why?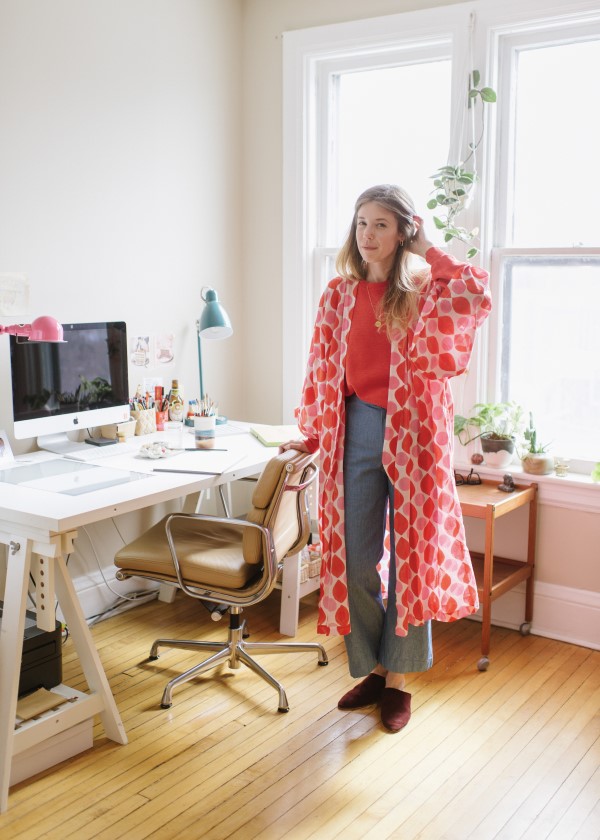 I always say that slow fashion for me is not just a hashtag. I am slow because I don't want to put something out there that I truly don't want to wear myself. The very first piece that I made was the [Lena] Robe and I made it because I had this incredible vintage yukata, which is a summer, cotton kimono. I have patched it so many times and I still have it. I love it, but can't wear it anymore. I wanted to make myself a yukata.
Once I found the production partner, and I had these patterns that I was really excited about, I decided to make it. That is really one of my favourite pieces to wear. You can wear it as a dress. You can wear it as a jacket or cardigan. You can wear it as a cover up or robe. It's just so versatile. It's a nice size and you can see the pattern beautifully. There is something so lovely and glamourous about a robe or dressing gown. It's kind of old world. It's hard to wash the dishes in [laughs]. I think it's so nice to have something special mixed in with your everyday clothes.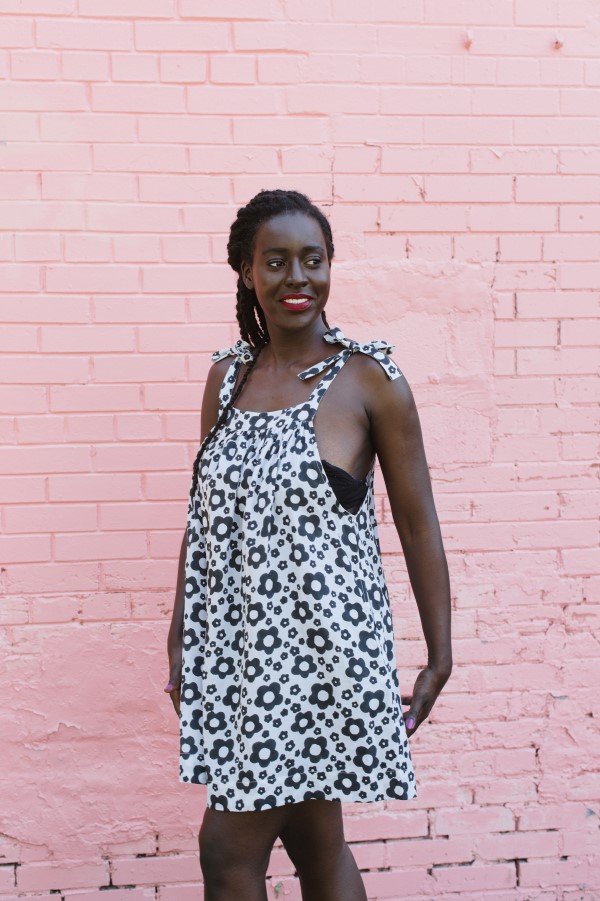 My second favourite is a very new style – the Mimi Sundress. The reason that I wanted to mention it is because I have been wearing it non-stop. As soon as the weather gets warm, it's the best thing to wear. It's easy and I can ride my bike in it or throw it over a bathing suit. I can also put my bathing suit on underneath it because it ties at the shoulders. It's easy to change your clothes underneath it. I love the versatility of the Mimi Dress as well.
The robe is still my number one, though, because it doesn't have a season – you can wear it year round. It's amazing for travel too. It folds down to nothing. The fabric is so lovely and that was one of the reasons why I wanted to work with India, particularly because the cotton from India is just magnificent. It's so fine and thin, but strong. I also make this big sarong that folds down to a two inch square. You can pack for a week-long vacation with a small carryon bag because everything folds down so well.
Housewares are also an important part of your business. How difficult is it to go from designing clothes to houseware?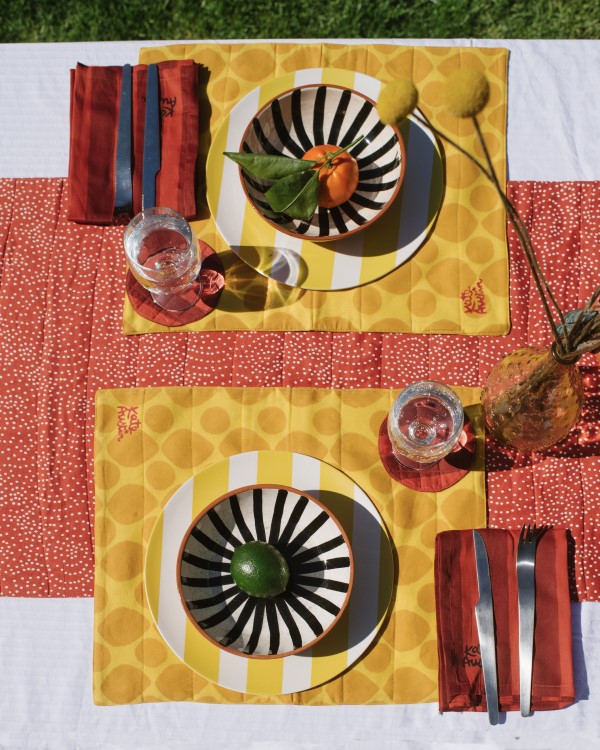 I haven't really thought about the difficulty of it, but it is quite challenging because it is a different brain activity. In some ways, it is a no-brainer because these patterns just cry out to be on housewares. They transition between houseware and clothing – they don't draw any lines between them. I definitely feel that like my clothes, I want the product for homes to be useful, relevant, meaningful and well-designed. I am moving slower on housewares because I want that intentionality in every piece that I bring out.
I did introduce a Picnic capsule. I've been working on that for awhile. I had an opportunity; my production partner in India had this extra yardage of one of my prints. There was a tiny little dot in some of the pieces that we didn't want to put into the dresses, so I thought, why not do the Picnic capsule? I had been thinking about it for awhile and it felt like it happened miraculously fast because I was able to sketch these pieces, send them off and they made them right away. The challenge is just in making sure that everything is really great but it's not hard for me to envision.
Before I started Kate Austin Designs, I had another business in textiles that I printed with a friend. We had a little shop in the Distillery (Toronto) and we did gifts, home accessories and clothing as well, so I had some background. We did an amazing project where we designed a room at the Gladstone Hotel and patterned everything. I come back to that a lot; I think about how all of the patterns worked in that interior space. It was cool to just design one room and the individual pieces like the lampshades, the bedspreads, pillows and textiles for chairs.
I have been thinking of that a lot for my next phase for Kate Austin Designs, but then there is also this thing where I met all of these incredible indigenous craftspeople in places like Ecuador and Ghana, so I'm designing backwards with objects that I never even thought of. It's a different kind of surface pattern application that's built into weaving.
What is next for you?
Definitely some woven pieces. I'm making hats and baskets. I know that I'm enthusiastic, but I'm freaking out about the hats! They are so beautiful. I'm the type who needs a good summer hat and a good winter hat. This is different though, it's more of a fall hat. They are 1970's-style, floppy little felt hats from Ecuador made from wool from the local sheep, and the merino is super soft. The colours are just beautiful.
I'm looking around to see if I can find any shoe people. I thought about doing some ceramics. I also found beautiful, traditional beaded collars from one of the Indigenous groups in Otavalo, Ecuador. They are light, but they sit nicely on your collarbone and you can wear them as necklaces or collars. I really don't have any limits to what I want to make. I don't have a timeline either. I love how things roll along, these beautiful opportunities come up and I just say ok, let's do that.
You can shop Kate Austin Designs online at Heidi-Ho2 at Yorkville Village (Toronto) and greenlivingshow.ca. Kate Austin is giving DIVINE readers a 15% discount on her fun, fabulous fashion ! Simply use code DIVINE at the checkout on her website.