Behind the Pages gives you insight into your favourite books by your favourite authors. This time, we are featuring The Bookseller's Secret author Michelle Gable.
The Bookseller's Secret is the latest novel from the New York Times Bestselling Author and tells the story of Nancy Mitford, a British novelist, biographer and journalist. Although the book is a work of fiction, Nancy Mitford was a real person with a fascinating life. The Bookseller's Secret takes us between two world's – Nancy's world in 1942 to the present-day where the hunt is on for her lost wartime manuscript.
Learn more about The Bookseller's Secret, what drew Michelle Gable to both Nancy Mitford and to historical fiction, her writing process and more, as we take you Behind the Pages.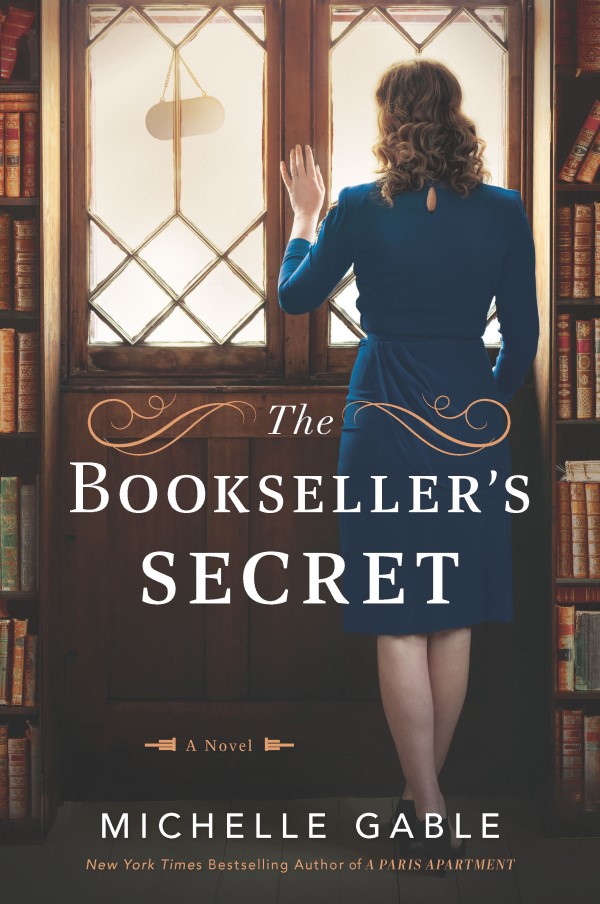 Your novels, including The Bookseller's Secret have some form of historical discovery as a major plot point. What draws you to historical fiction?
I love uncovering nuggets of relatively unknown history, whether centered around a person, an event, or a place in time. There's so much to learn about our past, and how it connects to today. Sometimes the comparisons and cause-and-effect relationships are quite jarring!
In the afterward of the book, you wrote the following:  "This is not a biography, and the point of the novel is to reflect the inherent truth of a situation, and not merely recite a list of facts." What did you mean by this and how do you feel that the novel addressed this statement?
My goal in writing historical fiction is to make it plausible, thus creating a story to fit known facts. Am I saying this happened? No. Could it have? Yes. As opposed to a biography, a novel isn't a recitation of dates and facts ("this happened, and then this happened…"). There's a journey, a character arc. I try to make my characters as close to reality as possible but this is not a work of non-fiction. I do hope it sends readers googling to learn the actual facts!
You felt a connection to Nancy Mitford, not just as a character in your novel, but in her writing style. What drew you to her?
I'm not sure! I read her a million years ago, in high school or college, and was immediately drawn to her style—the humor, the heart, the razor-sharp insights. One of Nancy's sisters said, "being beastly was her favorite sport" and this certainly shows up on the page! She also often wrote about people who were "other," and on the fringes of society, even though she was part of society herself.
Which character did you most enjoy exploring the most in The Bookseller's Secret?
Nancy is the obvious answer, but I had such fun with her entire cast of friends. The malcontent Evelyn Waugh was probably my favorite to write, but I also adored Hellbags, Eddy and mopey Jim Lees-Milne.
What is your writing process? How do you decide on a topic, find the characters and turn it into a book?
I keep a Pinterest board of potential ideas. It might be an article about someone or something, or a Wikipedia page, perhaps a link to a podcast episode. When it comes time to write, I usually look through my ideas board and see if anything pops. Usually, I'll run several ideas by my agent, and then my editor. Sometimes, there's an obvious topic I'm dying to write about (The Book of Summer was like that), other times it takes more thinking/digging. My agent gave me the idea for The Bookseller's Secret!
Once I decide on a topic/time/place I do some preliminary research and try to figure out what my characters and story will look like. Sometimes, the fictional characters are based on an idea, or a topic I want to explore. For example, the modern-day character in A Paris Apartment sprung from a conversation at my book club. We've all been married a long time, and someone posed the question, "if your husband cheated on you one time, and it was truly one time, would you want to know?" That launched April's story.
Once I have an idea for characters, and what questions I'm asking, I'll write a one-pager, followed by an outline, and go from there! I get a lot of help from my agent in the early stages.
If you were a bookseller, what book, aside from your own, would you recommend and why?
The Pursuit of Love by Nancy Mitford, of course! It's a shame how few people have read it.
How hard was it to leave a career in finance behind and become a full-time writer?
Incredibly hard! I loved my job, and they made great accommodations for me to keep doing both, which I did for several books. Also, that job was far more lucrative and less nerve-wracking. But I got to the point where I could no longer do both well. I still miss it, though!
Finally, what's next for you?
Though I vowed no more WWII novels, I couldn't help myself! My next book will take place in Rome, near the end of the war. It's based on a woman who created propaganda to feed to the Germans and is an exploration of female friendship as well as how misinformation not only affects those receiving it, but those creating it.
The Bookseller's Secret is on-sale now. To learn more about Michelle Gable, check out her website michelegable.com.