If you cran't get enough of holiday cranberry cocktails and mocktails, you'll want to start the season off right by raising a glass to National Cranberry Day!
Since cranberries are the star of the season on our table and in our cocktails, award-winning bartender Ashley Flynn is kicking off the holidays with cranberry cocktails and mocktails you can keep in high rotation all season long.
Ashley's sensational sips are quick and easy with a special sparkle added by the four flavours of Ocean Spray Sparkling juice. Made with real fruit juice and no artificial flavours or sweeteners, Ocean Spray Sparkling is the only cranberry flavoured sparkling juice because who else does cranberries better?
Here are five of the best cranberry cocktails and mocktails you can feel berry good about serving this holiday season.
Mocktails:
Cran-Mango Tango: Inspired by the spicy margarita, tis' a fiery sip with a cranberry mango twist!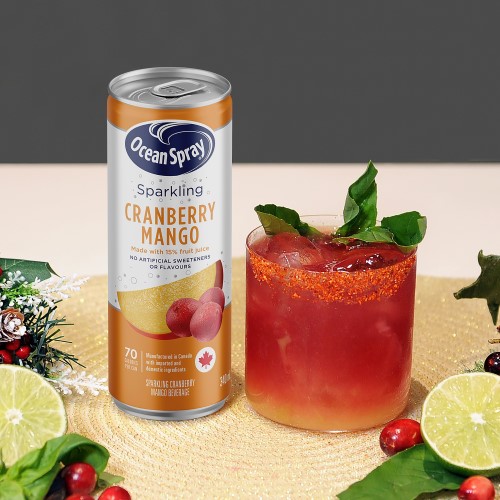 Ingredients:
1 oz freshly squeezed lime juice
1.5 oz pineapple juice
5 dashes jalapeño hot sauce
Top with Ocean Spray Sparkling Cranberry Mango
Tajin rim the glass
Basil sprig to garnish
Serve in a double old fashioned glass over ice
Sage Advice: A family favourite featuring cucumber and sage; the perfect stuffing pairing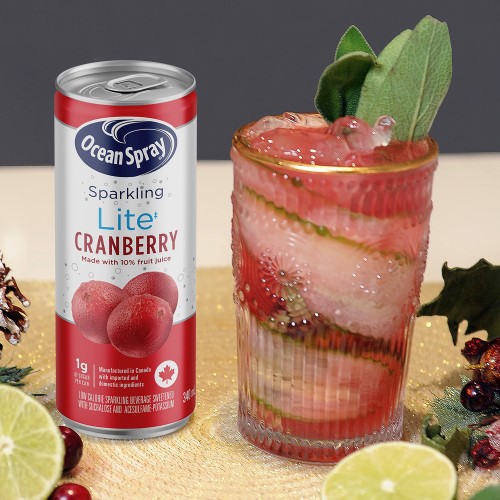 Ingredients:
1.5 oz freshly squeezed lime juice
3 cucumber coins (light muddle)
3 sage leaves (light muddle)
Top with Ocean Spray Sparkling Lite Cranberry
Garnish with sage sprig
Serve in a Collins glass filled with ice
Cucumber ribbon to garnish the inside of the glass
Merry Nojito: A festive non-alcoholic twist on a mojito with pomegranate and cranberries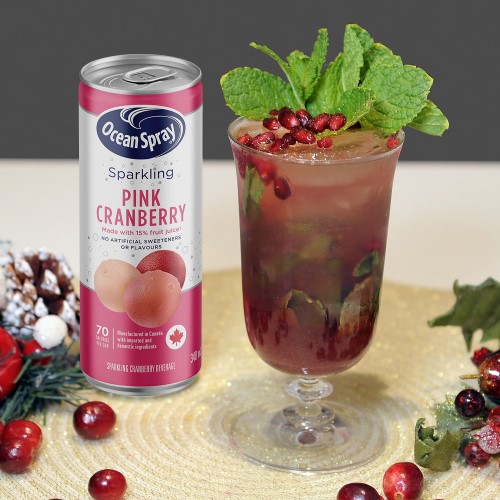 Ingredients:
1/2 oz freshly squeezed lemon juice
1.5 oz pomegranate juice
6 mint leaves
Top with Ocean Spray Sparkling Pink Cranberry
Garnish with a mint sprig, pomegranate seeds and shaved cinnamon
Serve in a Collins glass filled with ice
Cocktails:
Pink Cranberry Kiss: A pink twist on the French 75; the only NYE kiss you'll need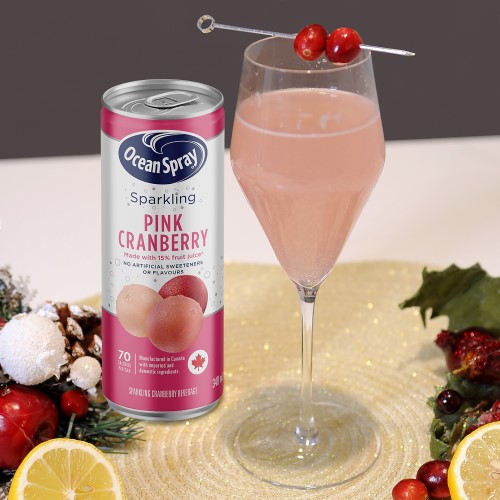 Ingredients:
1.5 oz vodka
1 oz fresh squeezed lemon juice
½ oz lychee juice (from canned lychees)
Top with Ocean Spray Sparkling Pink Cranberry
Garnish with a skewer of cranberries and spray with rose water aromatic
Serve in a flute
Getting Figgy With It: Seasonal fig flavours with rum and mulling spices for a special holiday treat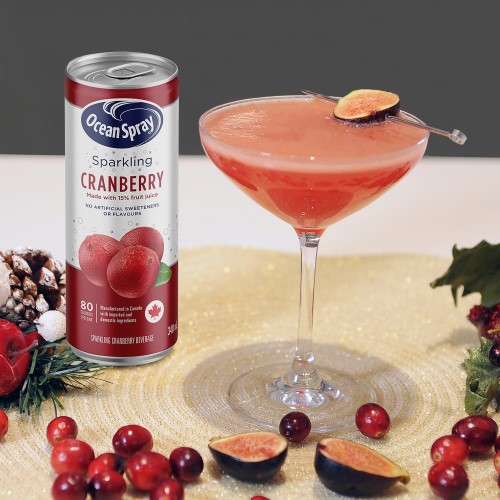 Ingredients
1.5 oz Flor de Caña 12 Year Rum
1 oz freshly squeezed lemon juice
2 figs, washed and quartered
1 tablespoon honey
1/2 teaspoon mulling spices
Top with Ocean Spray Sparkling Cranberry
Muddle and shake over ice
Strain into a coupe glass, garnish with fresh skewered fig