Just picture it: warm scones with strawberry jam and cream; dainty finger sandwiches with the crusts cut off; tea cakes, macarons, cream puffs, and unlimited Earl Grey tea sipped from fine china tea cups. Fresh cut tulips, linen tablecloths, and polished silverware. The company of a few good friends, and a lot of time to kill. Does this sound like the perfect afternoon to you?
The British call it Afternoon Tea, and although you can find proper tea houses in North America, they can be tricky to find, depending on where you live. Luckily, you can recreate this scrumptious oasis in your home. In a world where we're usually drinking tea or coffee on the go instead of enjoying it sitting down, this ritual slows everything down. It's all about sharing a treat with friends.
It feels good to set your table immaculately, do some baking, and pull out the beloved tea set that you don't get to use very often. If you're doing Dry Feb, endless cups of tea will certainly take the place of beer or wine.
Here's your complete guide to hosting Afternoon Tea at home.
What is Afternoon Tea?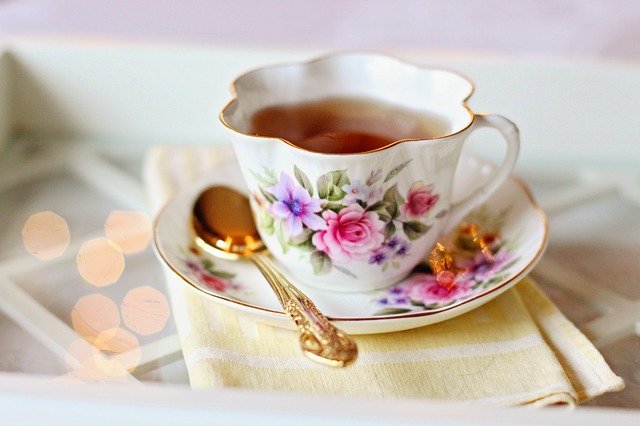 Afternoon Tea is a quintessentially British tradition of enjoying tea (usually Earl Grey) and nibbling leisurely on a variety of refreshments.
The tea is sipped from fine china, and the main event is the three-tiered serving platter containing light sandwiches, scones, and desserts.
The tradition originated in Victorian England in 1840 when Anna, Duchess of Bedford, was feeling peckish while waiting between lunch and supper. She asked her servants to lay out a variety of snacks with tea. Anna was pleased with the result, and the tradition quickly swept across England.
Afternoon Tea Basics
There are two main components to afternoon tea: the tea itself, and the sandwiches and treats platter. Make sure you have a constant supply of tea for your guests, and try to source a high-quality brand of Earl Grey (more on that later). It's always a good idea to have herbal tea on hand in case you have a friend who isn't keen on black tea. Make sure to provide a creamer full of milk and a small bowl of sugar cubes.

Traditionally, the refreshments are displayed on a three-tiered tray. Kitchen Stuff Plus makes a very basic one, but Royal Albert makes a more ornate one if you want something more regal. A three-tiered serving tray is essential in keeping with the tradition. Finger sandwiches go on the bottom, scones in the middle, and sweets go on top.
Tea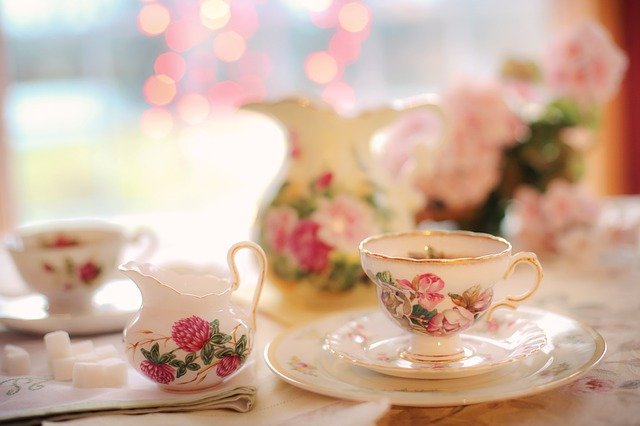 To host afternoon tea, you're going to need a tea set. You will need a teapot that's large enough to serve four or five people, and you will need tea cups, saucers, and teaspoons. Though you can purchase brand new tea cups from a home furnishing store, it's always more special to serve tea in vintage China cups. You may already have a family heirloom set handed down to you through generations, or if you don't, vintage tea cups and saucers are very easy to find at antique, vintage, and second-hand thrift stores (and for a great price, too). Many people are trying to get rid of their tea cup sets and don't have room for them anymore. In addition, you can find beautiful, ornate teaspoons at antique stores as well, though you may need to use some silver polish on them.
What you'll need:
A teapot

A set of four or five tea cups and saucers

Four or five teaspoons

A milk creamer

A small bowl of sugar cubes

A good quality Earl Grey tea brand (

Sloane

,

Pluck

,

Genuine Tea

and

David's Tea

are great options)

An herbal tea, such as lemon ginger or chamomile
Sandwiches and Refreshment Platter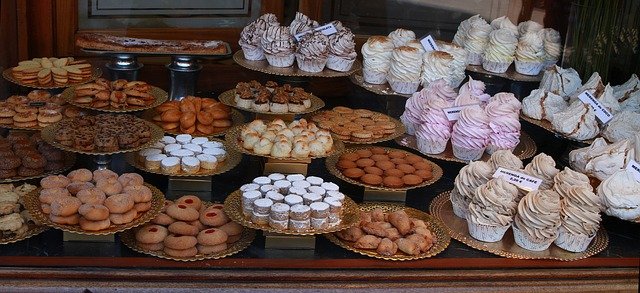 On your three-tiered serving tray, you will serve finger sandwiches on the bottom (first course), plain English scones in the middle (second course), and sweets on top (third course).
For the sandwiches, you'll want to offer something light, since the next courses are heavy. Great examples are cream cheese and sliced cucumber on dark rye, hummus, red pepper and arugula on a grainy bread, or tuna and shredded kale on white sourdough. Whatever you decide to do, slice off the crusts and cut them into small squares or rectangles.
For the scones, it's best to make them yourself so they're fresh and warm.
Make sure you set down a small ramekin or bowl of a decent quality fruit jam, and another small bowl of clotted cream (this is an English imported item that can be tricky to find. If you can't find any, offer a bowl of lightly sweetened whipped cream).
For the dessert tray, you won't have time to make an assortment of sweets, so go to the best bakery (or bakery section of a specialty grocer) you can find, and choose an assortment of tiny treats. Some great examples include petit fours, macarons, fruit custard tarts, and mini butter tarts. It's always a good idea to put out some fresh fruit, such as strawberries, blackberries, or green grapes.
What you'll need:
A three-tiered serving tray

Two metal serving tongs

An assortment of finger sandwiches Fresh baked English scones

A small bowl of strawberry or red currant jam with a spoon for serving

A small bowl of clotted cream (or whipped cream) with a spoon for serving

An assortment of sweets from your local artisanal bakery

Fresh fruit, such as grapes, strawberries, or blackberries, cleaned and dried
Setting the Table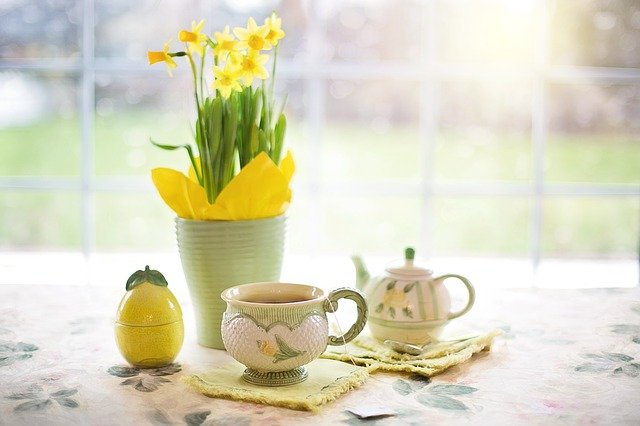 What would Afternoon Tea be without an elegant table setting? Your table should be set immaculately, with a white linen tablecloth, white linen serviettes tucked into napkin rings, a clean, chip-free dishware set, shining silverware (another thing that can be found easily at second-hand and vintage stores and brought back to life with some silver polish), and fresh cut flowers, such as tulips, lilies, daffodils, or dahlias.
If you're willing to spend a little extra money, little things like napkin rings, sugar pots, and vases can make your table look beautiful and make your special occasion memorable for your guests.
When setting your table, try to stick to a colour scheme. Try to make your flowers match your décor. If you buy plates with a red floral pattern, echo it with some red tulips. Play with complimentary colours, like yellow and purple, or blue and orange. Soften the flower display with some white roses for added elegance.
What you'll need:
A white linen table cloth, ironed and crease-free

White linen serviettes

Napkin rings (optional)

Fine china dinner plates (or anything clean and chip-free)

Fine china side plates (to go on top of the dinner plates)

Enough silverware (dessert spoons, dessert forks, butter knives) for four or five people

Fresh cut flowers (such as tulips, white roses, or dahlias) divided into a few small vases
Make it an Occasion to Remember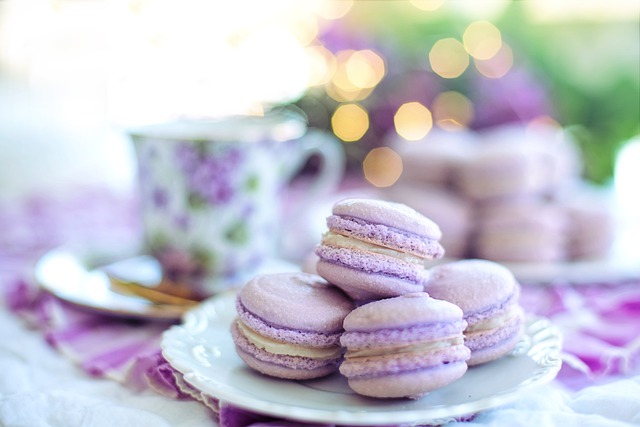 It's not everyday that we get to sit around with friends, enjoy our cup of tea, and nibble on a spread of sweets, fresh scones and sandwiches the way the Royals do. Preparing Afternoon Tea for friends may be a lot of work, but it's a memory that you will cherish always.
To make the occasion extra special, why not send your friends home with a souvenir? All those ornate vintage teaspoons you bought at the antique shop can be washed at the end of your tea party and given away to your friends as a keepsake. Or, if you don't want to hold onto the vintage tea cups and saucers, you can send your friends home with them.
Take this moment to bond with dear friends, savour delicious refreshments, and make time to slow down. Stop and smell the roses.