Updated: May 28, 2023
Discover Miami-Dade County in Greater Miami and Miami Beach, where vibrant city life gives way to awe-inspiring nature including agriculture. From the glittering shores of the beach to the captivating art scene of Wynwood, and the adventure of the Everglades, this vibrant destination offers a myriad of must-dos.
Indulge in world-class cuisine, explore iconic neighborhoods, and immerse yourself in the pulsating energy that permeates the air. Whether you seek sun-soaked relaxation or exhilarating adventures, Miami-Dade County is ready to deliver on unforgettable experiences. We explored the area recently and here are some of our must dos in Miami-Dade County:
Historic Redland Tropical Trail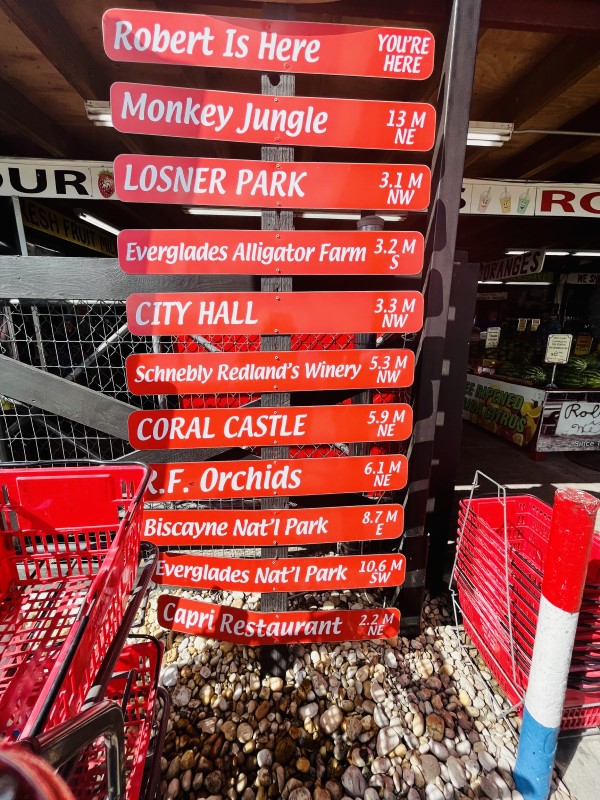 Historic Redland Tropical Trail lies between Everglades National Park and Biscayne National Park. The area is filled with natural beauty, fun and of course, delicious food. You can experience one of 11 amazing attractions. We couldn't fit them all in, but here are four of the gems that we experienced (we are counting Everglades Alligator Farm as two since you get to see Everglades National Park):
Everglades Alligator Farm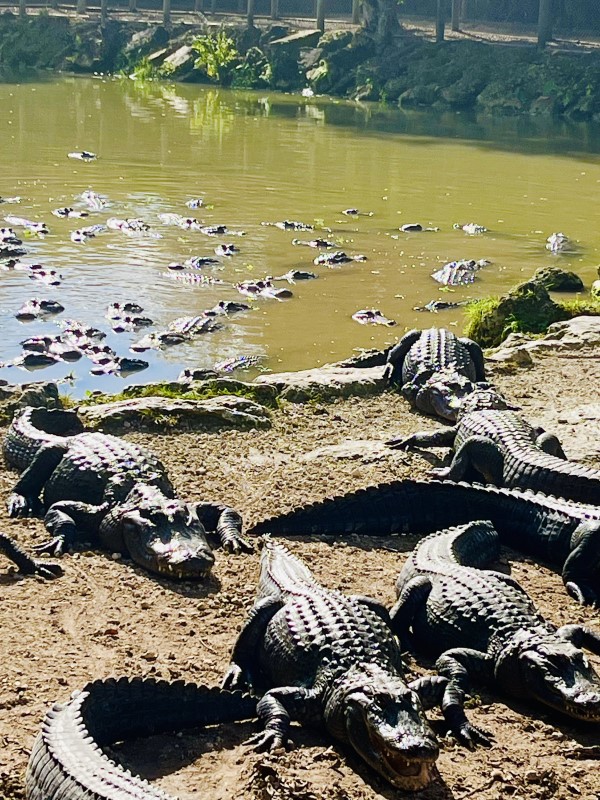 Everglades Alligator Farm is South Florida's oldest alligator farm, located near the entrance of Everglades National Park. It is home to approximately 2,000 alligators (you read that right). You can watch a feeding demonstration, learn more about Florida's most infamous reptiles and even hold a baby alligator. It's definitely a thrill.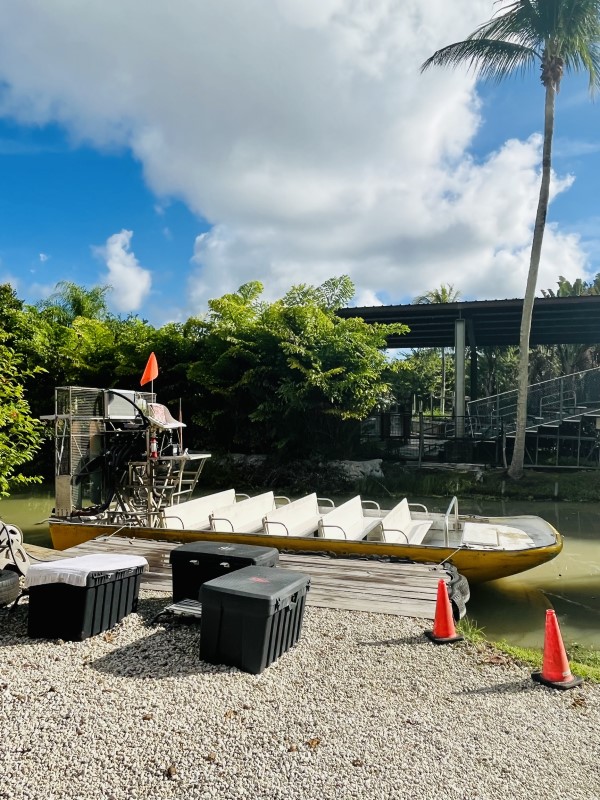 You can also enjoy an absolute must-do by taking a air-boat ride through the Everglades. This is one of the most fun rides that you will experience. The boat picks up speed, zipping sideways and in a round-about. Even though it lasts about 20 minutes, it feels like no time has gone by.
DIVINE Tips: They provide headsets free of charge. Use them – they are for your protection – the boats are really loud. This is a great activity for families with kids who aren't bothered by loud noises – use your discretion. Also, if you don't want to get wet, do not sit in the front seats and lift your feet when the boat is turning quickly or going sideways across the water.
Robert is Here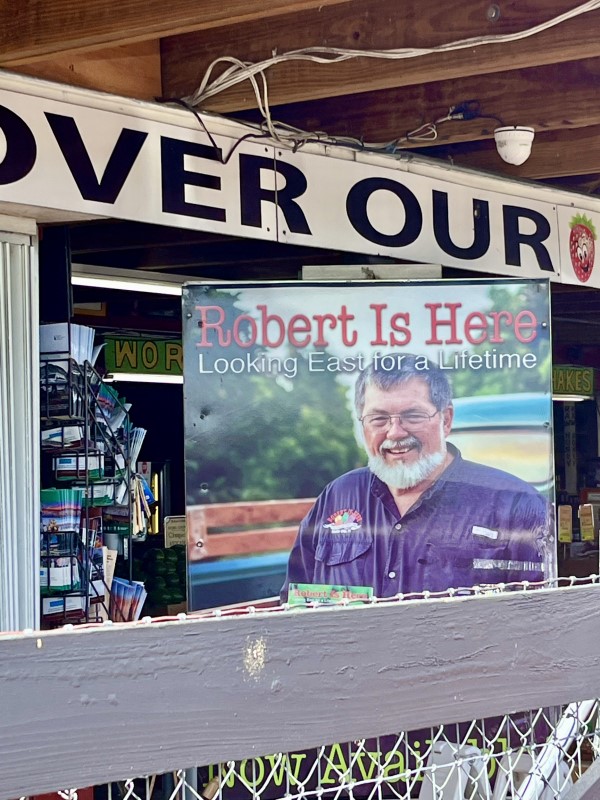 Robert Is Here is a family-owned and operated fruit stand in Homestead, Florida. They are known for tropical fruits and vegetables, mostly grown on their own farms. It started as a fruit stand located on the side of the road, but has since become a must do if you are visiting Miami-Dade County. Enjoy a milkshake or smoothie while you are visiting the animal farm or play area.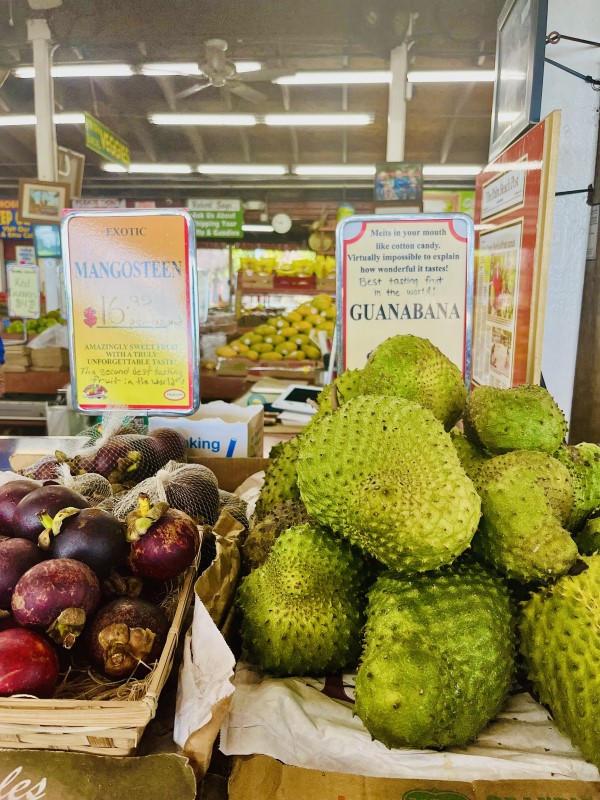 Meeting the family, including Robert himself, makes the experience really special. His pick for the best fruit? The guanábana AKA soursop. The taste and texture are unique. It is sweet, sour and creamy all at the same time. The best way to describe it is if a pineapple, strawberry and banana were mixed together. Try it and tell us what you think. His second favourite is the mangosteen for your reference.
DIVINE Tip: If there is a fruit that you can't wait to try, ask them to cut it for you – they will happily cut it for you making it easier to eat (and peel).
Schnebly's Winery and Brewery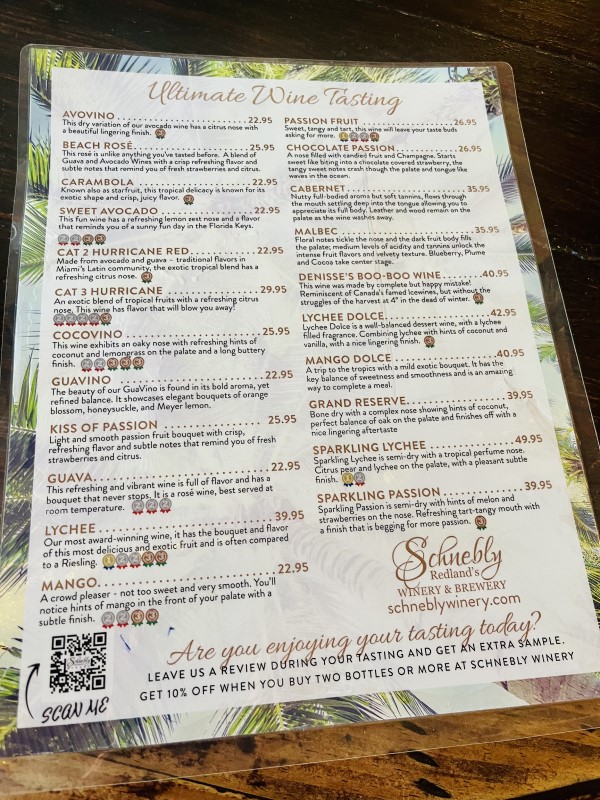 Schnebly's Winery is the Southernmost winery in the United States and offers a unique selection of exotic tropical fruit wines right in Miami-Dade County. The setting is beautiful with waterfalls, koi ponds and more. They recently added a brewery if you are more of a beer drinker.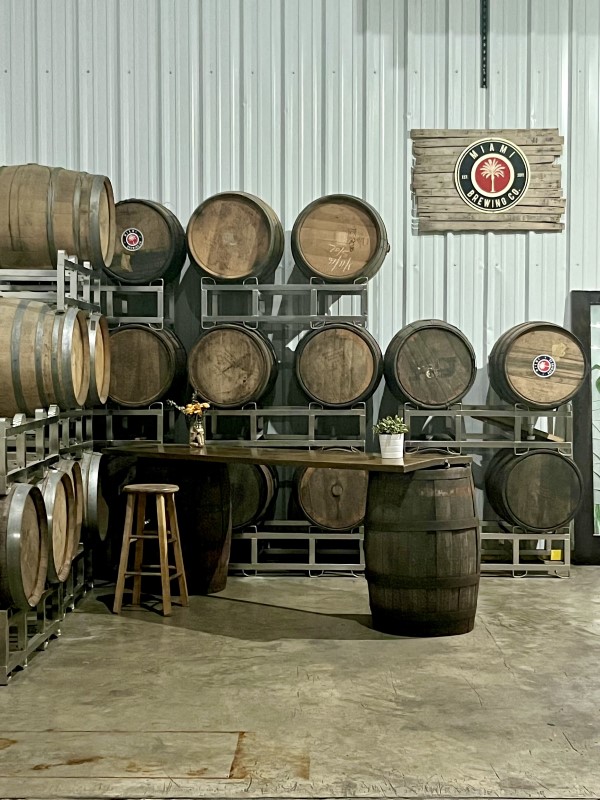 We did the wine tasting and had the chance to sample five different tropical wines: Beach Rosé (a blend of avocado and guava), Lychee (their most decorated wine), Chocolate Passion, Boo-Boo Wine (similar to ice wine) and Mango. Our favourite was the Mango! try some of their farm to table charcuterie to enjoy with your wine.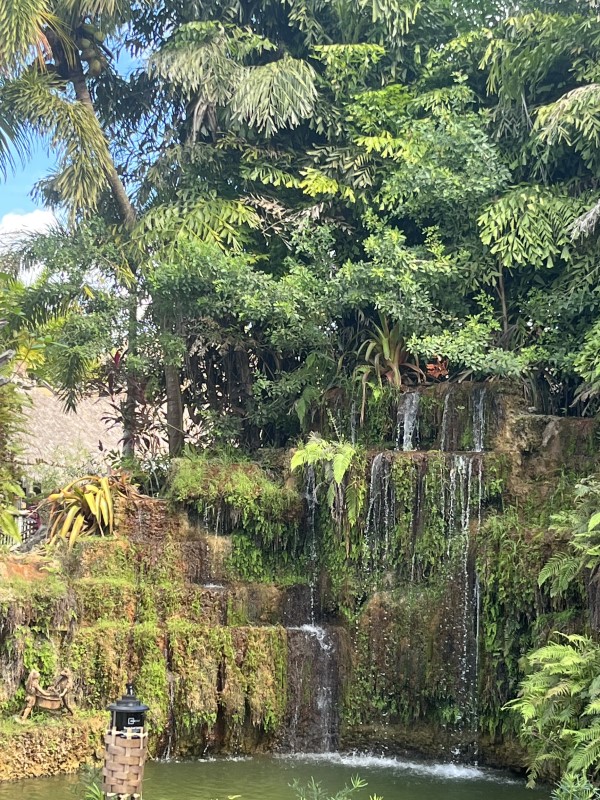 DIVINE Tip: The wines are not like any Old World or New World Wines – they are truly unique. Go by your favourite flavours when making the selection or do a tasting and get a real feel for the breadth of Schnebly's Wine. Don't forget to stroll around the beautiful grounds after your tasting.
For Families and Nature Lovers
Fairchild Tropical Botanic Garden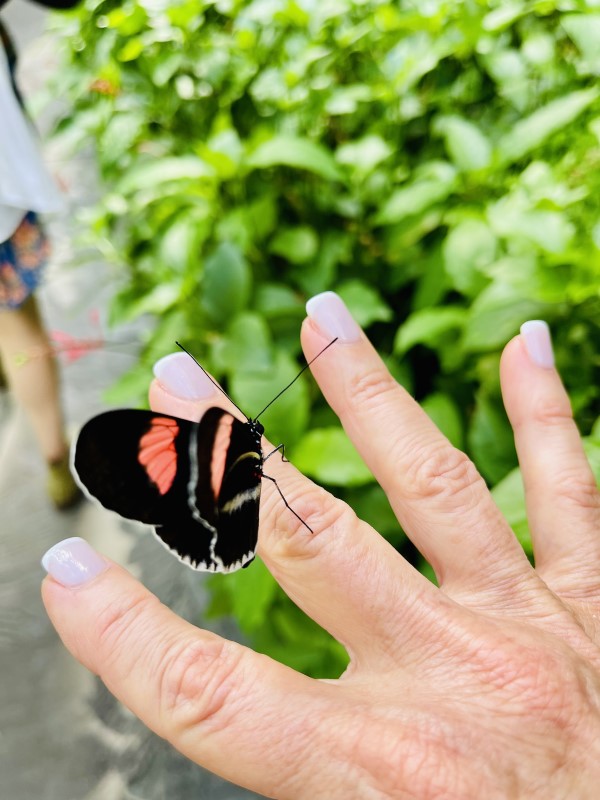 Thousands of trees with origins from all over the world. Butterfly Garden Miami: The Clinton Family Conservatory for close encounters with the flying marvels and an opportunities to take a peek at the lab where you may see them emerge from chrysalises.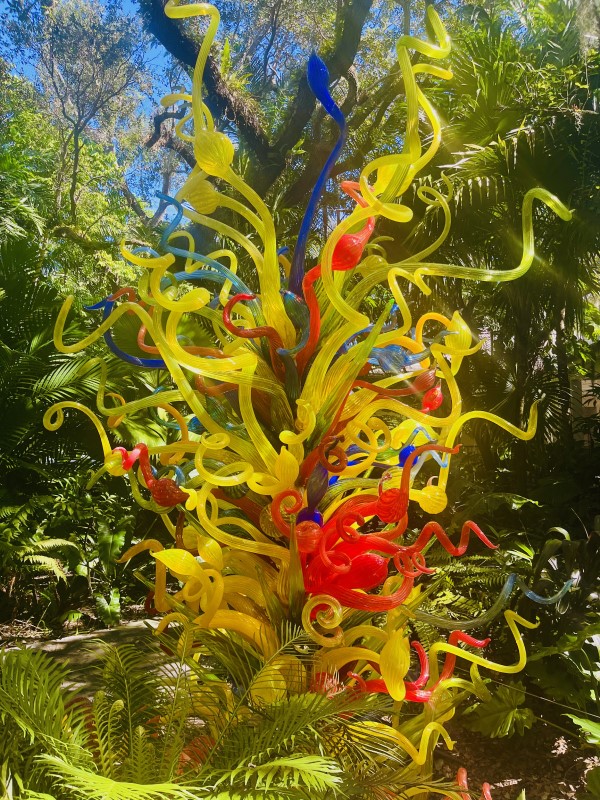 A walk through tropical gardens with a Chihuly glass sculpture as a bonus. A children's garden. There is something for everyone at Fairchild Tropical Botanic Garden. For botany lovers and families, it's a great way to spend a couple of hours in Miami-Dade County.
Pinecrest Gardens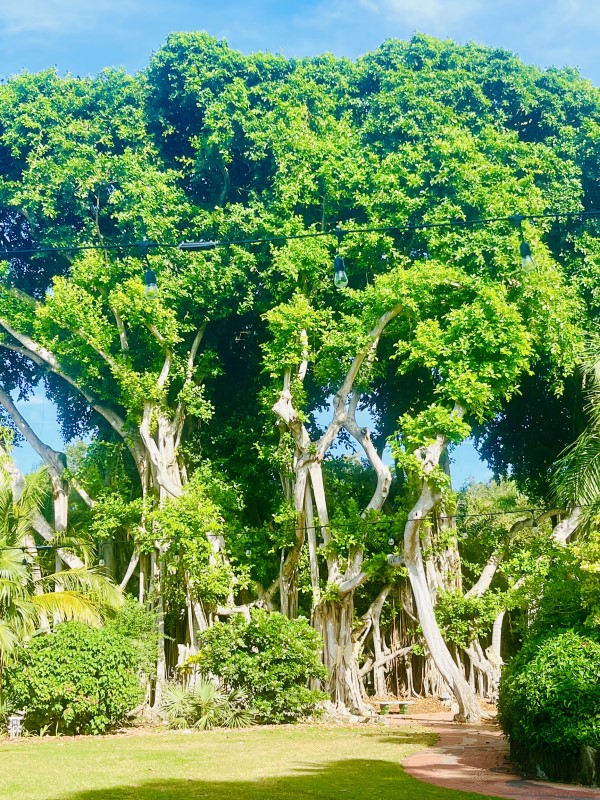 Pinecrest Gardens is a hidden gem offering many entertaining options for all ages. From the South Motors Jazz performances to Flamenco dances and family movie night to the unique foliage and splash pads. Stroll the beautiful gardens or let your kids work off some energy in the play area.
DIVINE Tip: Pinecrest Gardens is known for their events. Try to plan your visit to Pinecrest Gardens around something that you are interested in seeing.
The Berry Farm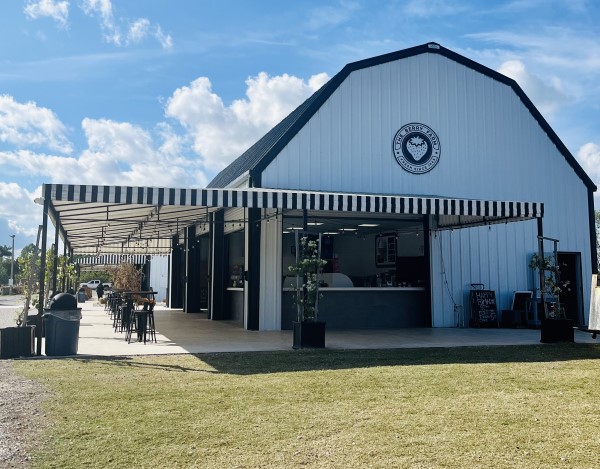 The Berry Farm is temporarily closed but will reopen again this September. The working strawberry farm offers hay rides, a fun playground, a jumping floor, a farmer's market and some of the best milkshakes in South Miami. The Berry Farm is really geared toward families and is a fun way to spend an afternoon exploring Miami-Dade County's agriculture.
For Art Lovers and Foodies
Wynwood Arts District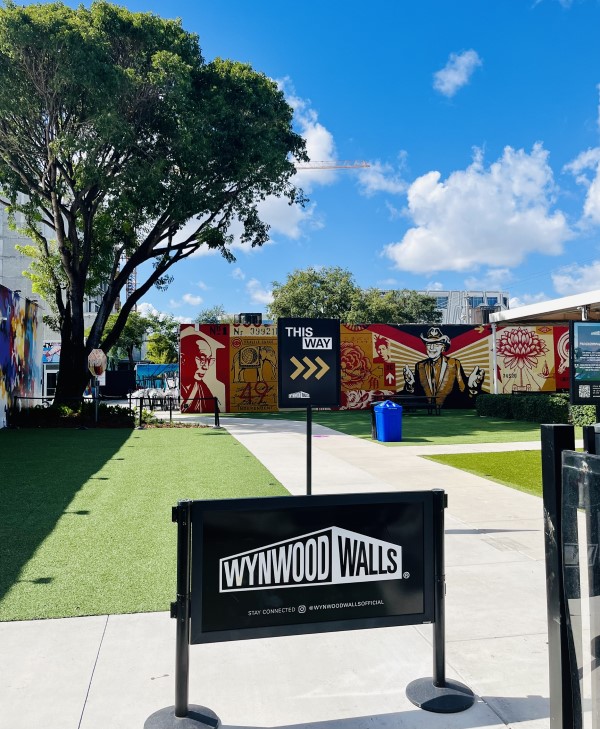 You will marvel at the vibrant street art that adorns the walls of the Wynwood Arts District. Explore the colourful murals and graffiti, visit art galleries, and appreciate the creative energy that permeates this hip neighborhood. Don't forget to check out Wynwood Walls.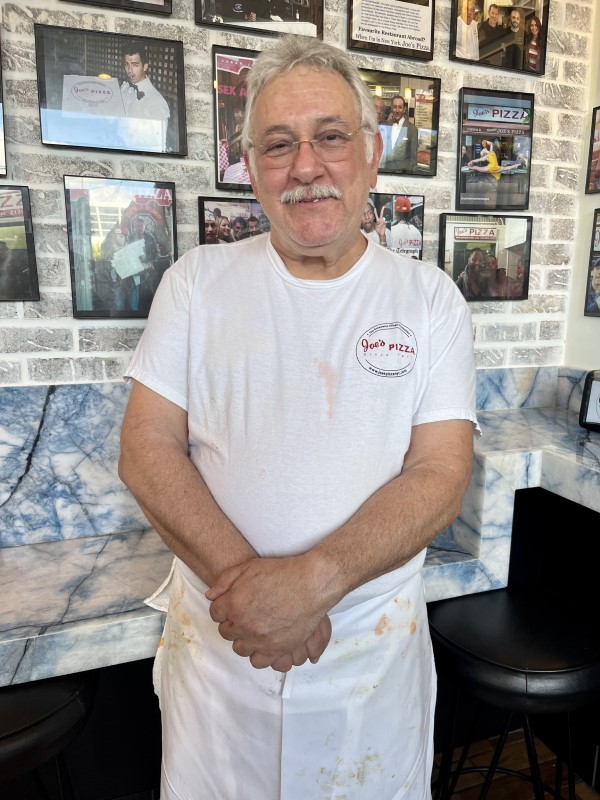 Take a food walking tour and explore the eateries that make this area so special. Have a slice at Joe's Pizza, his New York location was seen in "Spiderman" and many of your favourite stars say that this is the best pizza ever. After you say hi to Joe, pop into WallGrace Vintage Cars & Guitars – you won't forget it. Take the time to find out the story behind the guitars.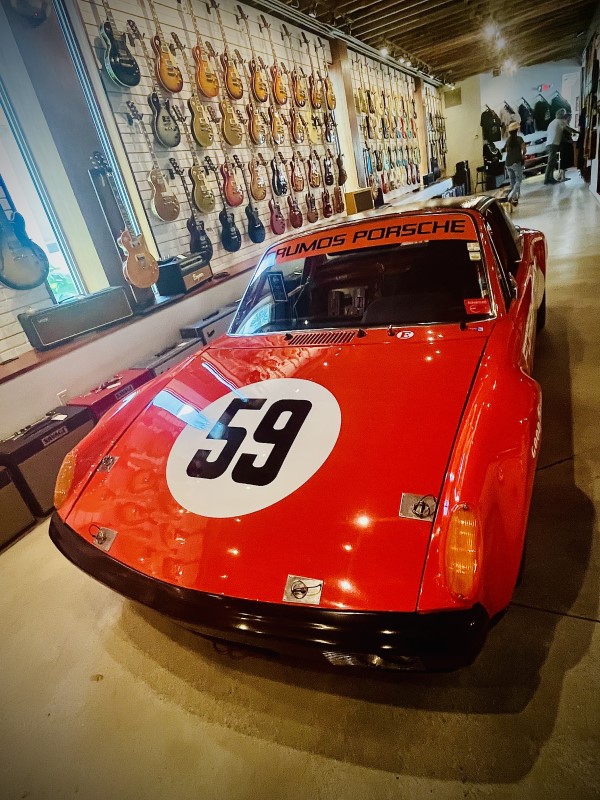 This is something that you can't miss if you are in Miami-Dade County. It's hard to pick one thing that I enjoyed the most, but this is right at the top of the list. Wynwood is just very special and worth more than one visit.
DIVINE Tip: Wynwood Walls (not the entire area of Wynwood) is sometimes closed for events. Check ahead of time that the attraction will be open to avoid disappointment.
For Experience Lovers
Deering Estate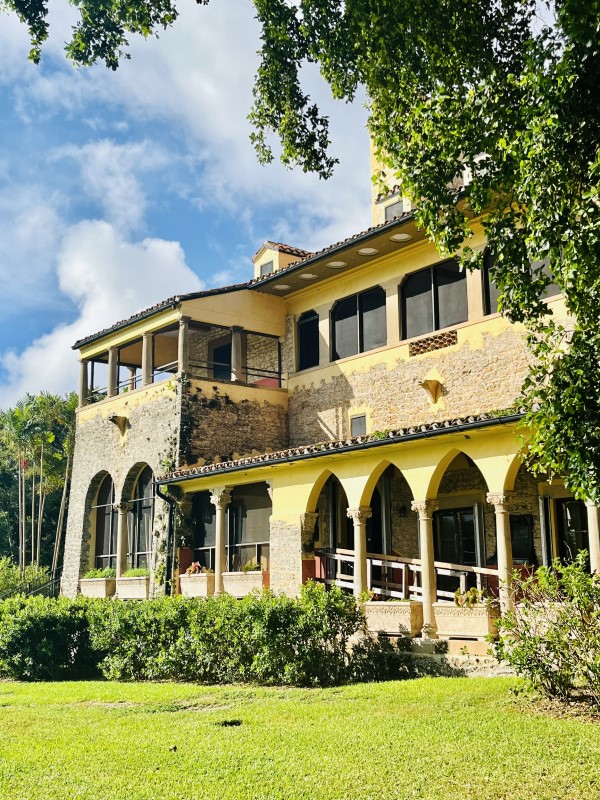 Deering Estate preserves the 1920s era Miami estate of Charles Deering, Chicago industrialist, early preservationist, environmentalist, art collector, philanthropist and first chairman of the International Harvester Company.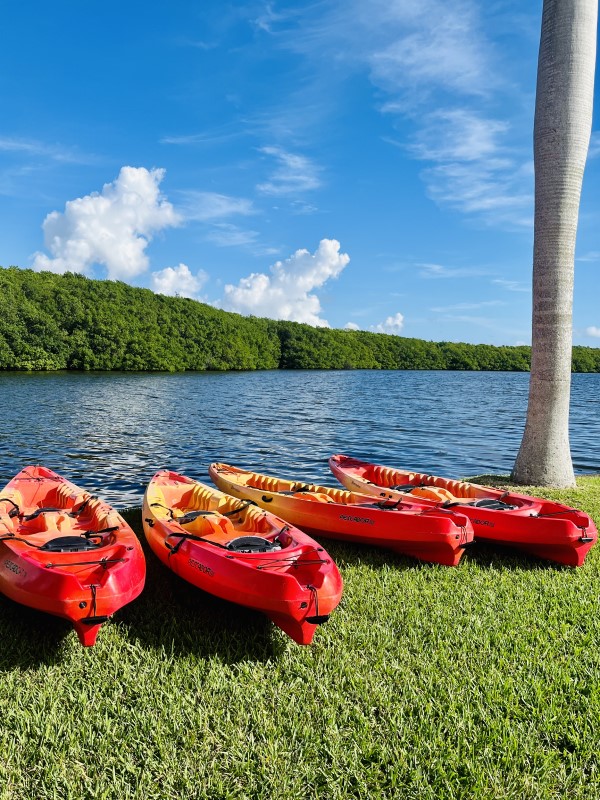 Located along the coast in South Dade, the Deering Estate is listed on the National Register of Historic Places. We had the chance to kayak on Biscayne Bay – it's easy and a fun way to see Deering Estate from a different perspective. We even saw manatees close to shore. If you plan on hiking, the website stresses that bugs and mosquitos are common – come (and be) prepared.
Vizcaya Museum and Gardens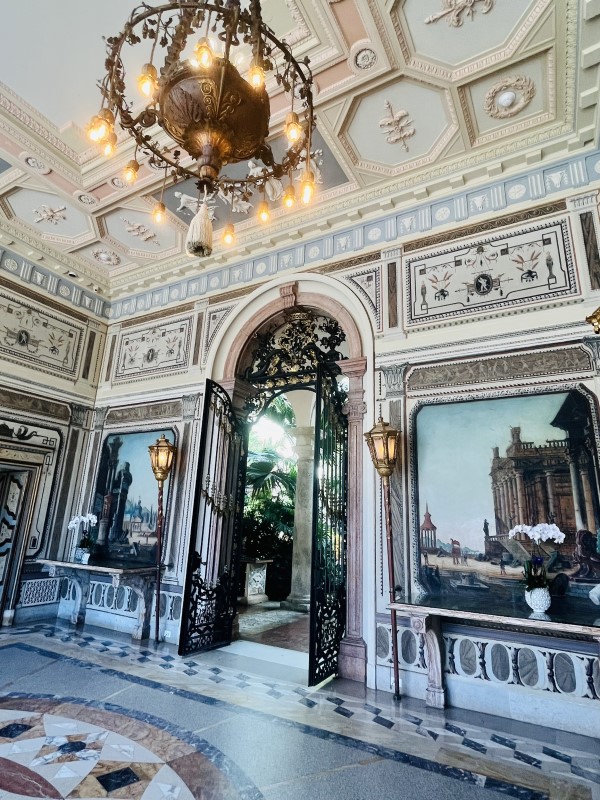 Step into a world of opulence and beauty at the Vizcaya Museum and Gardens. This historic villa, once owned by James Deering (younger half-brother of Deering Estate's Charles Deering), features beautiful, European-style architecture, stunning gardens, and views of Biscayne Bay, offering a glimpse into Miami's past.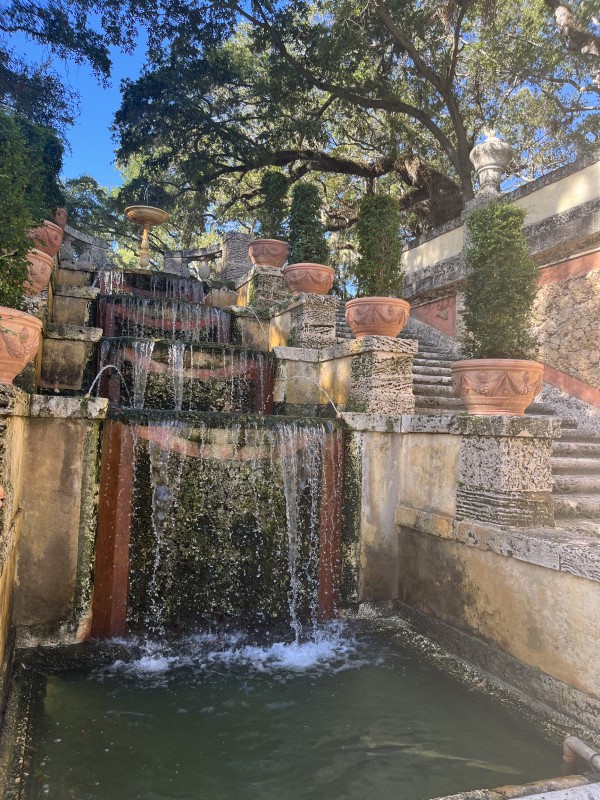 Vizcaya's Main House was built between 1914 and 1922. You will feel like you are in Europe as you look out at the Barge and see the gondola poles that were definitely inspired by those in Venice. It is interesting to see the differences between Vizcaya and Deering Estates.
DIVINE Tip: If you have a chance, visit both Deering Estate and Vizcaya Museum and Gardens. They are completely different. Deering is much more experiential meaning that you can hike, kayak, walk along with tour guides and experience nature. Vizcaya is more about the opulence and beauty of the estate.