Content updated May 24, 2023
Greater Miami and Miami Beach is home to a host of beautiful and diverse neighbourhoods including Coconut Grove. "The Grove", as it's known by locals, is is the oldest continuously inhabited neighborhood of Miami in Miami-Dade County. It is also home to the Mayfair House Hotel & Garden. I recently had a chance to stay at the Mayfair House Hotel & Garden, which opened and had it's hey day in 1985. The iconic hotel underwent a $50mm US renovation in 2022, and it brought back the grand Floridian charm that it was once known for.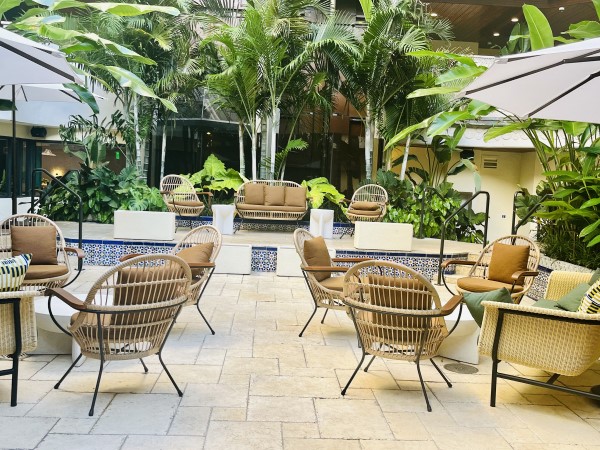 Let's take a closer look at the Mayfair House Hotel & Garden in our latest "A Room With a View".
The Details
Address: 3000 Florida Ave, Coconut Grove, FL 33133, USA
Phone: 305-441-0000
Instagram: @mayfairhousemiami
Website: Mayfairhousemiami.com
On-Site Amenities: Free Wifi, rooftop pool access, free bicycles, 24-hour gym, daily bottled water and more.
The Location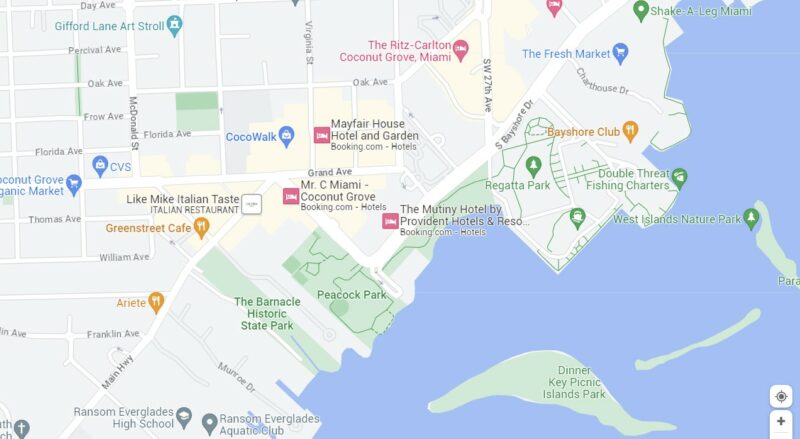 Mayfair House Hotel & Garden isn't just a hotel – it is a retro experience. While it isn't located right on the beach, it is close to great restaurants, shopping, and walking distance to the marina. You can enjoy a farmer's market, feel like you are in Europe at Vizcaya which isn't far from the hotel or take a sail around Key Biscayne. It's all accessible from the hotel.
The Room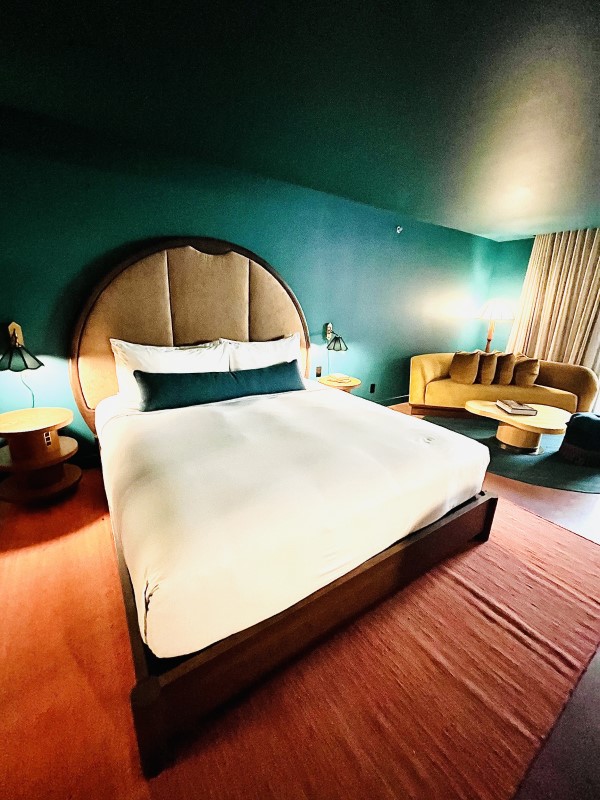 Mayfair House Hotel & Garden offers a variety of different room styles. I stayed in the Deluxe Eden Studio. According to the website, " Each 580-606sf open-concept Deluxe Eden Studio is layered with thoughtful residential touches such as handcrafted furnishings, dining areas, and clawfoot bathtubs." Each room at the hotel is slightly different to give you a unique experience every time you visit.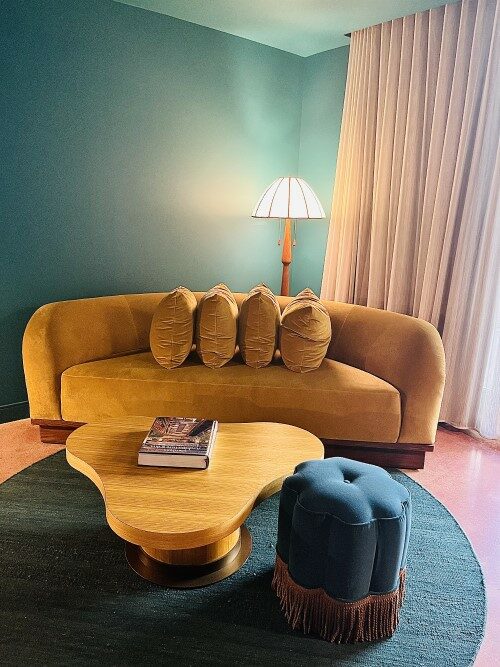 It was just beautiful and it felt like you were staying in another era. The room featured saturated colours, a huge clawfoot tub, a fully stocked bar with local snacks (these are at an additional charge), a comfortable seating area, a balcony, a huge shower, a separate makeup area and more. Copies of older books like Rudyard Kipling's The Jungle Book were artfully stacked on the nightstand. The only minor complaint is room can be a bit dark if you are applying makeup.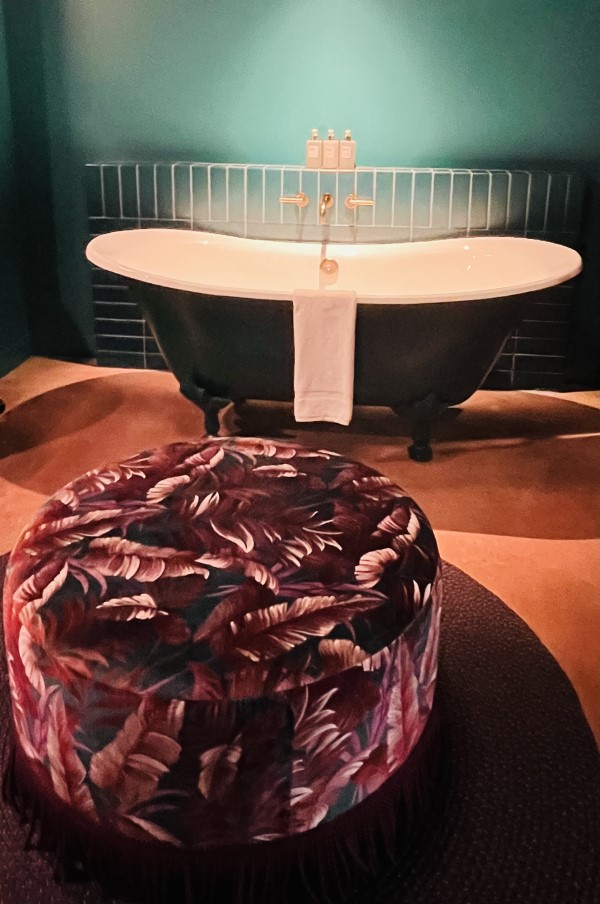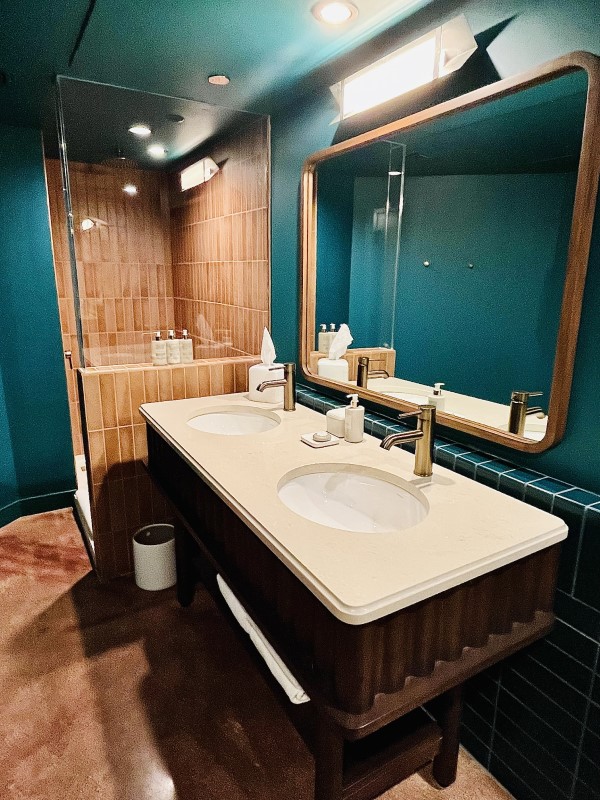 Food, Drinks and More
The Mayfair House & Garden has a restaurant on-site, but this is not your typical hotel fare. It is difficult to get a table at the Mayfair Grill because the food is that good. The menu offerings are inspired by the wood-fueled, open-fire cuisine of the American Southwest. The food is a sampling of tastes from the Sonoran Desert from Arizona and Southern California, to New Mexico.
We shared a number of plates for dinner. The wood oven cheese dip was a standout. Rich, gooey and delicious. The mushroom tacos packed so much flavour and the salads were crisp, cool and not too heavy handed with the dressing. There is something on the menu that will please both meat lovers and vegetarians. For breakfast, the smoked salmon toast is on-point and the milk bread French toast with vanilla + cactus pear syrup, pecan crumble is out of this world.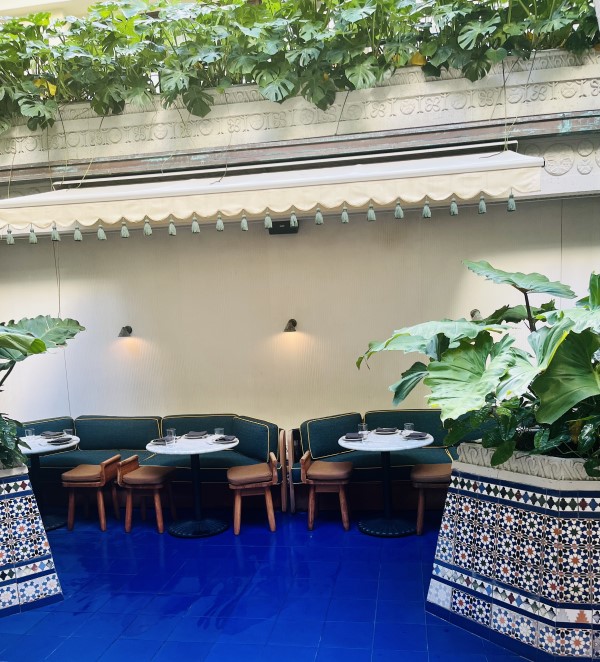 Take a stroll through the Mayfair and you'll notice that you can actually eat outside of the Grill in one of the old fountains! An old elevator cab that no longer works is now a small bar. You will be awed at the tilework on the working fountains and plant lovers will be in greenery heaven with gardens everywhere indoors and out. If you aren't ready for the night to end, head up to the pool bar, Sip Sip for cocktails and enjoy the views of Coconut Grove and the Caribbean-style art.
Final Thoughts
The Mayfair House Hotel & Garden is ideal for:
Couples who love the idea of retro charm with all of the modern conveniences including a rooftop pool and bar
Foodies who like to be walking distance to Michelin Star Restaurants and have a delicious option on-site
Experience seekers – staying at this hotel is something worth doing.
Pet lovers – they allow dogs up to 30 pounds with a $150 USD deposit.
The only criticism that I have is that it there was an issue with my bill that took far too much time to settle. My advice – review your bill carefully before you leave the hotel. All in all though, it's a a must visit even if you just go for drinks. It was listed as an impressive number 29 of the best new hotels in the US according to Travel + Leisure. Condé Nast Traveler featured Mayfair House Hotel & Garden on their 2023 Hot List of The Best New Hotels in the United States and Canada. The accolades are well-deserved.
*Hosted for review purposes–opinions are our own.