Valerie Azinge knows how to create delicious low-carb meals.  She is also a wizard at making tasty, sugar conscious desserts using locally sourced and organic ingredients.  Valerie shares her love of food on My Digital Kitchen.  Her recipes and photos have attracted awareness and followings from reputable celebrity chefs like Gordon Ramsey, as well as features and followings from The Food Network and Buzzfeed.  30-Minute Low- Carb Dinners, her cookbook is available in stores and online now.  Valerie shared one of her recipes with us and you will find out more about her journey in an upcoming #WomenInspiringWomen.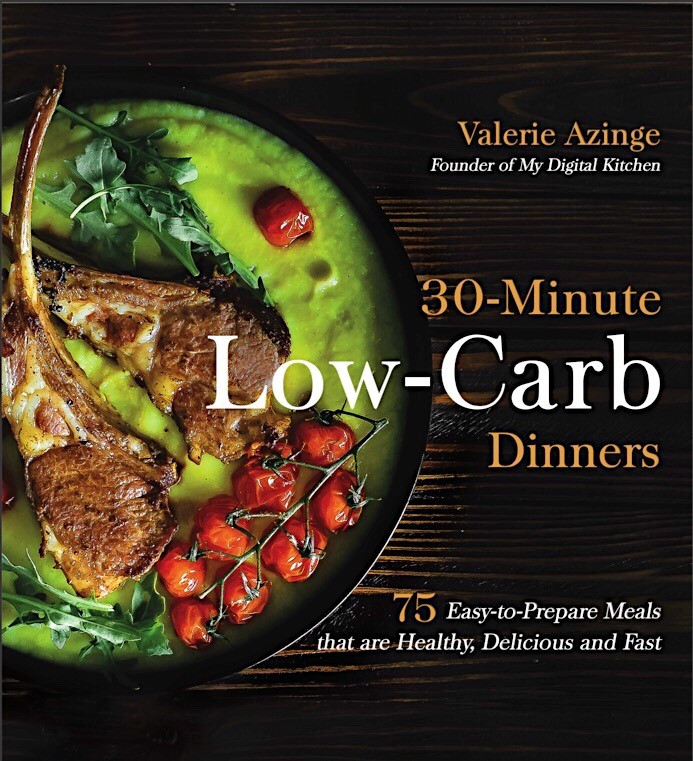 "This heavenly, satisfying burger is one of the many reasons I look forward to eating at your house." – quote from Valerie's mother.
Lamb Burgers
Serves 4
1 lb (454 g) ground lamb
3 cloves garlic, minced
1 tbsp (6 g) chopped mint leaves
1 shallot, minced
Juice of 1 lime
Kosher salt and ground black pepper
For Serving
1 head butter lettuce
Sliced red peppers
Sliced red onions
2 cups (400 g) store-bought zucchini chips (optional)
Directions
To make the burgers, fire up the grill or grill pan to medium heat.  I used a grill pan for this recipe.  While the grill pan is heating up, mix the ground lamb with garlic, mint, shallot, lime juice, salt and pepper.  Form 4 equal-sized lamb patties.  Now comes the fun step: Grill the lamb burgers for approximately 4 minutes per side, making sure to only turn them once.  You can also enjoy listening to the lovely sizzle in the pan while these burgers are cooking.
When the burgers are ready, it's building time.  Layer the lamb burgers on the lettuce leaves with red peppers and onions.  Serve with zucchini chips, if desired.