Kids are overloaded during the holiday season.  They are making lists of what they want, taking photos with Santa, getting tons of presents at home and from family members, enjoying endless amounts of treats while attending holiday events.  The list goes on and on, but incorporating a charitable/give back element as part of your family holiday tradition can help to ensure they don't miss the true meaning of the season.
Although altruism ebbs and flows throughout childhood, research does show that children naturally become more generous as they grow older. It is important for us, as parents, to understand the phases of development that children go through in developing altruism. Placing a focus on giving back and thinking of others from an early age will form an altruistic mindset that will develop into a habit and a way of living.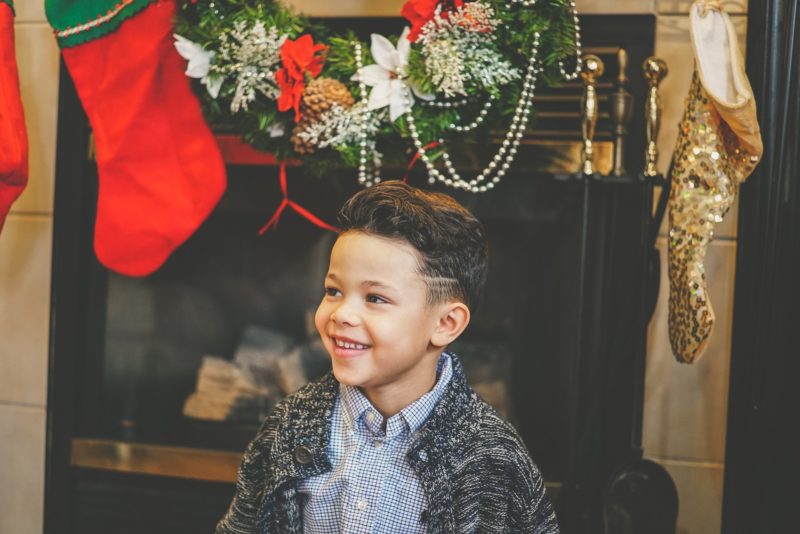 Altruism Development, Ages & Stages
During toddler and preschool years, children are often very eager to help others. They see this as an opportunity to practice their autonomy which is satisfying to this age group as they start to realize that they are independent from their parents and able to have some control over their world.
It is normal for young school aged children (4-6 years) to taper back their interest in thinking of others. Children of this age are in the egocentric stage, which means they are unable to see a situation from another person's point of view.
As children get older – school aged – their interest and ability to think of others ramps up again. They have gained more experience and understanding of the world around them and their moral development is better as they now have a better understanding of what is right and wrong.
Building an Empathetic Foundation
Encouraging empathy is a key component of having children understand the importance of helping others. Empathy creates a connection with others and encourages us to think about what others might experience and feel. Having this connection allows us to feel compassion and motivates us to want to help and giveback.
Empathy is a skill that we need to teach children. We can start teaching this skill at a young age.
Here are 3 ways to help children become more empathetic
Teach your child how to label emotions – happy, sad, frustrated, excited. A wonderful way to accomplish this is to read books with your child about feelings and emotions. When you read these books, ask your child to identify the different feelings that the characters are showing.
Use language with your child that promotes empathy. For example, use the phrase "helper" instead of "to help". The term helper will show your child that they have the ability to impact and help others. There are two benefits to this; you can promote characteristics that you would like your child to live up to, as well as to help your child identify the behaviours that match kindness and empathy.
Model empathy. Children are always watching and following their parents. If you model empathy, this will normalize the behaviour and make it something that your child wants to copy and practice themselves.
Creating a Charitable Family Tradition
Young children learn by doing and live in the moment. To motivate kids to participate in giving back, parents need to make the altruistic activities that their children engage in tangible and meaningful. While parents can encourage giving back throughout the year, the holiday season offers a perfect opportunity to create an annual family tradition of giving.
Creating an annual tradition that you do together also has wonderful benefits for your family.  It helps strengthen the bond between family members, enforces family identity, helps children feel like they are apart of something big and creates an annual activity that your child looks forward to participating in. This combination fosters stronger self-esteem and creates an intrinsic habit that grows with children into adulthood.
Below are a few ideas of meaningful activities to do over the holiday season (ideal for children ages 3-10):
Enhance the annual holiday wish list into an activity that encourages your child to think of others. Children love to look through the holiday toy catalogs and pick out items they would like to receive. After your child participates in this activity encourage them to make lists of items that they think other special people in their life would like to receive – grandma, their sibling or cousin for example. This activity encourages your child to think of others in addition to themselves.
Thank You Helpers – help your child make cards and a small gift (a gift card or treat, for example) to celebrate and thank the helpers in their community (teacher's assistant, crossing guard, mail carrier, garbage collector). Create the list of people in your life together, to help your child think about all the helpful people in their life.
Participate in a food or toy drive – a great way to extend this activity is for the child to create a list and collect the items to give to the local food bank, or pick out a toy they can donate to another child. You can also do a reverse advent calendar – have a basket set up, and every day from Dec. 1 to Dec. 24 (the big countdown) have your child put something to donate in the box – a toothbrush, a toy, a non-perishable food. On the 24th, as a family bring the basket to a local shelter.
Choosing a charity to make a financial donation to and each year select a different charity. Research options with your child so they can see the range of organizations that need support. This can be positioned as one of your gifts to them – so they feel like they are also a part of the giving.