Beauty professionals have the best of both worlds: They make people beautiful for a living and get to travel to different places for work. However, there's also the burden of carrying all your makeup, tools, and equipment with you. It takes a lot of work to make sure all your things are transported safely, from the car to the airport.
The last thing you want when you travel for work is to end up with damaged makeup or broken tools because of mishandling and poor organization. A good trolley or carrying case is ideal for situations like this.
If you don't know how to choose the right one for your needs, you came to the right place. We'll share some helpful points on how to select the perfect traveling case, as well as how to pack and organize your makeup kit hassle-free.
List Your Priorities
How often do you travel? Do you use makeup every day for work? These questions will help you evaluate your needs. For instance, a smaller makeup case is more advisable for traveling, but make sure it's durable enough to withstand travel. However, if you need your makeup for daily use, it's better to choose a case that's big enough to store all your products and tools. Organizing is much easier, and your makeup is more accessible.
Don't Compromise Quality for a Lower Price Tag
This point is crucial. Having a sturdy and reliable makeup bag is just as important as keeping up with the industry's latest trends. High-quality makeup cases protect the investment you've made in cosmetics and all your beauty equipment. They're more efficient and can last a long time.
It's possible to find makeup bags that combine quality and affordability, but before you go to checkout, it's wise to read product reviews first. Make sure the case suits your needs, from portability to aesthetics.
Know Which Case Type is Best for Your Needs
There are various makeup bag styles to choose from, such as soft cases, wheel-type cases, and trunks. If you travel a lot for work, you may want to go for a trolley so that it's easy to carry around. It's more costly compared to other cases but definitely worth the investment.

However, if you mostly work in your studio, a makeup trunk or soft case is ideal. It's lightweight and more affordable, plus it's easy to transport as well.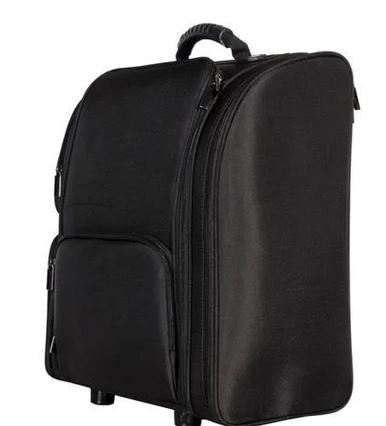 Here are a couple of makeup trolleys for professionals that we believe are worth every penny:
Lumina Pro, a Canadian brand, provides

makeup trolleys for professionals

that are made from high-quality materials. The case is

designed for professional hair and makeup artists. This lightweight kit will keep your entire collection safe and organized.

The Just Case Hiker Black Soft Professional Travel Makeup Case is a high-quality, soft-sided makeup case for traveling professionals. It comes with heavy-duty handles for added comfort and mobility.

The makeup trolley for professionals from Zuca is composed of premium water-resistant nylon, shock-absorbing PVC wheels, and an extendable telescoping handle. It also has accessible zip compartments on every side.

Makeup trolleys for professionals from Kitmate can keep all your makeup products at a specific temperature no matter if you're on set in the boiling heat or shooting in the snow. The bag is lined with aluminum, is spill-proof, and super easy to clean.

Esum's Pro Makeup Kit Bag is ideal for traveling light. This case houses two large and two small pouches that conveniently stick to the interior of the bag, so your products stay safe, intact, and organized. Additionally, the waterproof and padded siding allows you to clean your makeup easily.
Choose Your Signature Style
Now that you're familiar with all the technical features you should consider when selecting a makeup bag, it's time to find your signature style. The case says a lot about its owner and creates an impression for your clients.
Consider Other Storage Options Too
It's also essential to invest in leak-proof compacts, squeeze bottles, and mini jars for extra storage. Again, your makeup products and tools are an investment, so you may want to treat them with special care.
Makeup Trolleys for Every Beauty Enthusiast
Whether you're a professional makeup artist, a beauty vlogger, or an enthusiast, getting a good makeup trolley is a must. It's better to splurge on a high-quality case after saving for a few months rather than buy a cheap one now, only to replace it a few months later because it broke. You'll end up spending more money, and that's never a thrifty strategy.
Your bag should reflect you as a professional, so your clients will know that you value quality above all else. As long as you keep our tips in mind, finding the perfect makeup case will be easy!