Glamping in Ontario, or glamorous camping, continues to gain popularity among travellers seeking an outdoor adventure with all the comforts of luxury accommodations. From eco-friendly designs to unique architecture, glamping accommodations offer a unique experience for travellers looking for something outside the norm. In this article, we explore the trending glamping accommodations and their features that are popular among vacationers in 2023.
Yurts
The Mongolian-style yurt has become a popular glamping accommodation over recent years. Yurts are a circular, tent-like structure with fully-enclosed walls and a conical roof. These accommodations typically provide an array of modern amenities, including heating, air conditioning, and private bathrooms. In many cases, yurts offer stunning views of natural surroundings or access to outdoor activities.
Treehouses
Treehouses have been a popular form of glamping for several years, but their popularity continues to rise due to the unique experiences they offer. Treehouses not only provide a unique vantage point for observing nature but also allow guests to escape the bustle of everyday life. Many of these accommodations take the form of tiny houses, featuring cozy living spaces, bedrooms, and tiny kitchens.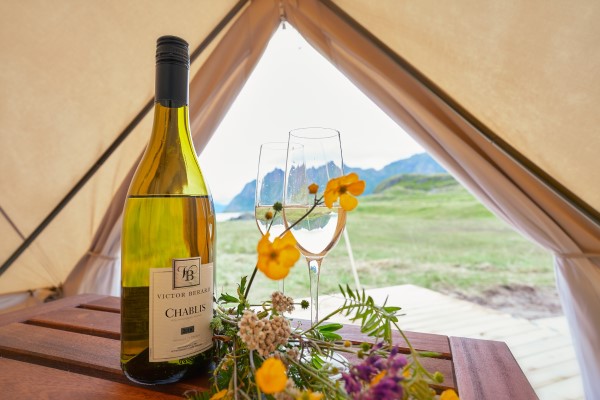 Safari Tents / Bell Tents
Safari tents offer the ultimate "glamping" experience, bringing the luxurious comforts of a resort to remote wilderness areas. These accommodations are a blend of tents and cabins, featuring comfortable beds, modern and stylish furnishings, and private decks. Some safari tents even offer outdoor showers or wood burning saunas and hot tubs.
Eco-Pods
Eco-pods were created for individuals who want to experience the outdoors and nature without harming the environment. These accommodations make for a unique experience, with environmentally friendly designs and crude yet cozy furnishings. Eco-pods often use solar power or other renewable energy sources and rely on biodegradable or compostable materials.
Geodesic Domes
Geodesic domes are gaining popularity as a unique and stylish form of glamping, perfect for adventurers seeking a memorable and unique experience. These accommodations offer an open-air feel and provide a stunning panoramic view of the surroundings. Some geodesic domes feature luxurious amenities such as private hot tubs, outdoor showers or bathtubs, and indoor fireplaces.
Houseboats
Houseboats have emerged over the last several years as a unique glamping experience. These accommodations offer all the amenities of a hotel but with the freedom to travel and explore. They feature kitchenettes, bathrooms, and small living areas and often dock in serene waterways or marinas, providing an unforgettable view of your surroundings.
Small Cabins
Small cabins have become a popular choice for glamping enthusiasts looking for a cozy and rustic experience. They are usually affordable and easy to assemble within a few days between two people. These compact accommodations are designed to bring comfort and charm to the great outdoors. Small cabins often feature a compact living area, a comfortable sleeping space, and sometimes a small kitchenette or bathroom. They provide a perfect retreat for couples or small groups looking to reconnect with nature while enjoying the comforts of a well-designed space.
Conclusion
The popularity of glamping continues to grow among vacationers seeking more unique and luxurious travel experiences. Whether travellers prefer treehouses, yurts, safari tents, eco-pods, houseboats, or geodesic domes, there is something for everyone seeking a one-of-a-kind glamping getaway. The features of these glamping accommodations, like eco-friendly designs or outdoor amenities, all contribute to some of the locations with the best glamping in Ontario. Glamping is an excellent option for travellers seeking a unique and luxurious outdoor experience that combines the best of both worlds.