We are taking a journey back to Kingston, Ontario for our latest Traveling Taste Buds recipe. This time, we are visiting Dianne's Fish Shack & Smokehouse in downtown Kingston, steps from the waterfront for their delicious Mexican Street Corn. Dianne's is where a classic East Coast kitchen meets the flavours of Mexico. Think lobster rolls, fish n' chips & oysters along with tacos, guacamole & Mexican BBQ. Plus, savoury grilled steaks, burgers, fresh fish entrees, pasta, fish chowder, salads, sandwiches and more! With a fully stocked bar and a fun casual environment what's not to love?
After enjoying a meal at Dianne's, why not work it off with a stroll along Kingston's waterfront? It spans eight kilometres and you can even take a ride for free on the Wolfe Island Ferry. Enjoy seeing the historic buildings and picturesque views as you walk along the waterfront. In the meantime, try your hand at making Dianne's Mexican Street Corn for your next barbeque: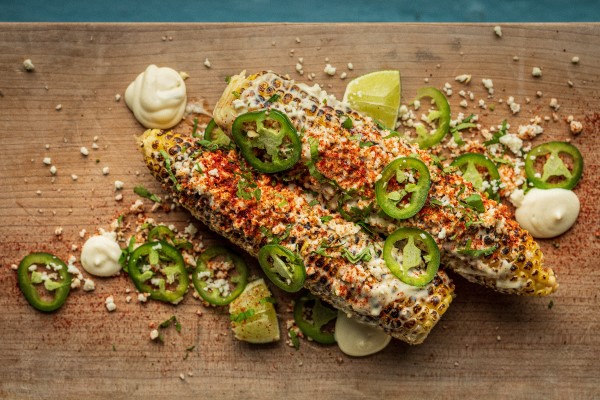 Serves 4
INGREDIENTS:
8 pieces freshly husked corn on the cob
8 oz queso fresco cheese, pulsed in a food processor until loosely crumbled
1 tbsp Mexican style chili powder
2 jalapeno peppers, very thinly sliced crosswise, include some seeds
1/2 cup mayonnaise, preferably homemade, mixed thoroughly with the zest and juice of 2 limes
2 tbsp roughly chopped cilantro leaves
1 lime cut in to 8 wedges
Sea salt / freshly ground pepper to taste
DIRECTIONS:
Light bbq and pre-heat to high with lid closed
When bbq is hot, lay corn side by side on the grill and leave to cook until corn starts to "pop" and begins to char
Starting from one end on the line of corn, rotate each cob a quarter turn and allow charring to continue and corn to "pop" until corn is evenly charred all over (charring is good for depth of flavour, don't be afraid of it)
When corn is evenly charred and cooked, place on a tray and spoon over a generous amount of lime mayonnaise; using tongs, rotate the corn to smother each cob completely from end to end with the mayonnaise
Place two cobs side by each on a serving plate and sprinkle liberally with queso; with a generous pinch of chili powder dust corn entirely, season to taste with sea salt and pepper, then garnish with several slices of jalapeno, chopped cilantro and a lime wedge.  Serve.