We are back in beautiful New Hampshire for "Traveling Taste Buds" and this time we are serving up breakfast. Chef Jacky Francois from Omni Mount Washington Resort shared his recipe for Blueberry Maple Breakfast Sausage. Omni Mount Washington Resort is an all-season resort destination located at the base of Mount Washington and surrounded by the White Mountain National Forest. The resort has a number of dining venues to choose from. They serve delicious breakfasts that may include the Blueberry Maple Breakfast Sausage.
Homemade breakfast sausage is apparently the easiest sausage to make. Shape the sausage into patties and cook it that way if you don't want to stuff casing. It can also be rolled into a log, wrapped in plastic and frozen and disks can be cut as needed. This breakfast sausage is best sautéed but it can be roasted as well.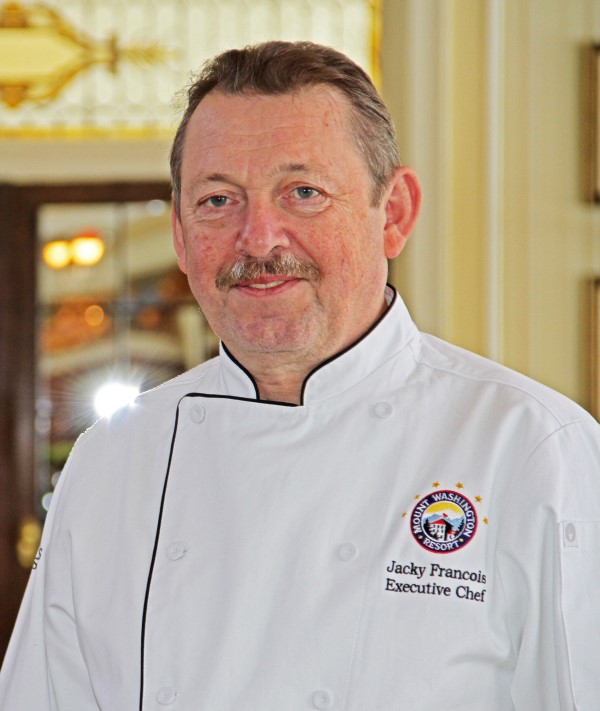 Ingredients 
1 pound boneless pork shoulder butt diced or ground pork 

1 tsp kosher salt

1 tablespoon frozen blueberries

1 medium garlic clove, minced 

½ tsp ground black pepper

1 ounce ice water

1 ounce maple syrup 

4 feet sheep casings or 2 feet hog casings, soaked in tepid water for at least 30 minutes and rinsed (*see note on Step 5) 
Instructions 
Combine all the ingredients except the water and maple syrup and toss to distribute the seasonings. Chill until ready to grind. If using ground pork, skip to step 3 

Grind the mixture through the small die into a bowl set in ice 

Add the water and maple syrup to the meat mixture and mix until the liquid is incorporated and the mixture has developed a uniform, sticky appearance

Sauté a small portion of the sausage, taste, and adjust the seasoning if necessary 

Stuff the sausage into the casings and twist into 4-inch links, or shape into patties. Refrigerate or freeze until ready to cook. *You can also roll it into a log, wrap in plastic wrap and freeze, then slice into patties 

Gently sauté or roast the sausage to an internal temperature of 150 degrees F.