Everywhere, fine and delicate jewelry is mixed with more imposing or colourful pieces for the summer. At DIVINE, we love classic looks that take on more punchy textures for the summer! We asked Talia Massaroni, the founder of the Canadian brand Olaeda to tell us about the best summer jewelry trends…Time for some inspiration!
What are the top jewelry trends for summer 2022 ?
I would definitely say that anklets are a top trend at the moment and I'm so happy they are making a comeback! As the warmer weather is upon us, they are so much fun to accessorize. Dainty chains or bold stacks, there are no rules here; the key is to have fun. Mix and match styles and even metals for a unique and elevated look. Our paperclip anklet in 14k gold filled has been a popular go-to this season. We have a variety of styles available in sterling silver and 14k gold filled.
Another trend we're seeing are pearls, a flashback from the 80's and 90's. They are especially being incorporated into our bridal collections. Elevate them by mixing and matching the chains and various other metals and fabrics to bring more dimension and interest to the jewelry piece. If you're not into trends per say, then stick to your classic strand of pearls for a timeless and chick look. We love our new Fiona Pearl Necklace, featuring organic fresh water pearls and 14k gold filled beads.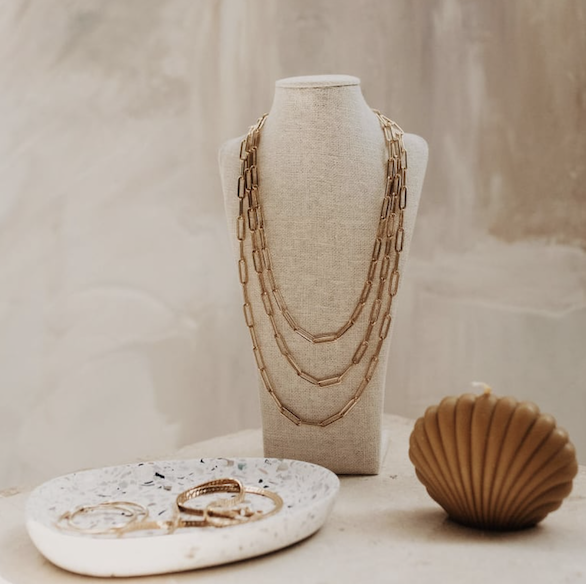 What are your favorite styling tips (i.e. layering, mixing and matching metals)?
My top styling tip would hands down be layering your necklaces! There is so much versatility, and it's such a great way to add interest to any outfit. Start with establishing your top layering length and work your way down. Leaving a couple of inches between chains will give you that classic layered look. Alternatively, you can combine two chains that are the same length and add a pendant to one. This slightly elongates one of the chains and gives you that peekaboo layered look. Our Heavy Paperclip Chain necklace is a fabulous layering piece; it's available in three different lengths and even makes a statement on its own.
Mixing metals is also a great way to accessorize. Simply using what you have, to create a unique and interesting look is super trendy! Silver and gold look great together, but if you want to kick it up a notch; rose gold is also a great option. Our best selling European Hoops are also available in rose gold filled.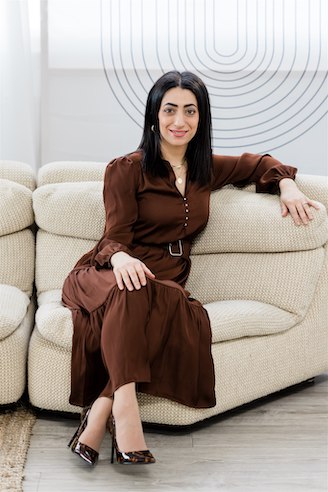 About Olaeda
Olaeda is a Toronto jewelry company that offers a thoughtfully curated and handmade collection of classic and everyday wearable pieces. We strive for quality and longevity. Specializing in authentic 14k gold filled, Olaeda is often pushing the boundaries within the limitation of this metal. If you love layering, then gold filled is your best alternative to solid gold. Gold filled is incredible; it's a layered product which is made using solid gold with a remarkable manufacturing process. The finished product is high quality with incredible longevity. You get the look and feel of wearing solid gold, without the astronomical price tag!
What once started from an accidental interaction at a bead store, quickly manifested into a love for jewelry making. It was actually bridal jewelry we first started experimenting with, and over time we developed our own unique style… In May 2022, we opened our first Toronto showroom, which now retails a selection of everyday, demi-fine jewelry, with a focus on authentic 14K gold filled, sterling silver and semi-precious jewelry. We absolutely love working with gold filled because it's really a great way to elevate your look without breaking the bank