Last night was the 92nd Academy Awards.  The best actors and actresses, directors, films, documentaries, make-up artists, costume designers, music and special effects were awarded the most prestigious trophy of the year. Unlike the GRAMMYs, the looks seen on the red carpet are more conservative, but had just as much impact. Here are our favorites!
White as Snow
You can never go wrong with white. Classic, modern and a little outrageous in Eilish's case, these three women have made the shade their own.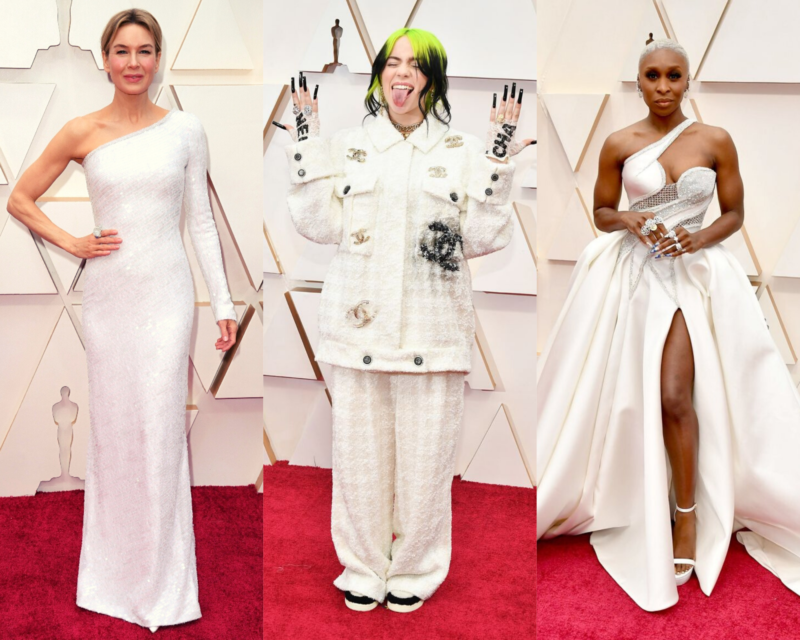 Renée Zellweger wore a magnificent one-shouldered, fitted, sequined Armani Prive gown.  The simple, elegant dress was one of the most under-rated of the evening.
Billie Eilish wore an over-sized Chanel suit.  The singer's green and black hair was a stark contrast to the androgynous suit.
Cynthia Erivo wears a strapless dress with an oversized skirt from Atelier Versace.
Classic Black
Black is always a staple on the Oscars' red carpet. Black from head to toe or to combined with another a pop of colour,  sparkly or voluminous, there was something for everyone. Here are our three favorites: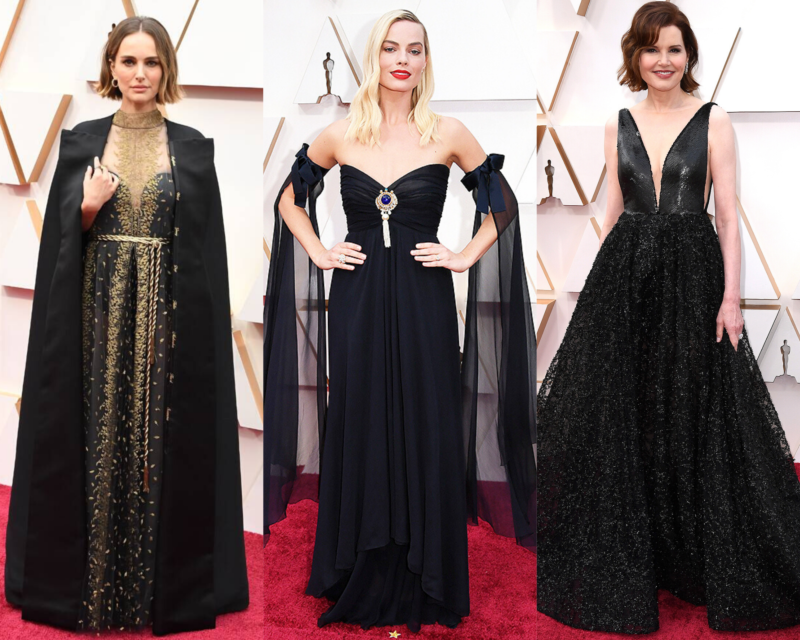 Natalie Portman wore a long black gown with gold details and a cape from Dior.  The actress made a statement by wearing the cape embroidered with the names of female directors that haven't received an Oscar nod for their acclaimed work.
Margot Robbie went strapless in black (or deep midnight) vintage gown with a jeweled pendant and cuff sleeves designed by Chanel.
Geena Davis wore a plunging v-neck, voluminous, glittering dress by Romona Kaveža.  A little secret about Davis's gown is that it had pockets.
Sparkling Touches of Silver and Gold
Just like at the GRAMMYs, dresses sparkled on the red carpet. The dresses were breath-taking!  Some had a vintage feel and some were modern but all were beautiful.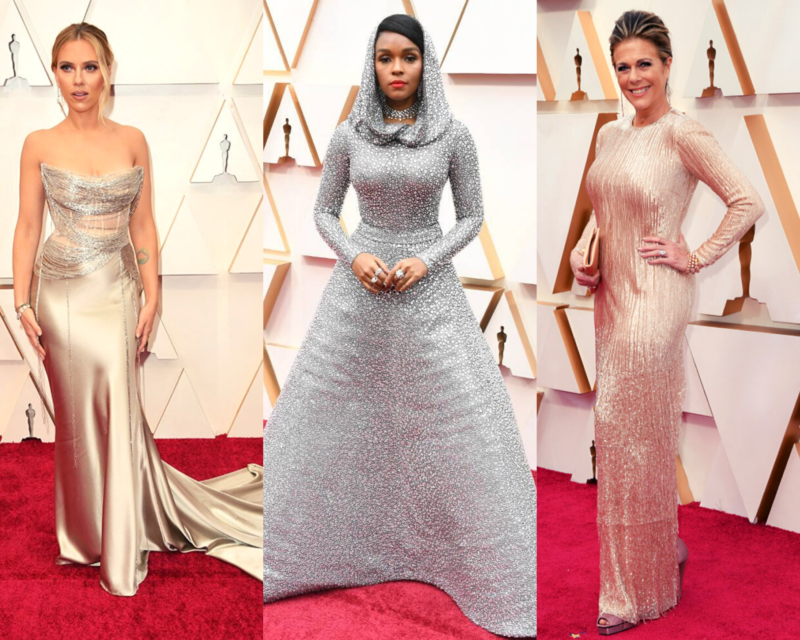 Scarlett Johansson wore a long satin, fitted gown with sparkling details from Oscar de la Renta.  The cut and fabric say vintage, but the beading and neckline are modern.
Janelle Monet wears a dramatic A-line gown with a hood designed by Ralph Lauren.  She stood out on many best-dressed lists.
Rita Wilson wore a floor-length gown with long sleeves and fringe from head to toe by Tom Ford.
La Vie en Rose
The red carpet was sprinkled with magnificent pink dresses. A feminine classic, the soft colour dazzled.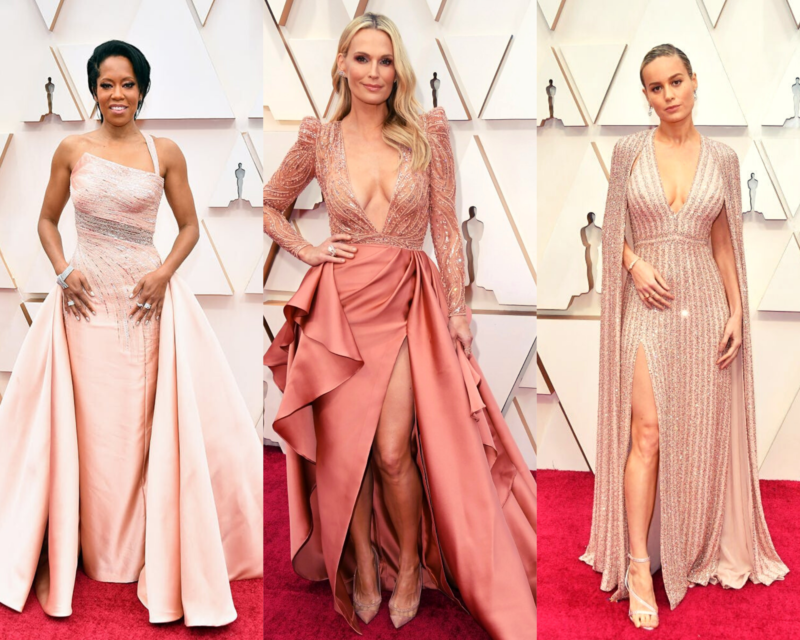 Regina King wore a pink Versace gown with subtle embellisments and an over-sized skirt.
Molly Sims wore Zuhair Murad.  The gown was jaw-dropping with a plunging neckline and high slit.
Brie Larson wears a pink champagne-colored gown with silver embroidery running down it from Celine.
Colour Makes a Comeback
These three actresses stood out from the crowd with their colorful finery. Leaving neutral shades behind, they stood out on the red carpet.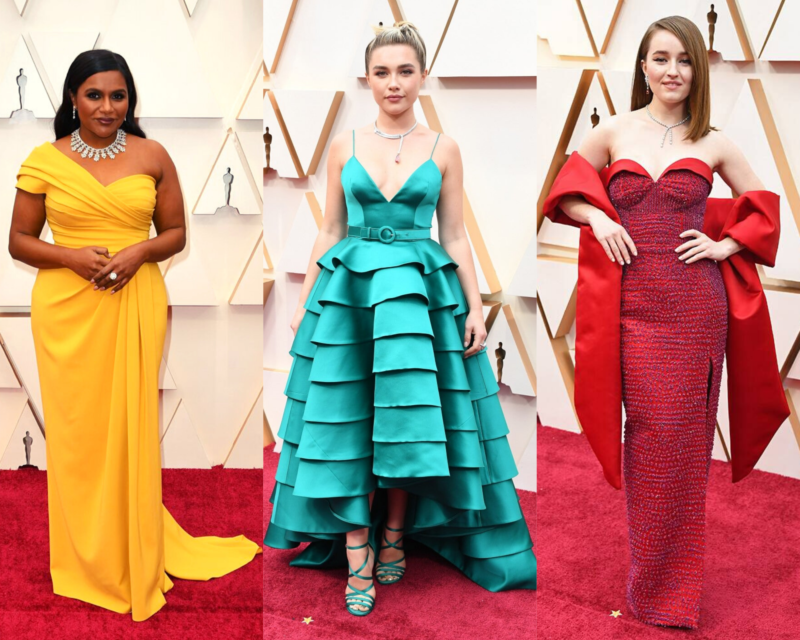 Mindy Kaling wears a one-shoulder yellow gown with ruching from Dolce & Gabbana
Florence Pugh wore a Louis Vuitton gown with a belted waist and ruffled skirt in striking turquoise.
Honourable mention to Kaitlyn Dever and Louis Vuitton for this magnificent sustainable red gown.  The gown was part of the Red Carpet Green Dress initiative in collaboration with Tencel Luxe.
Which look was your favorite ?