This is the perfect time to get creative in the bedroom. We sleep an average of a little over seven hours or 30% of our day. Some of us are even working from the comfort of our bed with the new WFM reality.  Here are some quick style tips to spruce up the bedroom with great duvet designs. Think prints, florals, polka dots and print, all inspired by some of the Spring/Summer 2020 fashion trends. Let us not forget other timeless fashion favourites too. For instance, animal print will add a little fire in the boudoir.  Spoil yourself and stay in bed longer.
Here are some chic bedding finds and ideas, including some from unexpected retailers like Zara and Urban Outfitters.
Get Graphic to Inspire Creativity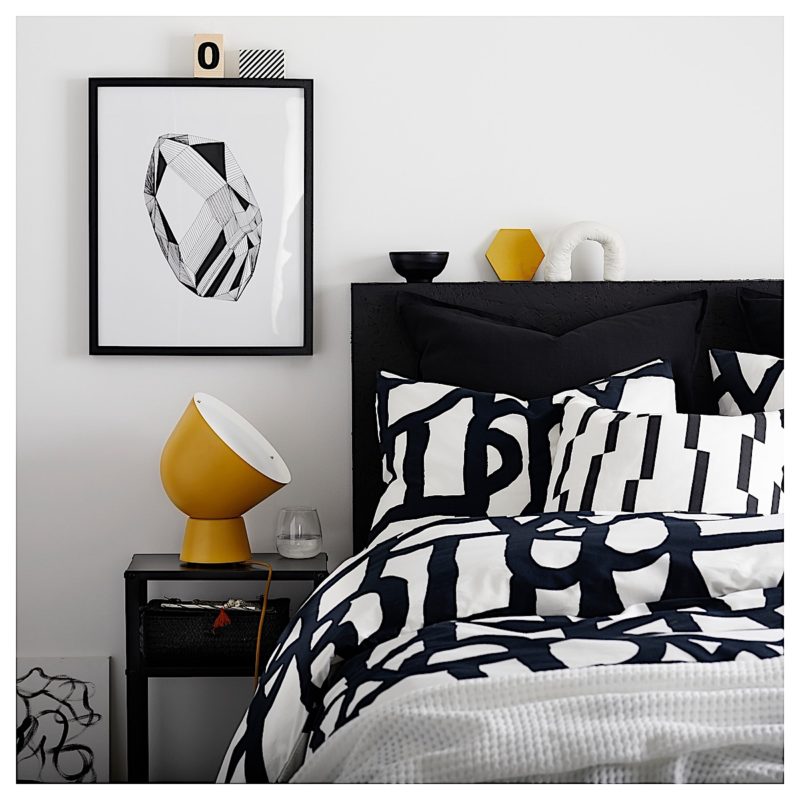 This inspiration is straight from cool working spaces.  Take the leap and translate graphics to your bedding. Our pick is a black-and-white design by Niina Aalto at IKEA. It is fun and bold. Best of all, it will not break the bank. This three-piece duvet set is made with 152-thread-count sustainable materials (80% cotton, 20% viscose/rayon).
SKUGGBRÄCKA Full/Queen Pillowcases & Duvet cover Set | ikea.ca | $34.99
Be Bold & Beautiful with Florals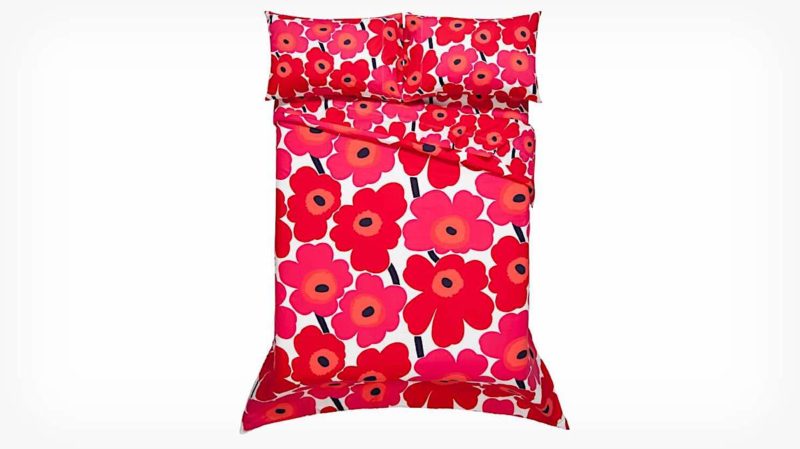 Go bold with your florals. Go colourful and big. Not the discreet floral patterns from Laura Ashley. Our pick is this classic Unikko design from Marimekko. The famous Unikko (Poppy) pattern was designed by Maija and Kritiina Isola in 1964. Besides red, the design is also available in blue. This three-piece duvet set is made with 200-thread-count 100% cotton percale.
Marimekko Unikko Duvet Set |  EQ3  |  From $149.99
Jazz it Up with Polka Dots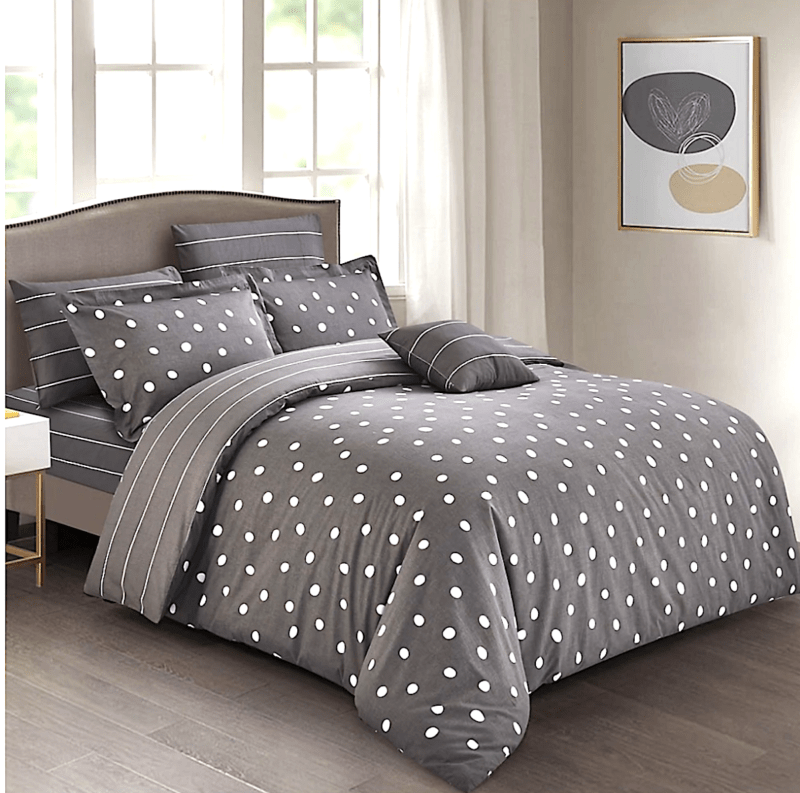 Polka dots are just plain fun. And this will bring the unexpected into the bedroom. For this design, our pick is this tasteful design in grey that does not overwhelm. We love the pairing with stripes to balance it out. Best of all, the duvet cover is also reversible just in case you need a change. This four-piece duvet set is made with 220-thread-count 100% cotton.
North Home Clariden Duvet Cover Set | Hudson's Bay | From $159.99
Crochet is NOT the only way to get Bohemian Chic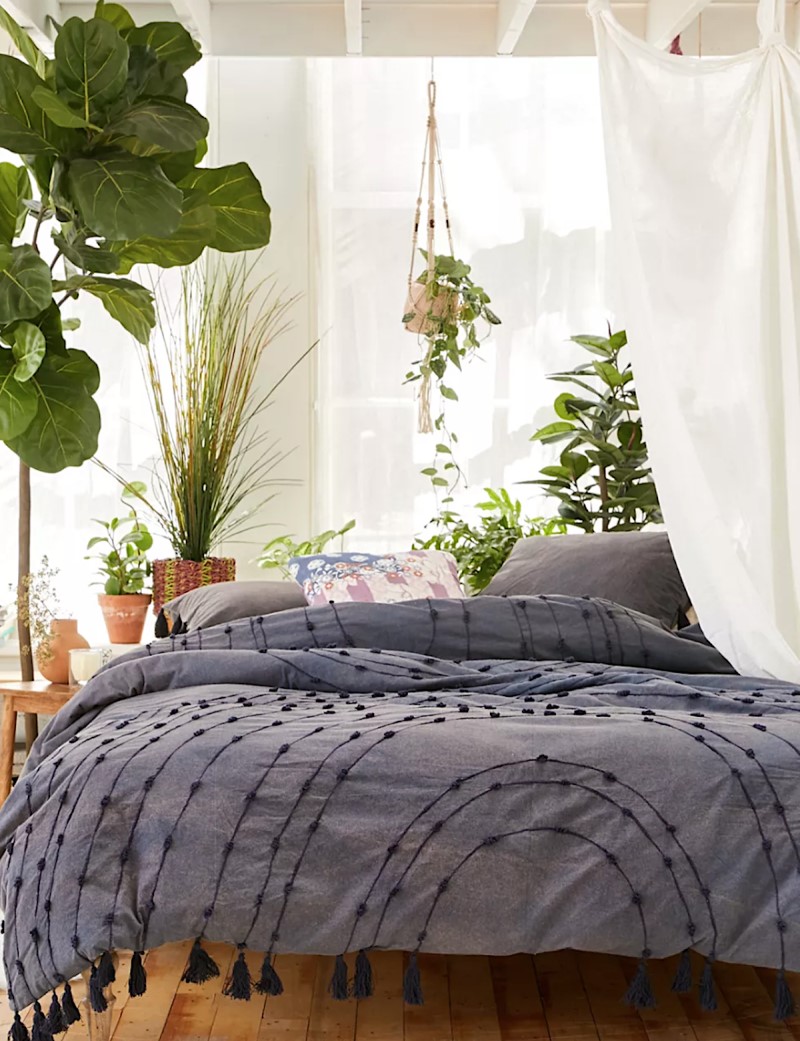 Even though modern crochet is a huge spring trend, it is impossible to find bedding with crochet that will stand the wear-and-tear for daily use. We found lots of options at Urban Outfitters. Our pick is this cover with concentric and arching tufts, finished off with playful tassels in navy blue with a hint of purple. This is also available in cream. The duvet cover is made of 100% cotton.
Cassie Looped Tassel Duvet Cover | Urban Outfitters | From $169
Get Extra with Luxe Details with Whites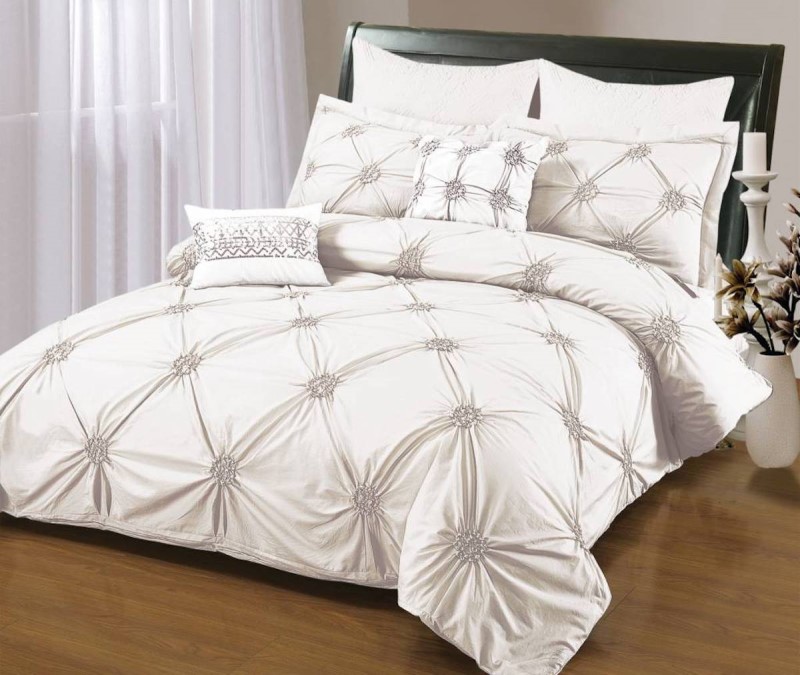 This is dedicated to those die-hards who love their bedding in white only. Go beyond the flat whites. Play around with details Our pick is this duvet cover with ruching. The design adds that little extra with a touch of luxury. This duvet cover with is made of 200 thread count 100% cotton. Optional pillow accessories are also available.
Ruched Duvet Cover | Beddington's Oxford Mills Outlet | From $119
Spice Up Neutrals with a Little Animal Print
Many of us who love animal print also tend to have neutral bedding. Good news, fashion retailers are now translating fashion trends for the home. Our pick is this zebra print duvet cover from Zara that will create some excitement in the bedroom. Sold separately, you can decide on what you want. The duvet cover, flat sheet and pillowcases are made with 150-thread-count 100% cotton.
Black & White Zebra | Zara Home | Duvet Cover From $49.90 & Pillowcases From $9.90
Make it Your Own with Your Style Intuition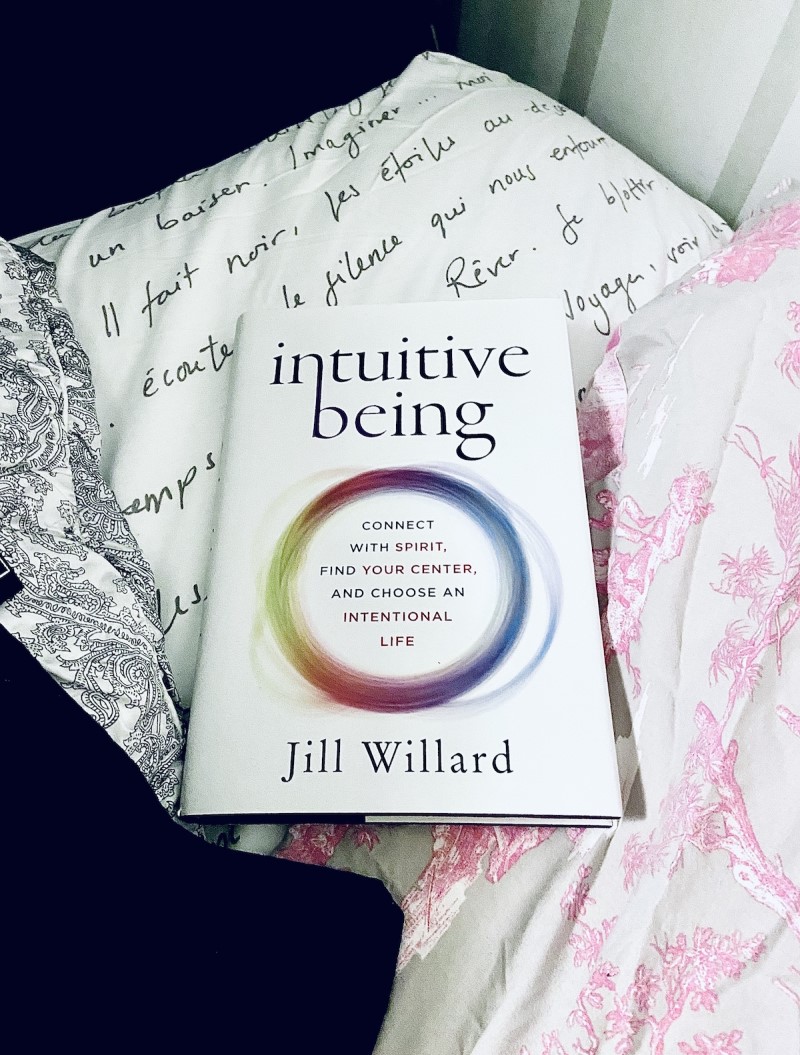 In the same way you mix your fashion pieces, start playing with colours for your bedding. Mix grays with a pop of pink. Like the zebra pick above, you decide what you want. A bold duvet will make a statement, or a pillowcase will simply accent. I have been reading a lot in bed lately. I decided to mix different prints from different sets to complete my new fitted sheet from simons.ca, my favourite Quebec retailer. Trust your intuition. Have fun and create more reasons why you should stay in bed longer!