Holiday gatherings are in full swing and if you are looking for a different kind of adult beverage to serve, try BC's own SakeBomb. An innovation in the Ready-To-Drink cocktail category, SakeBomb hit the shelves in BC in August. It is one of the first female founded and led seltzer or RTD beverage companies in Canada and has already surpassed $150,000 in sales. It is expanding into the Alberta and Ontario markets in the very near future.
"SakeBomb is truly a dream brand for us," explains Stefana Prodea, Founder and CEO, Bomb Beverages Inc. "Not only have we created a delicious, innovative RTD cocktail, but we are also making waves in the alcohol beverage industry with our focus on female empowerment. It's a dynamite combo that tastes like a much-needed change in the market, and it is only just the beginning of what's to come."
The better for you beverage hits all of the nutritional touch points that many of us are looking for:
1 gram sugar
4.5% alc./vol.
90 calories
2 grams carbs
Zero preservatives
Plant based
Gluten free
20 Amino Acids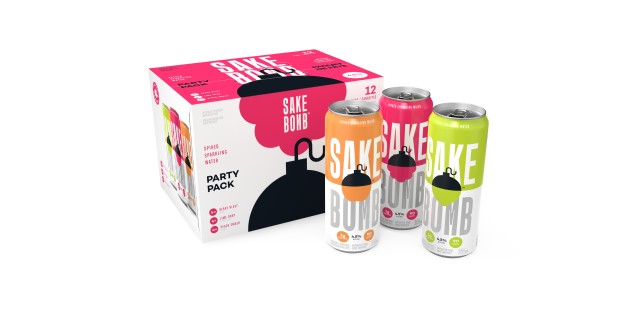 We had the chance to speak with Stefana Prodea to find out about how she got into the wine and spirits industry, how she broke through and became one of the 4% of women in a C-Suite position in the wine & spirits, and the story behind SakeBomb in our latest chance to Shine a Light On a Canadian business.
How did SakeBomb come about?
I never really thought I was going to be in the wine and spirits industry. One of our partners was previously a partner in a sake brewery as a passion project. It was a small-scale operation based in Texas. I had no idea that sake could be a much smoother base to work with in seltzers versus vodka. That's when it clicked that there are twenty other vodka sodas on the market. There are tequila sodas, but no one is really innovating within the space. We're so influenced by the Asian culture so why not add some Asian representation to ready to drink cocktails?
There are still strong sales within the category. They have declined somewhat, but we're also seeing more entrants and it's still a multi-billion-dollar market. I knew nothing about sake at the time. Most people are like me. I can't tell you one sake brand, but I can tell you, I've had a sake bomb at one point in my life at a restaurant with friends. I figured if we're going to do something in this space, let's do something that consumers are at least familiar with. That's where the name SakeBomb came from.
Back in my days at Welo, which was in the CPG space, people used to speak about Jerin Mece who was the co-founder of Nude Vodka Sodas. They were the first on the market within Canada. At one point, they were the fastest growing independently owned alcohol brand in all of North America. They still have a very strong presence within Canada.
I connected and exchanged some products with Jerin and brought a preliminary branding plan for SakeBomb to him. He was just exiting Nude Beverages and was looking to support other female-based start-ups in the wine, spirits, and food industries. When we started developing the beverages, we saw that the taste was superior to using traditional malt-based liquor, vodka, or tequila. It was so smooth and fruity. We thought if we can get people to adapt and familiarize them with sake, it's a superior product and is better for you, having zero to one gram of sugar, little carbs and is gluten free.
That's how it came about.
The ready-to-drink cocktail market is a tough one to be in. How did you succeed in British Columbia when sales were down in 2022?
It's truly the team and Jerin's reputation within the BC market because Nude was also a BC brand. Right away we had a team of best-in-class distributors and an incredible sales team with years of experience in the market. The right playbook was in place to hit revenue milestones.
Five years ago, Jerin went to these store owners [for Nude] and convinced them to take a chance on the better for you RTD space. When it was SakeBomb's turn, they were excited because they knew that we're not just going to launch with them, but we're going to support them, grow the brand, and do the demos to gain awareness. They know that we will come to them with the right marketing tools to make SakeBomb a big brand within this space.
We also built the culture and community very differently than other brands. Our company is female founded and led. We're developing a mentorship program where 2% of sales are reinvested in other minority founded businesses. We are going to be doing a lot of these kinds of community activations and events. They really set us apart from other brands.
Did you have a mentor when you first getting into the business world?
Absolutely. I remember being in my third year [of university] and wanting to start a business. I approached one of my marketing professors at McMaster University, and he connected me with someone within the food industry. Through them I just started networking. I took three trains to get to downtown Toronto to be part of the CHFA (Canadian Health Food Association), which is Canada's largest trade association dedicated to all things natural, organic and wellness. I would do these little seminars and from there I went up to one of the biggest supplement brands and I asked them, can I just take you out for lunch and learn from you? I put them on the spot.
I think people want to help others. Most people will give their time to be a mentor. I learned so much, continue to learn and continue to surround myself with the right mentors. One of the best things we have done for SakeBomb is to put aside 10% of the company to bring on an advisory board. Then we picked some of the best veterans within the industry to be on this board.
We brought in a former executive from Mike's Hard Lemonade and the former CMO from Anheuser-Busch. We have CFOs from the top five alcohol brands, executives from Diageo. We brought on the CSO from Bang Energy Drinks. We made it a point to have meetings and build out the strategy hand in hand with them.
It took us a year to create the right playbook and the right product offering before we launched on the market. Taking that year to think everything out and plan really propelled us forward so that when we did launch it was successful and it positioned us to grow.
As a woman who has been successful, what advice do you have for other women who want to start their own business or enjoy more success in their current career?
I think that a lot of people are turning to consultancy because of the pandemic. Instead of working with bigger brands, they're starting their own business or they're coming on as a consultant so that they can make their own hours. It's an interesting shift that I'm seeing. My biggest piece of advice is to just never stop educating yourself. Education is important in order to avoid becoming stagnant. I try and listen to one to two podcasts a day. The amount of free knowledge that is out there is incredible.
Keep surrounding yourself with mentors and advisors. What I found is that when you turn one stone, you'll be able to turn five more because every person that says "let me introduce you to these three people that will really help you or I know this person" it helps. The wine and spirits world is a very small industry. We've been able to tap into other people's networks as well.
Finally, find the industry that you love. Immerse yourself in it, learn from other founders, slowly start to take their advice, and put your own playbook together. Those are some of my keys to success.
How did you and your partners convince your angel investors to join what was a leap of faith?
Being a female within the consumer-packaged goods (CPG) industry is extremely hard. Only about 2% of funding within our space actually goes to females. With everything that we've had working against us, I think it was building that incredibly strong advisory board. It was also my partner Jerin's previous success within the alcohol beverage space. A lot of our investors naturally came from Western Canada, where they've seen his success.
They also saw the advisors that we put behind us. When they would ask us questions about our go to market strategy or growth strategy, the answers were thought out by us alongside of these incredible people. That made them feel very comfortable about giving us those initial funds.
Success often comes after overcoming challenges. What was your biggest challenge with getting SakeBomb on shelves and how did you overcome it?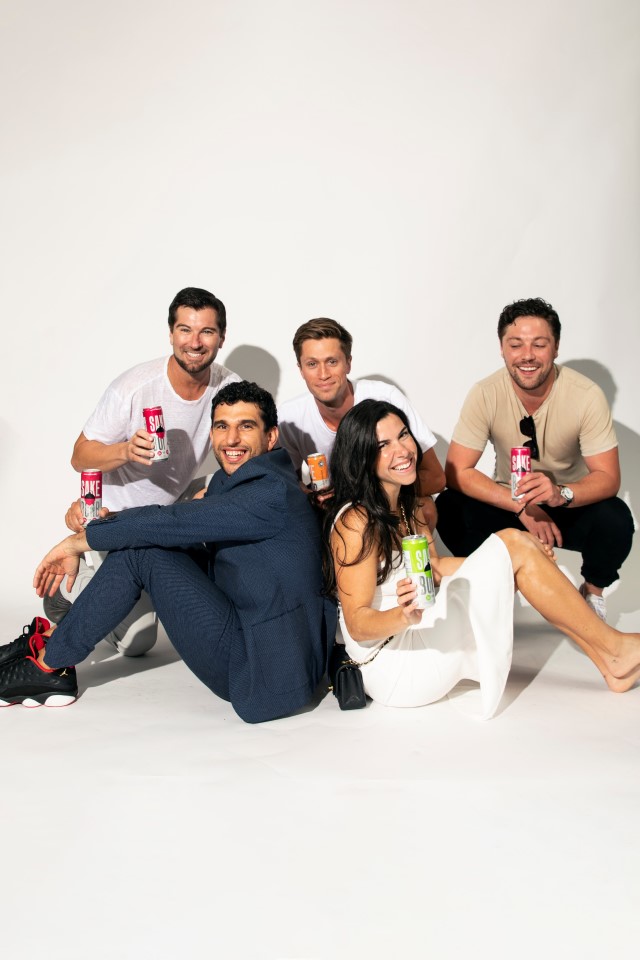 The first and biggest challenge was raising the investment dollars to bring the brand and vision to life. We needed to access the funds to educate people about the brand, to get people to try it and to get that awareness to form the right partnerships. The second challenge was overcoming the education needed around sake and then, of course getting the buy in from store managers. We were lucky to have Jerin's deep rooted friendships that he's built in the category over the past five years, so a lot of people did take that leap of faith with us.
Jerin opened up over 1000 points of distribution from his time at Nude, going door to door, doing all the demos and tastings himself to support these brand managers. When they see local brands that really have a heart and the founder is passionate, it helps because we are using the exact playbook with SakeBomb. They see that we care and then they want to give us that support and that shelf space to grow the brand.
What is exciting is that our product is different and we're not just coming out with a vodka soda with different branding. We offer them different product positioning. What is interesting, especially within BC, is that a large percentage of the population is of Asian origin and so naturally, we're very influenced by Asian culture in general. It gives more Asian representation on our grocery shelves, which is an exciting thing.
For someone your age you have had a lot of success. Do you find that your age is a detriment or do you find it is something that works in your favour?
I think it's both. I had zero funding. I had to bootstrap when I was first starting out, which was incredibly risky and incredibly hard. I feel like the seasoned entrepreneur has had the time to put aside some savings, has assets that they can leverage and then also has that experience. I think that was obviously to my detriment.
Then on the other side of that I think that a lot of people were more willing to help me because I was younger. I also had the energy and wanted to learn. I also think that ignorance is bliss. I had no idea how hard and how costly it would be to launch something within the CPG space. You just get into it and then you're on this ride that you can't get off of. I wouldn't change it for the world.
You have an entrepreneurial spirit. What are you dreaming of doing next?
I love that question because I always have so many ideas. I think the primary goal is to grow SakeBomb over the next three years and make it something incredible. I just want to stay focused on this, execute really well and then see where this takes me.
I'm also passionate about supporting minority entrepreneurs and would love to investment advise rather than co-found another company. I see a lot of glass ceilings that have been carved out by others. It would be great to break some of them and offer more opportunities for bright minds.
There are so many people with great ideas and have great business plans. The access to start-up funding, especially if you're in CPG and especially if you're a minority, is so hard. You have to be really lucky or already have a successful career within being a founder so that you have a built-in base of followers to break through.
It is just too difficult to overcome for many people. Often, it's those that are lucky enough to grow up with a trust fund from parents or have that starting capital to work with that end up launching companies. I'm really passionate about how we can break some of those barriers, create more investments within these ideas, and help get these ideas off the ground.
You can learn more at sakebomb.us or follow SakeBomb on Instagram @bombbevs