Wedding season is coming up and the good news is that people can once again have the reception that they have always dreamed of. If you are trying to create a memorable celebration for your guests, you may have thought about a photobooth. Ottawa-based, but globally available company, MDRN Photobooth will create that one-of-a-kind experience that you are looking for.
MDRN Photobooth launched in 2014 and has photographer and businesswoman Catalina Bloch at the helm. Bloch managed to create a six-figure business in the first 18 months. They have grown to be the largest photo and video activation company in all of Canada. Not one to keep the secrets of her success to herself, she is someone that shares her insights with others in her community. She is as invested in the success of others as she is in her own business.
We recently spoke to her to learn more about MDRN Photobooth, the challenges that came with the pandemic, how she pivoted her business to deal with those challenges and more in our latest Shine a Light On feature.
Why did you pick photobooths as your "side hustle" back in 2014?
I didn't. I knew that I wanted to work in photography and was trying to make it as a wedding photographer. I had been shooting for a bunch of people and finally decided to go out on my own. I was having a tough time breaking through and making money. Many people do not realize that in order to make money as a wedding photographer, that you have to charge upwards of $4,000 to make just over minimum wage with the amount of time and work that goes into it.
I went to a convention in Las Vegas to learn from the world's top photographers. I wanted to find out how I could make money doing this [wedding photography] as a side hustle and that is when I found the photobooth on the tradeshow floor. I was blown away by the quality of this machine and thought that this was a photobooth that I would want to have at an event. For the record, I hated photobooths – I thought that they were tacky – but I thought I could make this into something that people like me would want. It just clicked and felt right.
I saw the whole thing in front of me and I called my husband who told me that if I felt this passionately about it, then do it. Back then, this particular photobooth was $9,000 USD (around $13,000 Canadian) which I did not have. I put it on my parents' emergency credit card, and I had 30 days to figure it out before they got the bill.
What made this particular machine so special?
The machine itself doesn't matter nowadays, but that particular machine at that point in my life made me realize that you could have a high-end photobooth. It was essentially studio quality. The lighting is beautiful. The picture quality is high-definition, and it even uses professional grade photo printers so the prints that you are getting are ones that you want to frame. It opened my eyes to the idea of thinking outside of the box about what a photobooth could be and making it more of an experience.
You were able to create a six-figure business in your first year and a half. What do you attribute your success to?
I do have some failed ventures in my past that I definitely learned from. I knew that I had to do this right. I just saw the vision so clearly. We had to have everything done professionally with professional branding. I really wanted people to see this as a legit business and not something that I was doing out of my front closet, which I was, but I wanted to create the illusion of something bigger. It was that whole fake it until you make it.
Then, I started networking. I reached out to people who I thought would be our ideal customers telling them that I wanted to do a free event for them. I gave them value in exchange for sponsorship recognition. I made sure to get in front of the right people. One of the first events that we did was for this local group called "Ladies Who Lunch" and from that one event, we got four or five contacts that we still work with to this day.
Networking was really important and that is what got us out there. Once people experienced the photobooth and saw the difference in quality, that was also a turning point. Every time we went to an event, people were amazed not only by the photobooth, but the props and even the backdrops that are created using high-end photography. People really saw the difference between our photobooth experience and others that were out there.
You are creative with technology. How do you walk a client who wants to do something creative for their wedding or event through your capabilities?
We have had to refine our offerings for weddings and that is a work in progress because we offer so much. Right now, everyone wants a Glam Booth, a 360 Photo Booth or a traditional Print Booth. Those are the options that we tend to go with for weddings. We have spent a lot of time trying to educate clients and wedding planners through our social media, website, and newsletters. We did a lot of open houses pre-pandemic to educate clients and planners. It was also important for us to narrow down our initial offerings. We have discovery calls with every client that comes in for weddings to make sure that what we are presenting them is what they need and is the best product for them.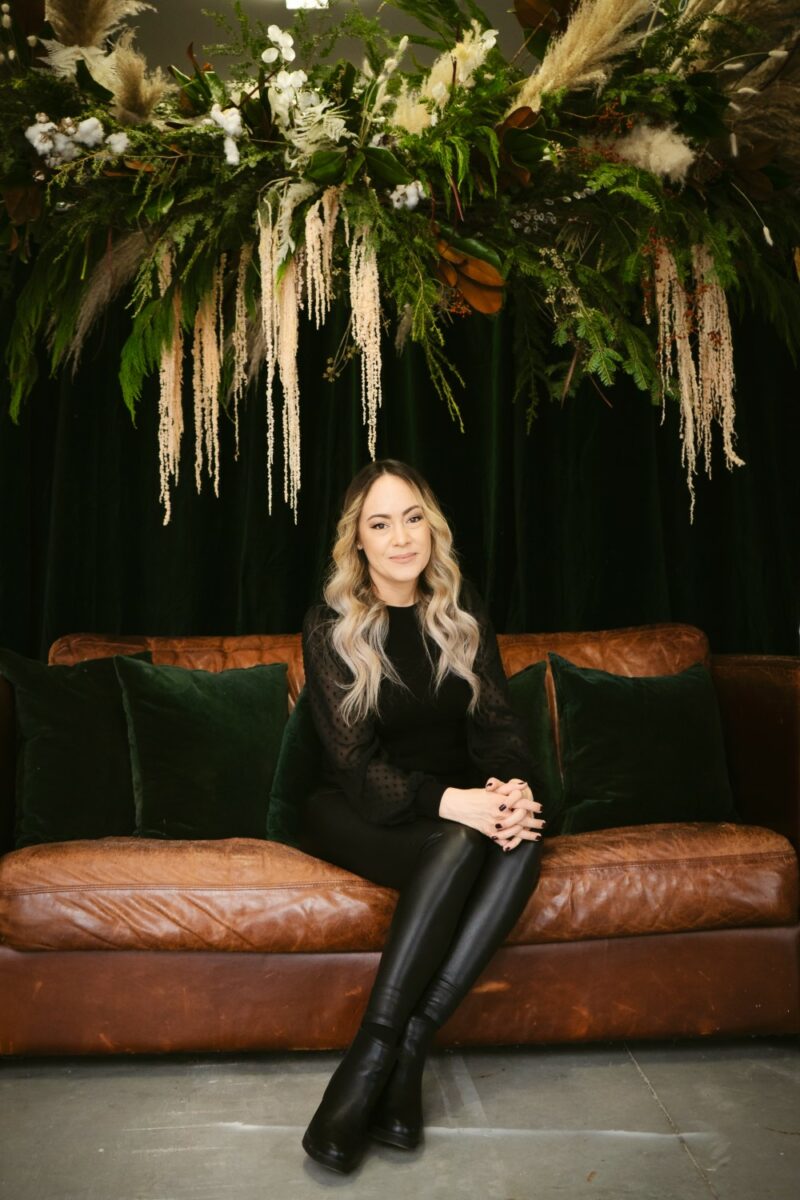 As social media evolved, how has your business evolved with it?
We decided to go hard on social media during the pandemic because there were no weddings. We revamped our social media and wanted them to be a place for people to get educated, not just on what we offer, but what MDRN Photobooth can provide to you and what you may not have thought about. If you are planning your wedding, a photobooth can be both a wedding favour and an experience for your guests. Our social media's goal is really educating our clientele on how awesome photobooths can be and details like where to set it up, what kind of paper can be used, and it has worked.
The pandemic created challenges for many businesses. Obviously, the wedding business was very hard hit. How do you cope with these challenges and what changes did it force you to make?
Weddings disappeared and we had a lot of reschedules. It was an opportunity for us to make a difference. There was an uproar in the vendor community and the wedding community in general because people were rescheduling, and retainers were lost. A lot of people did not know how to handle this. We decided early on that this was nobody's fault and we wanted to make this as easy as possible on people. We started advertising and explaining to people that we were going to work with them as best as we can. If they were rescheduling their wedding, there would be no penalties. We ended up having to do that for two years.
We decided during the pandemic that since we did not have weddings, that we were going to refine what our offerings looked like, and this is where we did the whole shift between our corporate business and our wedding business. We spent the pandemic reimagining MDRN Photobooth for the wedding industry. We did a lot of styled photo shoots to show people what we could do. Part of the problem was that we were just showing the things that people were hiring us for, not the things that we wanted them to know about.
Once weddings came back, we wanted clients to think that they needed to have MDRN Photobooth at their wedding. And that is what happened. Once we revamped Instagram and our marketing, we got a huge number of leads. We were drowning, and we still are.
It is a competitive world in niche businesses. Why are you sharing your secrets on creating a profitable photobooth business with others?
The reason that I was able to be so successful so quickly had to do with the fact that the photobooth company that I purchased my equipment from provided information on how to start your business. That company was a husband-and-wife team operating out of their condo. They created information and marketing materials to help people start their business. I owe a lot to that company and am still very close with them. We work really closely together. I always contributed back to others and always got great feedback from it.
For me, it is about being able to provide education to help raise up the community. The photobooth community is not a luxury market. Most people do not make money in their photobooth business; they lose money. The business is very confusing, even for me at times. It is important for the photobooth community as a whole, to be that somebody that can provide them with information that will help them take their business to the next level. I had that help and wish that I had more, so I am hoping to give that to people just starting out.
As a woman who has been successful, what advice do you have for other women who want to start their own business or enjoy more success in their current career?
It comes down to knowing what your end goal is. At times, I struggled with why I was doing this. At first, I just wanted to make extra money because I was working a full-time job and eventually wanted to have a baby. Once I got past that, I was doing business for the sake of doing business.
Not having a goal is dangerous. Everyone needs to have one even if it is just a short-term goal, then you can think about what your life will look like in the future. That helps in being successful in your career or owning your own business.
MDRN Photobooth Co. has continually evolved, and you are now so much more than wedding photobooths. What is next for the company?
When I made my company a corporation, I was all about getting this corporation right. What came to mind was MDRN Creative Group because we really are a group of creative companies. We have a couple of things that we are working on right now. We have broken out our corporate events business and that is exploding. The projects that we are working on are some of the most exciting that I have ever been a part of. Weddings have been going really well. We have our studio space which is going to be expanding. We love seeing what other photographers create in our space. We have even more exciting announcements coming up this year.
You can learn more at mdrnphotoboothcompany.com or follow them on Instagram @mdrnphotoboothco.