If you are a makeup lover, then September is the most wonderful time of the year.  Sephora starts getting their holiday gift sets in.  We all wait with bated breath to see what the cosmetic retail giant will have in stock AND what may find it's way into your stocking.  The truth is, we sometimes get carried away by the holiday gift set packaging, not remembering it's what inside that counts.
We took a closer look at some of the gift sets and did some digging to see if the value was there and to give our opinions on what was worth the money and what wasn't.  We know that beauty (and beauty products) are in the eye of the beholder, so tell us what's on your gift giving list, even if it's a gift for yourself.
Skincare Holiday Gifts Sets
Skincare can be costly, and holiday gift sets are a great way to try new products or stock up on old favourites.  If you are planning on picking one up, they are generally a good value.  You do have to think about if you will use each item in the gift set though.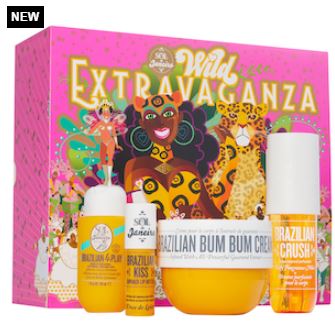 What it contains:
– 8.1 oz/ 240 mL Brazilian Bum Bum Cream
– 3 oz/ 90 mL Brazilian Crush Hair & Body Fragrance Mist
– 3 oz/ 90 mL Brazilian 4 Play Moisturizing Shower Cream-Gel
– 0.21 oz/ 6.2 g Brazilian Kiss Cupuaçu Lip Butter
The Price: $81.00
The Value: $121.00
DIVINE Value Check: The value is $121.00
You really need to love the fragrance – it's pistachio and salted caramel – which does smell great, but some people find the cream on its own overpowering.  This is a good value, and if you are giving it as a gift, you can break it up. Keep the body cream for yourself though – it helps with dry legs in the winter.  If you want to save even more, Sephora's Beauty Insider Event usually happens in November.  Patient shoppers that can wait until after the holidays may find it at a deeper discount then.  It may sell out, but that's part of the fun of being a strategic shopper.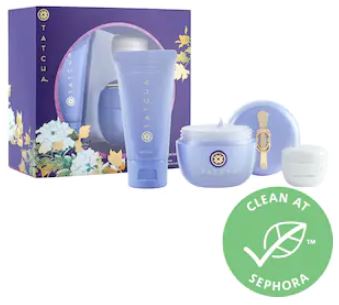 What it contains:
-1.69 oz /50 mL The Rice Wash
-1.69 oz/ 50 mL The Dewy Skin Cream
-0.17 oz/ 5 mL The Silk Peony
The Price: $95.00
The Value: Not provided
DIVINE Value Check: The value is $134.00
This is a good value and Tatcha skin care is a winner.  Skin care is personal, because everyone has different complexion issues, but if you have dry, sensitive skin, this works.  Tatcha products tend to sell out, and they sell out for a reason. You may find it at the Beauty Insiders Sale but don't bet on being able to scoop this up post-holiday.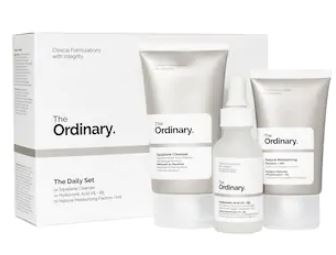 What it contains:
– 1.7 oz/ 50 mL Squalance Cleanser
– 1 oz/ 30 mL Hyaluronic Acid 2% + B5
– 1 oz/ 30 mL Natural Moisturizing Factors + HA
The Price: $19.00
The Value: $20.50
DIVINE Value Check: The value is $20.50
You may balk at the fact that you are only saving $1.50, but The Ordinary is an affordable line already.  Our advice?  If you love these products, pick up this gift set, otherwise wait until the Beauty Insiders Sale and customize your own holiday gift set at a deeper discount.
Makeup Holiday Gift Sets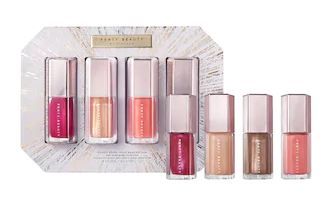 What it contains:
– 4 x 0.18 oz/ 5.5 mL Mini Gloss Bomb Universal Lip Luminizers in Cake Shake, Baby Brut, Taffy Tea$e, Ruby Milk
The Price: $48.00
The Value: Not provided.
DIVINE Value Check: Cost per ml for a full size Fenty Gloss Bomb = $2.77.  Cost per ml for the mini = $2.18.  You are saving by purchasing the Mini Gloss Bomb Set.
If you love Gloss Bomb, then, this is a good deal.  The formula is quite sheer so even the deepest colours aren't scary.  It's a very good product and you can break up this set and give the glosses out individually.  Last year's gift set went on a deeper discount after the holidays, so you may want to wait for this one at least until the  Beauty Insiders Sale.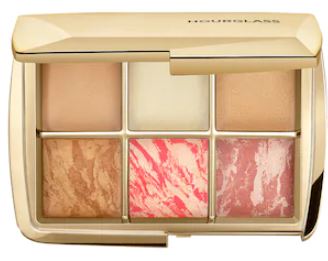 What it contains:
– 6 x 0.04/ 1.4 g Shades in Vibrant Flush (bright coral pink), Natural Bronze Light (neutral bronze), Glistening Strobe Light (pearlescent champagne), Dim Light (neutral beige), Diffused Light (warm pale yellow), Mood Exposure (soft plum)
The Price: $105.00
The Value: Not provided.
DIVINE Value Check: This was a bit more complicated to figure out.  The products, in ounces, were the same size as the Hourglass Minis, but the grams were off.  Our best guess is $194.00.
From our research this works best for fair to medium skin tones. Three of the shades are exclusive to the palette, but two are repeats from last year. Hourglass makes great products and doesn't skimp on quality with the holiday palettes, but this is a nix if you have last year's palette.  You don't have to miss out on a great formula though.   Hourglass makes minis that are great for stocking stuffers and is a great place to start if you are interested in the brand.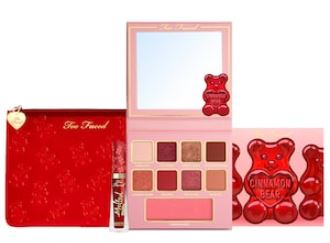 What it contains:
– 8 x 0.02 oz/ 0.8 g Eyeshadows in Cereal Milk, Slow Burn, Sweet n' Spicy, Chocolate Dipped, Cinnamon Sugar, Red Hots, Pop of Chill, Bear Hug
– 0.12 oz/ 3.5 g Blush
– 0.23 oz/ 7 mL Melted Matte Liquid Lipstick
– Cinnamon Bear makeup bag
The Price: $49.00
The Value: $154.00
DIVINE Value Check: This is a head scratcher.  It is hard to put a value on this gift set because it is a limited edition, but we are going to try.  A mini eyeshadow palette in a tin is $36.00 compared to cardboard packaging, but we'll give the same value anyway.  A comparable Melted Matte Lipstick is $29.00.  The blush, if you are comparing it to a Too Faced Blush is $4.44 per gram.  At 3.5 grams, the value, at most is $15.55.  That means the cosmetic bag is valued at $73.45.  There is either a mistake on the website or this is being overvalued.
This is cute – there is no doubt about it and it is supposed to smell like Cinnamon Bears.    Perhaps the quantity is very limited, which means it will sell out before the holidays or it will be on sale after the holidays.   Nix this and buy the new Pumpkin Spice palette for $10 more or gamble and wait for the sale on this.
Final Thoughts
Sephora has a lot of great holiday gift sets that provide good value for the money.  You just have to think about what you need in your collection.  We will update you with our picks for the Sephora sale in November.  Check out our previous article on the "Sephora Spring Sale: How to be Bougie on a Budget" to start planning your purchases.