If you want to have healthier-looking skin (and who doesn't) then there are a few things that you need to know. Below, you will find some of the most important secrets for skin that glows, looks great, and ages better than average. Add them to your daily beauty routine and you will enjoy healthier-looking skin!
Hydrate, hydrate, hydrate!
I can't emphasize this enough – hydration is key! Not only does it help maintain your skin's elasticity and plumpness, but it also flushes out toxins. So, guzzle down at least eight glasses of water a day, and watch your skin transform. And hey, why not take it up a notch? Add some lemon, cucumber, and even berries to your waster for a vitamin-packed twist that will feed your skin with antioxidants and make it even healthier looking.
Always wear sunscreen
Okay, so as secrets go, this has to be the worst-kept one in skincare history, but it is worth mentioning that, if you want to have healthier-looking skin, then you absolutely do need to apply, at least SPF 30, sunscreen whenever you are going out in the daylight hours. Even if it does not look particularly bright out, the sun's harmful UV rays can still reach your skin and cause premature aging, and much worse, so it is always better to be safe than sorry – if you're going out, spread some on first.
Make friends with antioxidants
Antioxidants are your skin's BFFs when it comes to fighting free radicals and inflammation. These heroes of skincare can be found in everything from nuts, berries, and leafy greens to dark chocolate (yes, you read that right!) incorporate these goodies into your diet, and your skin will thank you for it.
Treat skin issues
If you have skin issues like psoriasis or eczema, then it is important that you speak to a dermatologist and use prescribed products, or over-the-counter lotions and potions like Bodewell Eczema Daily Calming Cream to treat it as effectively as possible, Not only will this help your skin to look clearer and feel less itchy and painful right now, but it will also help your skin to age better too. No one has to suffer with skin complaints when there are a range of products out there to help.
Catch those Z's
Beauty sleep is not just an old wives' tale – it's a real thing! While you're snoozing away, your skin is hard at work, regenerating and repairing itself. So, do your skin a favor and get at least 7-8 hours of quality sleep every night. our complexion will look brighter, and you'll feel more refreshed overall.
Exfoliate (but not too much)
Exfoliating is essential if you want to remove dead skin cells (and you do) to reveal the fresh, rejuvenated skin underneath which gives you that all-important healthy glow. However, overdoing it can lead to irritation and dryness. That's why most people are better off exfoliating only once or twice a week, and ideally, using exfoliants that are natural, such as coffee grounds or sugar-based formulas.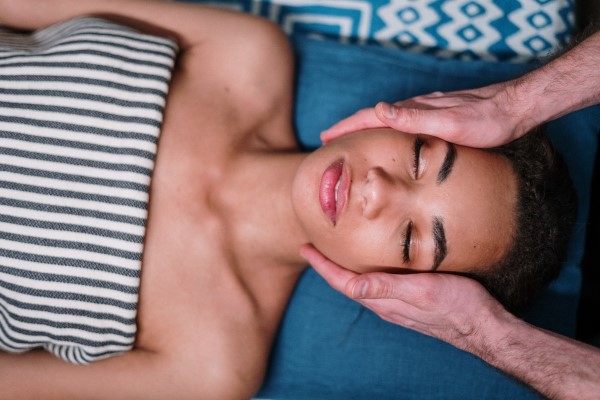 Treat yourself to a facial massage
Not only are facials very indulgent and a great way to relax, but they are also one of the secrets to healthier-looking skin too. A facial massage, boosts circulation and lymphatic drainage, giving your skin a natural, healthy glow. Use your fingers or a facial roller, like a jade or rose quartz roller, and gently massage your face in upward, sweeping motions. Trust me, your skin will look more radiant in no time!
Customize your skincare routine
We are all different, which means what works for one of us will not necessarily work for all of us when it comes to skincare. That is why it is a good idea to customize your beauty routine depending on the needs of your own skin. Take the time to figure out your skin type and concerns, and choose products that specifically address your needs. Don't be swayed by fancy packaging or marketing hype – focus on ingredients and formulations that will genuinely benefit your skin.
Stop being a stress head
One thing that can really cause your skin to look dull and unhealthy is stress. If you are constantly on edge about work or worried about your relationships, then it will start to show on your skin, which will become dull, dry, and tired-looking in no time at all.
That's why it is so important to do what you can to lower your stress levels and stop cortisol from being released into your bloodstream where it can cause so many issues. Meditation, breathwork, and yoga are all good remedies to stress, but find an activity that works for you and incorporate it into your daily routine.
Get moving!
Exercise isn't just great for your body; it's also a fantastic way to promote healthy skin. Working up a sweat increases blood flow, which helps deliver essential nutrients and oxygen to your skin cells. Plus, it's a fantastic way to relieve stress and boost your mood. So, get your heart pumping with activities like jogging, dancing, or swimming – your skin will be glowing in no time!
Be gentle
While it may be tempting to scrub away at your skin or try every product under the sun, sometimes, less is more. Treat your skin with care, avoiding harsh ingredients and over-exfoliating. Remember that your sin is a delicate organ, and it needs gentle, consistent care to thrive.
Keep it clean
You may not realize it, but everyday items like your phone, pillowcase, and makeup brushes can harbour dirt and bacteria that can lead to breakouts and dullness. Make a habit of cleaning these items regularly to keep your skin happy and healthy. You will be surprised at just how much difference this will make.
As you can see, the secrets to healthier-looking skin, are not all that hard to incorporate into daily life, and if you do so, you will be rewarded with the best-looking skin of your life, so what are you waiting for?