Online shopping giant Amazon Canada gave one of its employees quite a gift a few weeks ago by offering to decorate her home with the help of local designer Camille Charland-Perez. This is a gift many would dream of, right? The brand chose to surprise the select Amazon employee with the help of singer Beatrice Martin, also known as Coeur de Pirate. Martin has just released an Amazon Original Music Christmas song, titled "Parfait Noël"! And those who were spoiled by this initiative also had the chance to virtually meet Coeur de Pirate. The singer said she was very inspired by this Amazon Canada initiative.  The project actually took on an even more meaning, just in time for the holidays we are going to tell you all about it!
Furnishing Two Homes Instead Of One
The person who was chosen for this gift had been nominated as a Hometown Hero by her colleagues at Amazon Canada. She was nominated because of her involvement in the foster care community, in addition to her exemplary work as a site manager for one of the brand's Quebec facilities.
Although grateful for this precious gift, Jolène Donatelli initially turned down Amazon Canada's offer and instead suggested redecorating the Maison d'Hérelle, a residence that provides care and housing for people living with HIV and AIDS. The result? Amazon not only furnished the organization's residence, but also decorated Jolène's home for the Holidays and made a donation to the Maison d'Hérelle. Jolène Donatelli said she was very touched by the generosity of her employer, who not only made a difference in her life, but also helped improve the lives of the residents of the Maison d'Hérelle.
Local Décor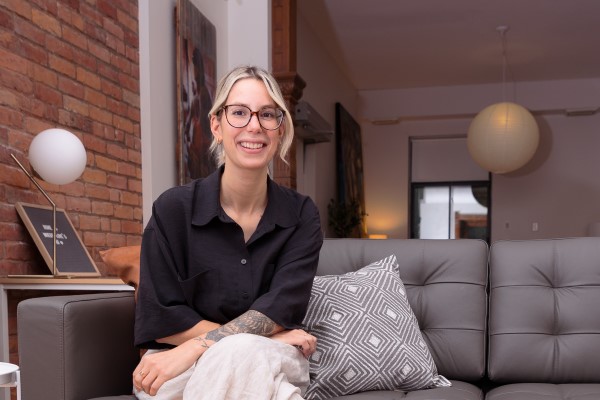 For both decorating projects, designer Camille drew from the vast selection of furniture and decorative items found on Amazon, focusing on small business, some even coming from Quebec such as SOJA & Co., Vitruvi and Opposite Wall. The results are amazing (are we surprised?) and we have to admit, this project makes us seriously want to go shopping on Amazon for the holiday season! The video that presents the whole thing is very touching, in addition to giving us a glimpse of the rooms that have been redecorated for the occasion.
You can easily find the décor items that were chosen to refurnish the spaces by visiting the project page right here. Congratulations to Amazon Canada and especially to Jolène, who is a valuable asset to her community and employer.