Dimitra, from Breakups2Makeup, has been a beauty YouTuber since 2016.  Like most influencers on this platform, she has a day job helping students find permanant work once they finish university.  Cosmetics and skin care are passions for this 34 year old from Brampton, Ontario.  We selected Dimitra as one of our Influence-Hers for her thorough product reviews.  You want to know how an eyeshadow palette performs, need a tutorial or what the best skin care products are, then, Dimitra is your girl.  Her positive energy, down to earth nature and impressive collection will keep you glued to the screen. We sat down with her at a café in Toronto's Bloor-West Village.
What inspired you to start your YouTube channel?
A lot of the content and the way I film is inspired by Tati Westbrook's channel and how she speaks to her audience.  The name Breakups2Makeup came out of an abusive relationship and my need to focus my energies on something that brought me joy, like makeup.  I was also being bullied at work at the time and needed a creative outlet to express myself.  YouTube gave me the ability to turn on the camera, talk about something that I love, and for a brief moment, I could escape reality.  It was a platform that allowed me to be myself and not a chameleon.  Views are hard to come by but the people that do watch, are really positive and have made creating videos fun and engaging.
What were the biggest challenges when you first launched your YouTube channel?
I had no idea what I was doing with my set up, my camera and lighting.  Editing my videos was also really difficult.  I educated myself by watching other people's YouTube videos.  In the beginning I was stiff and lacked personality because I didn't know how to edit videos on the back-end. I would shoot things in one take because I didn't know how to do re-takes and edit in the best footage.  Keeping up with content is hard too.  Being in Canada is tough because we aren't always first to market with new products.  I spent a lot of money on shipping from the US and driving to Ulta in Buffalo in order to get my hands on new products and be the first to put up a video.
What advice would you give someone just starting out on the platform? 
Don't fuss too much with technology when you are first starting out.  Your smartphone gives you everything you need in order to begin creating content.  Instead of buying expensive lighting systems, sit in front of a window. You don't need to spend a lot of money to make great content. Be yourself and let your personality shine through.  It's important to talk with your audience, not at them. Treat them like your friends and you'll build great connections. Burnout can be a real problem when you constantly have to come up with new content, so don't be hard on yourself.
How would you describe your makeup style? 
If you asked me this question 6 months ago, I would say it's natural and wearable with a lot of gold eyeshadow.  Recently, I've been trying brighter, bolder colours.  I'm more daring now  with my makeup, but I still want it be wearable and functional for what I do.
What are your favourite brands to wear? 
Foundation – Dior Backstage Foundation – the most natural looking, full coverage foundation. It wears for a long time and feels like there is nothing on your skin.
Powder – MAC Studio Fix Powder has never let me down. Rimmel Stay Matte Loose Powder is cement for your face – it will seal whatever you have on and is affordable, just $7 at Wal-Mart!
Lip – MAC Lipsticks and Maybelline bullet lipsticks.
Eyeshadow Palettes – Anastasia Soft Glam is versatile and easy to wear. I am also obsessed with the Ace Beauté Slice of Paradise Palette – it's bold, pigmented and blendable.  It is user friendly even though it looks intimidating.
Mascara – Essence False Lashes Mascara and I've tried it all. This one stays on, doesn't flake and is $4.99!
Lashes – Flutter Lashes (Serenity – bold and wispy and natural) and Lilly Lashes (Doha looks natural and wispy).
Blush – Hourglass Ambient Blushes provide a flush of colour and adds highlight to your skin.
Bronzer – Marc Jacobs O!Mega Bronzer in Tan-Tastic is the best. It looks natural, blends out well and never looks muddy on my skin.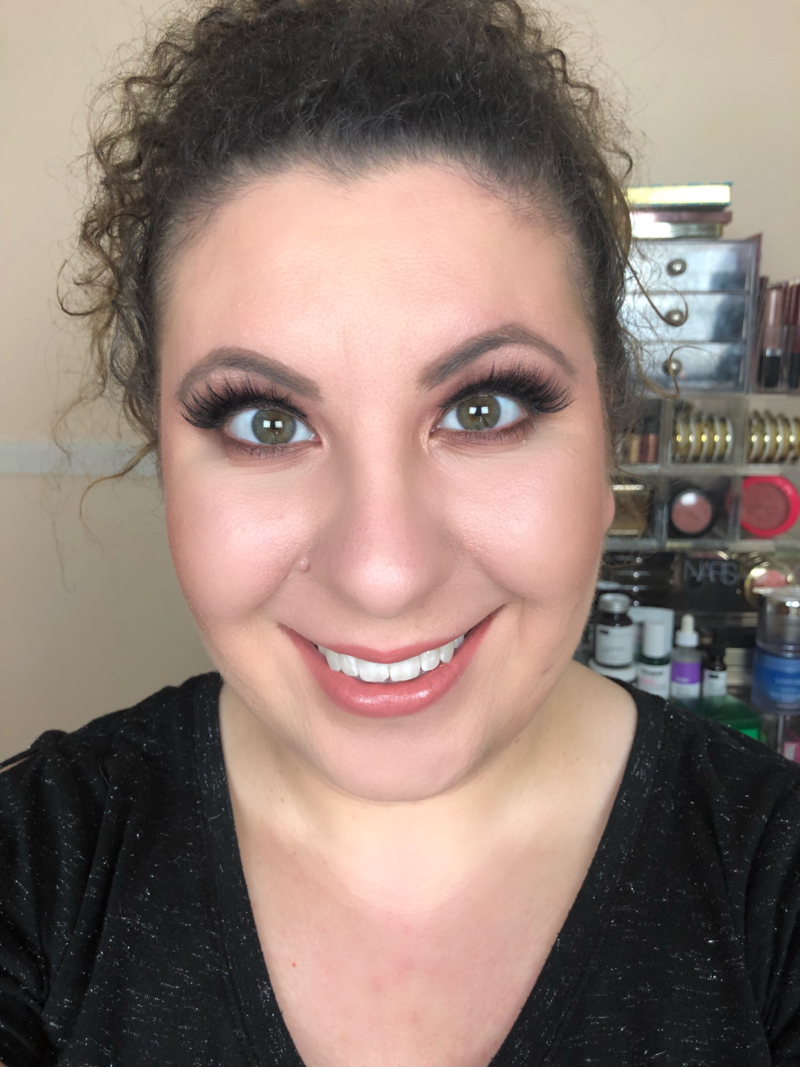 What up and coming brand will make the biggest splash this year? 
Clionadh Cosmetics.  The owners of this brand are consistently working on innovative, new collections. They recently released their stained glass collection, which looks like liquid metal when swatched.  The brand is going places – they are expanding their offerings and they listen to your feedback.  Plus, the company is Canadian so they have a very special place in my heart.
 What trend would you never try? 
The wavy brow trend.  Cloud makeup – that looked ridiculous.  Intense highlighting and contouring is also not for me. 
 What's one thing people would be surprised to learn about you? 
I speak a little bit of Mandarin.  I'd say my fluency is advanced survivalist. I had to learn for work since I used to travel to China a lot.
 Which YouTube channels inspire you? 
Tati (Westbrook) was one of the first YouTubers that I got into.  I liked her honesty and passion for makeup.  It was just her and the camera.  Jaclyn Hill's personality pulled me in and her technique with makeup is amazing.  I learned to shoot close up, and use a lot of different products because of her videos.
 What are your long terms goals for your YouTube channel?
I'll continue to focus on quality content and engaging with my audience.  In a Utopian world, I'd love to have a collab with a brand or start my own brand of specialized cosmetics and skin care.  I'd love to see growth in my channel in terms of continuing to build a diverse audience and reviewing more beauty products in innovative ways.
Follow Dimitra on Instagram or subscribe to her YouTube Channel, Breakups2Makeup