"What's up Everybody?  It's Kelsee Briana Jai…." is how the creator starts each one of her YouTube videos.  As soon as you hear her bubbly voice, you know you are in for a good time.  Kelsee is more than a pretty face and a bubbly personality though.  A highly-skilled professional makeup artist, she has worked with the likes of Jill Scott and Tamron Hall.  She is one of just a handful of black women in the luxury YouTube space.  Watching her blend an eyeshadow seamlessly is something that everyone can learn from.  She puts her heart and soul into her videos, developing unique content ideas that inspire others to follow her lead.  Her ranking videos where she speaks to her favorite eyeshadow palettes and Battle of the Concealers have been two of her most popular creations.
From a young age, Kelsee went with her mother to beauty counters.  She noticed how her mother struggled to find her shade match.  She would go from counter to counter trying on different products and it became their mission to find the perfect shade.  They would go from Fashion Fair to Lancôme to MAC to Benefit to Prescriptives.  Kelsee learned about all of the products and spoke to the makeup artists solidifying her love of cosmetics.  Her mother let her buy one item a week.  By the time she was twelve, her Caboodle was filled with designer makeup from lip gloss to eye shadow palettes.
Kelsee shadowed other makeup artists, working as their assistant.  She credits working at MAC for helping her hone her skills, "Because I started so young, a lot of my development came from MAC.  It used to be a hard company to get into – it was a rigorous process.  They placed artistry at the forefront and we had to go through a lot of training and seminars.  We would get hands-on demos too.  That really helped me along with reading books by makeup artists like Bobbi Brown, Sam Fine, Scott Barnes."
We sat down with her recently to find out more about what inspired her YouTube channel and found out what her current favourite products are in the latest Influence-HERs.
What inspired you to start your YouTube channel?
I started my channel about ten years ago.  My boyfriend moved to the same city as me and I just got tired of hanging out with boys [laughs].  While they were hanging out playing XBOX, I was trying to find my own things to do.  I was meeting some people, but in college, at age 18, there just wasn't anybody that had the same love for makeup.  I was in an online community called  Specktra going there because everybody was excited about MAC collections.  Then, one day, I discovered YouTube.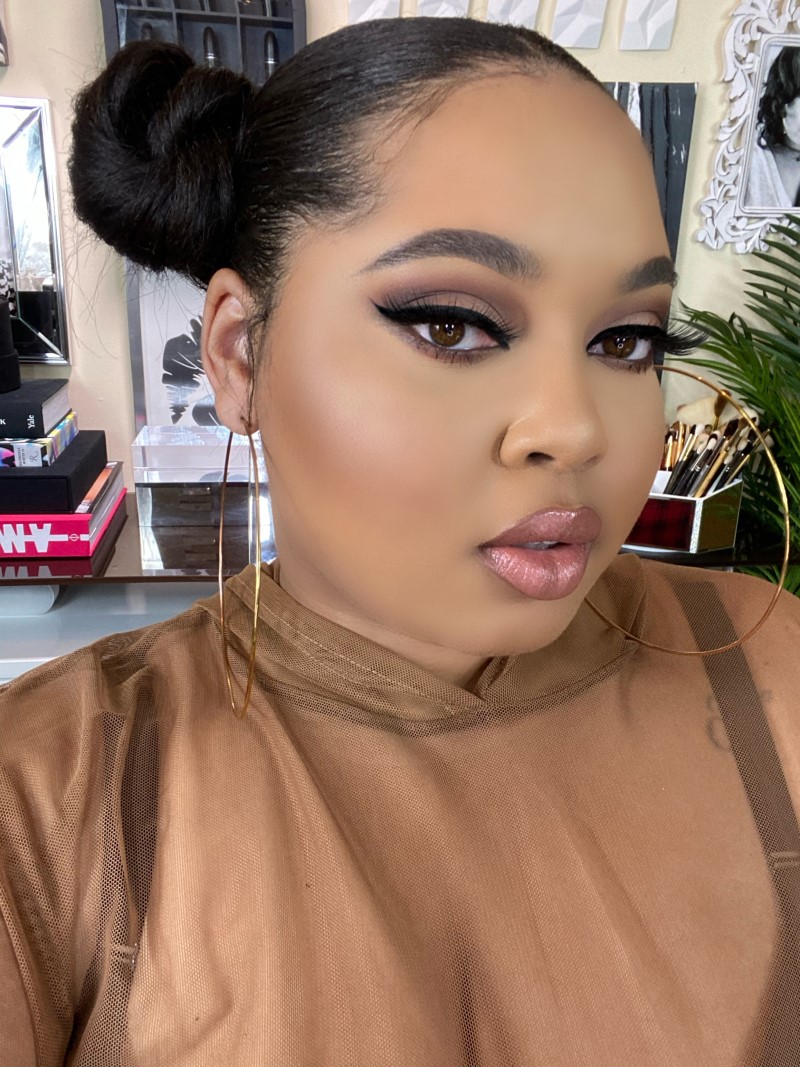 Like many people, before they start their channel, I just dove into a deep hole because I discovered this whole other world that I didn't know existed.  I watched a lot of videos and thought "I can do that" because I studied it, I know what I am talking about and I don't see anybody that looks like me. My first tutorial was a Halloween tutorial that I filmed in my boyfriend's bathroom.  I filmed it on my computer and it had horrible camera quality and figured out how to edit it and thought "This is where I belong."
What were the biggest challenges when you first launched your YouTube channel?
I didn't have any challenges when I first started. The challenges kicked in as I started to grow.  I wanted to keep up with the times.  It was challenging to know that things were changing, that we weren't just sitting in front of a computer camera and film.  We had to upgrade our software.  Just making those types of changes was a challenge at first.  It was getting use to using new technology.
It was also about being consistent which was a challenge at first because it was just a hobby. I hadn't considered that I would need to upload several times a week for consistency. Once I decided it was something that I wanted to do, feeling the motivation to get up, film and have videos every week and be there for people who were starting to depend on my opinions was also challenging.  Now, it's what I do – I come on and tell people what's new.
What advice would you give someone just starting out on YouTube?
You don't need a sophisticated set up, but you can't just be just sitting on your floor.  Watch your favourite creator and don't copy them, but take notes on what you want your channel to be.  Then, slowly implement it.  If you are not where you want to be, but you still want to begin your journey on YouTube, I would say to just start because the hardest thing about starting YouTube is just starting on YouTube.
You can sit there and think, I don't have the right lighting or cameras but none of us have had the right lighting or cameras when we started.  Just use your phone and once you get into the swing of it, then you can upgrade.  I upgrade something every other week.  You can't let not having something prohibit you from starting something that you want to do.  Be yourself because when you first start YouTube, especially in the beauty industry, it's easy to morph into the typical beauty personality and become what you think a beauty influencer is.  There are already so many people in that same voice so just do you.  Bring something different because that's what we need – diversity.
I think a lot of people in the beauty space feel like they need to be an expert.  You don't need to be an expert.  You can come on and share your journey just like I did.  I have traditional makeup artistry training, but many people don't.  Just talk about what you like, how you spend your money, how you do your makeup and people can relate to that. Don't feel like you have to know every single thing about makeup in order to make a video.
How would you describe your makeup style?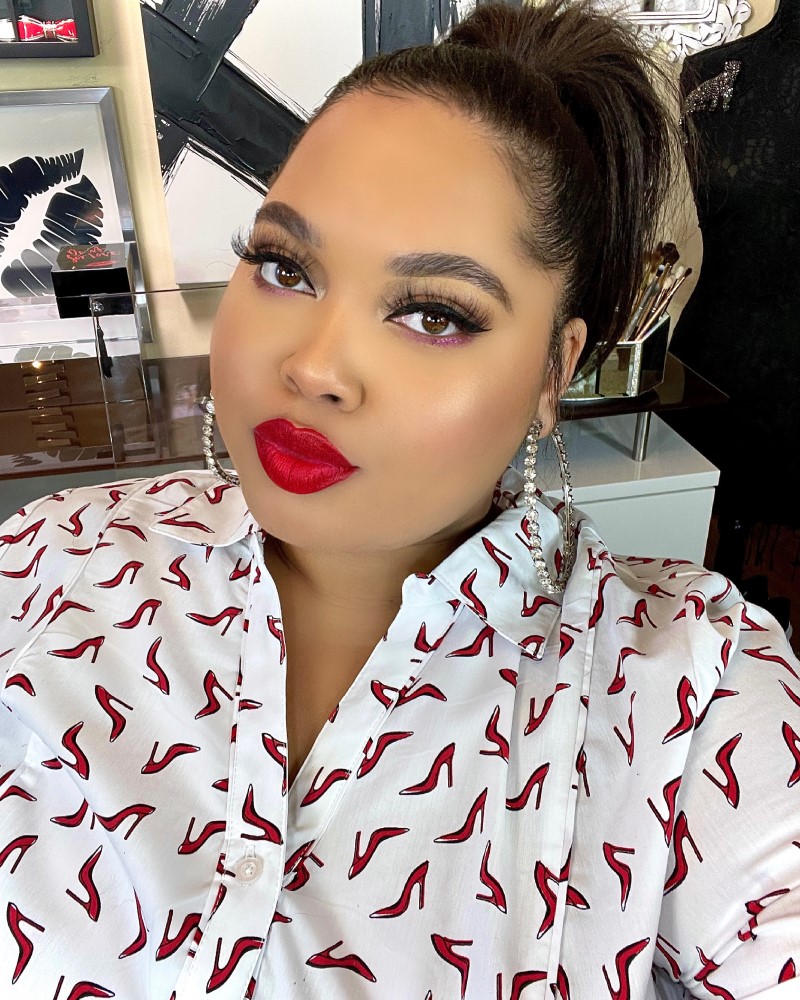 I'm a combination of edgy and classy.  I enjoy classic makeup looks – fresh faced with a beautiful, sculpted eye.  I love a very nice structured lip and a simple cheek.  BUT, I also like graphic eyeliner and bold eyeshadows.  My makeup style is a mixture of both of those looks and I incorporate some classic, simplistic elements and then put a twist on it.  I'm not afraid to experiment with trends and I love colour.  There is something beautiful about taking something classic and modernizing it so that it reflects me and where I am in my life.
What trend would you never try?
I don't have a trend that I would absolutely never try.  I would try anything once and if it doesn't work out, at least I can say that I did it.  As my makeup preferences change, I may not like something that I used to, but I'm pretty open.
What are your favourite products from your favourite brands ?
Foundation – SUQQU The Cream Foundation
Powder – Gucci Poudre De Beauté Mat Naturel Beauty Setting Powder
Lip Products – Gucci Rouge à Lèvres Mat Matte Lipstick
Eyeshadow Palettes – Pat McGrath Labs Mothership V Eyeshadow Palette – Bronze Seduction
Mascara – Pat McGrath Labs Dark Star Volumizing Mascara
Lashes – Lilly Lashes
Blush – Pat McGrath Labs Divine Powder Blush but I love the Hermès Silky Blushes too
Bronzer – Charlotte Tilbury Airbrush Matte Bronzer
What up and coming brand will make the biggest splash this year?
I think Westman Atelier and Lisa Eldridge will both have breakthroughs this year.
What's one thing people would be surprised to learn about you?
I am an extreme perfectionist. If I do something and I'm serious about it, it has to be perfect in my eyes. It may not be perfect in other people's eyes, but as long as it is in mine, I'm happy. I set really high goals for myself. I like to push myself and that's my strength and weakness. It's about finding balance.
Which YouTube channels inspire you?
I am inspired by my entire community and the community of creators that are my friends. It's about collaboration over competition. I like channels that are positive and uplifting to others.
What are your long terms goals for your YouTube channel?
To continue to connect with people. I love trying makeup products. As long as there is an audience and I am able to help people feel confident doing their makeup and improve their skill-set, I feel like I've met my goals and that is enough for me long term. I just want everybody to feel confident doing their makeup no matter where you are starting, no matter what your complexion is, I just want to help and continue to connect.
You can find Kelsee Briana Jai's YouTube here
Follow her on Instagram: @kelseebrianajai