Eyebrows change how your whole face looks.  They provide punctuate expression, give a lift to your face and are one of the first things that people notice when about your appearance. Eyebrow loss is one of the tell-tale signs of cancer treatment.  Losing your brows and lashes can be traumatic.  But there are things that you can do to camouflage the loss.  Some women are better than others at drawing their eyebrows on, but there are other options like microblading.  Patients may not have enough time to get this done well in advance of having chemotherapy, but you can have it done once your treatments are over.
Brittni Alexandra, the owner of B.Beautiful studio in Toronto, is one of cities leading eyebrow experts.  She is also supporting a great cause.  During Breast Cancer Awareness Month, 50% of the proceeds on all High Definition Brow services at B.Beautiful will be donated to Rethink Breast Cancer, supporting a $5,000 donation commitment. She has helped many women deal with the after effects of chemotherapy.  We recently spoke with Brittni about her commitment to breast cancer awareness and what patients need to know if they are thinking about microblading.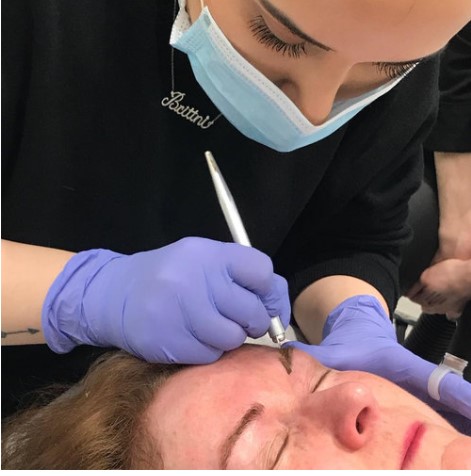 Why did you decide to partner with Rethink Breast Cancer?
We decided to partner with Rethink to give back.  Prior to partnering with them, I had worked with a lot of women who have overcome breast cancer and just to see their reaction at the end and to give them a bit of themself back was so rewarding that I felt like I needed to get involved in Breast Cancer Awareness Month somehow.  That is how we initially came to partner with Rethink.
Then, we donated some procedures for these women.  It was so nice.  People don't understand how even though it's not about external beauty, this small change to a cancer patient's appearance really gives them a little bit of themself back, even though people think that microblading is just a beauty procedure.  It really goes so much deeper than that.
Tell us what microblading is?
A lot of people think that because of the name, that you use an actual blade, but it's not.  It's tiny microneedles that come in different shapes depending on the look that you are trying to achieve.  It lightly scratches through the top layer of the skin.  When done correctly, there should be no bleeding and very little swelling.  There is no sound.  It fairly pain-free although it will feel like an annoying scratch.
It mimics your hair.  You can create any pattern. Typically, it will follow your hair growth and the brow pattern that you have.  Remember, you have a hair line on your head – but you also have a hairline for your brows.  It follows your brow line so that it looks so natural that you can't detect what is hair and what is microblading.
If there is an issue, can it be corrected?
Absolutely.  Fortunately, or unfortunately, depending on how you look at it, I specialize in correction because so many people have had it done incorrectly.  It is very noticeable when it is not done properly.
When is the best time for a cancer patient to have microblading?
Technically, you can do it six weeks after your last session of chemotherapy, when your treatments are officially over.  I like to tell my clients to come at six months after because it's enough time for the cell turnover in your skin to become stronger.
When you are going through chemotherapy, your skin becomes weak.  Nothing dangerous would likely happen if you had microblading, but it is better to be cautious, there is still a chance of infection and the results wouldn't last.  I would rather that they have the best experience possible, especially with everything that they have gone through. I want the brows to stay and for the woman to properly heal.
Microblading is a form of a tattoo and any tattooing can lower your immune system, so it's not recommended.  Everything that we do is sterile, but your skin just isn't strong.
If somebody can't have microblading, because they are going through chemotherapy treatments, how can they get the look of a natural brow?
A lot of women that I have seen don't entirely lose their brows, they just become sparser.  If you want to do something safe, you try a brow tint.  It will give you a bolder brow than what you have and will define the shape so that when you are filling it in with makeup, it is a lot easier.  If you don't have any hair, obviously, that's not an option.  I'm happy to show people what to do.  I have lots of women who are about to start chemo that come to me and I do a lesson on how to camouflage the hair loss.
How long does microblading last?
It depends on your skin type and how you take care of it when you go home.  If you follow all aftercare instructions, it will last from one to three years.
Patients going through chemotherapy may also lose their eyelashes.  What can they do to make this less apparent?
One thing that I recommend to my clients is use eyeliner.  If you like black, that's great, but it can leave a very harsh line.  I like to smudge a warm, red-toned brown into the lash line on the top and bottom and it will give the appearance of natural lashes.
If you know how to apply false or strip eyelashes, and you are using a good, hypoallergenic glue, there is no harm in using them.  Remove them at night and make sure that you are cleansing the area because whether or not you are on chemotherapy, you always want to make sure that your eye area is kept clean.
To learn more about Breast Cancer, visit Rethink Breast Cancer online.