Looking for the perfect gift just in time for Father's Day? Dad in the Kitchen: Over 100 Delicious Family Recipes You'll Love to Make and They'll Love to Eat by Cory Vitiello and Chris Johns is a cookbook for dads by dads. Vitiello, a well-known Toronto chef and restauranteur and Johns, a well-known food writer and book author know what the whole family will enjoy. Best of all, it's on-sale now so you don't have to wait to pick it up.
Dad in the Kitchen is a crowd–pleasing collection of recipes that aims both to instill confidence in the home cook, while simultaneously developing the next generation of adventurous eaters in the family. And now, enjoy these three recipes from Dad in the Kitchen:
Ricotta & Zucchini Fritters "Cacio e Pepe"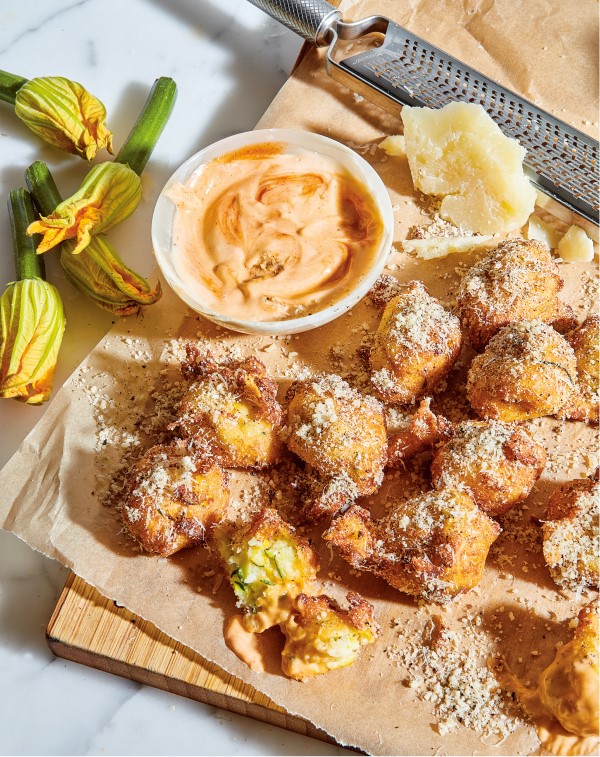 We created this fritter/donut batter at the Harbord Room basically on day one, and its first use was for our Orange & Ricotta Dumplings (page 191), which quickly became one of our iconic desserts. The batter itself is super versatile, and here we're using it in a savory fritter preparation that yields a pillowy, melt-in- your-mouth interior and a crisp shell. These make a great canapé, and if you want to whip up a quick dipping sauce—although I don't think they need it—you could mix some mayonnaise with whatever hot sauce you have in the fridge and stir in a squeeze of fresh lemon juice.
SERVES 6
1 large zucchini
1½ tsp kosher salt, divided
2 cups ricotta
Zest of 1 lemon
½ cup all–purpose flour
½ tsp baking powder
½ tsp sugar
½ tsp black pepper +
extra for garnish
2 eggs + 1 yolk
Neutral oil, for frying
½ cup finely grated pecorino
In a medium bowl, grate the zucchini—you should wind up with about 2 cups. Add 1 tsp salt, toss to coat, and leave to sit for 30 minutes. Press the zucchini through a sieve to drain the liquid and set the zucchini aside.
With a stand mixer or in a bowl with a hand mixer or whisk, bring together the ricotta, lemon zest, flour, baking powder, sugar, remaining ½ tsp salt, pepper, and zucchini until smooth. With the mixer running, add the eggs and egg yolk one at a time, waiting until fully incorporated before adding the next.
In a heavy-bottomed pot, heat the frying oil to 350°F. Using two tablespoons, scoop the mixture into the hot oil. Fry the fritters until golden brown, about 2 minutes per side. You will need to do this in batches and make sure to let the oil come back up to temperature between batches.
Once fried, set the fritters aside on paper towel to drain before gently and generously tossing them in the grated pecorino and fresh pepper. Serve immediately either on their own or with some fresh lemon wedges and a spicy aioli on the side.
Roast Chicken Over Pommes Boulangère
None of the great French chefs of the world would consider this a true, classic pommes boulangère, but that's where the inspiration comes from. What makes this recipe especially exciting is that as the potatoes cook, they soak up all the luscious fat and flavor from the chicken dripping down into them. Also, the chicken will be done slightly before the potatoes, so it forces you to let the bird rest (always a good habit to get into) before you carve it. The result is a beautifully roasted chicken and a batch of incredible potatoes with a crisp, dark exterior and a luscious, almost molten, interior. All that for what is probably 20 minutes of prep time, all of which can be done ahead, so you just need to throw it in the oven when you're ready to eat.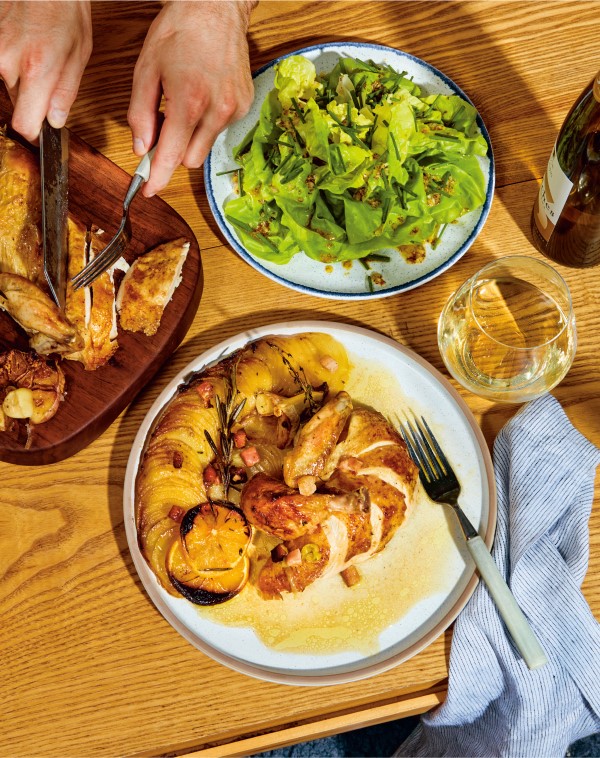 SERVES 4
One 3 lb chicken
5 Tbsp butter, softened, divided
3 sprigs rosemary, divided
2½ tsp kosher salt, divided
½ tsp cracked pepper
1 tsp sugar
4 medium Yukon Gold potatoes
2 shallots, thinly sliced
3 cloves garlic, crushed
2 oz (about ⅓ cup) diced pancetta
4 sprigs thyme
3 slices lemon
Using a paper towel, pat the chicken dry. Using your fingers, gently separate the skin from the breast of the chicken. Smear 3 Tbsp softened butter under the skin. Truss the legs of the chicken—there are some great YouTube videos showing how to do this, and it's easiest to understand by watching.
Pick 1 sprig of rosemary and finely chop the leaves. Mix the chopped rosemary with 2 tsp salt, and the pepper and sugar. Distribute this seasoning evenly over the interior and exterior of the chicken. Set the chicken in the fridge, uncovered, for a minimum of 30 minutes or up to overnight. Preheat the oven to 400°F.
Grease a medium casserole dish with 1 Tbsp butter. Slice the potatoes into thin rounds, then arrange in concentric circles in the bottom of the casserole dish. Dot the potatoes with the remaining 1 Tbsp butter, then place the shallots, garlic, pancetta, remaining 2 sprigs rosemary, thyme sprigs, and lemon slices, along with the remaining ½ tsp salt overtop.
Place the prepared chicken on top of the potatoes. Roast in the oven until the juices run clear and a thermometer inserted between the thigh and breast reads 165°F. Remove the chicken from the casserole dish and place on a wire rack set over a baking sheet to rest and circulate the air (this will help avoid soggy skin). Return the casserole dish with the potatoes to the oven for 15 minutes to allow the aromatics and potatoes to brown and finish cooking. When the chicken is sufficiently rested, cut into quarters and serve overtop some potatoes.
Cast-Iron Baked Eggplant Parmesan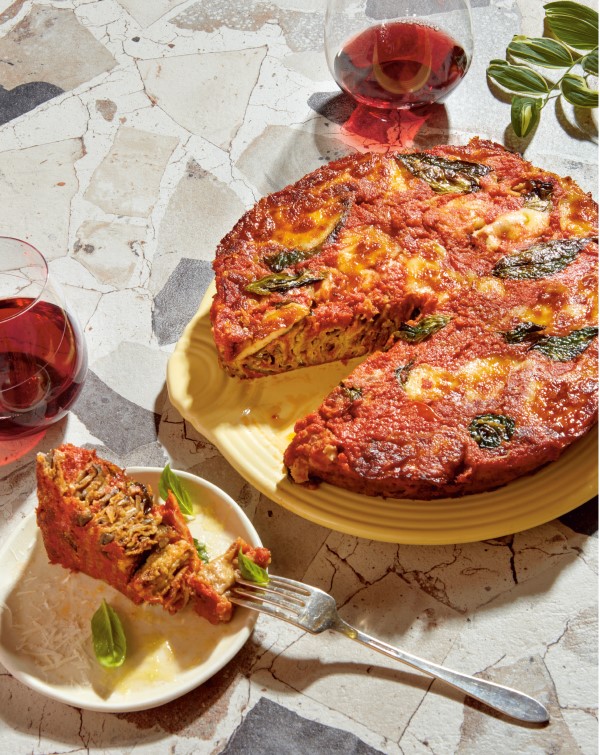 Martina and I came up with this during the bad old days of full-on lockdown. We had some time on our hands, so we started playing around with eggplant parm and stumbled across this really fun way of preparing it. The key is to stack the eggplant into the pan very tightly. That way, when you turn it out, you get a spiraled dish where each slice comes off like petals. Another great thing about building the dish like this is that every ounce of sauce gets absorbed and the result is quite a firm parm that comes across almost like a savory cake.
SERVES 6
Olive oil
6 Japanese eggplants Kosher salt
2 cups all-purpose flour 4 eggs, beaten
2 cups seasoned breadcrumbs 1 tsp fennel seeds
Handful torn basil leaves
4 cups tomato sauce (homemade or store-bought), divided, + extra for serving
12 oz low-moisture mozzarella (about 3 cups grated), divided
½ cup grated Parmigiano- Reggiano, divided, + extra for serving
Preheat the oven to 375°F and coat the bottom of a large baking sheet with olive oil.
Slice the eggplants lengthwise into ¼-inch slices. Generously salt both sides and place on paper towel to sit at room temperature for 15 minutes. This process helps to extract the excess liquid, impurities, and bitterness from the eggplants. Once the eggplants have released their liquid, rinse the slices under cold water and pat dry with a paper towel.
In three large dishes, arrange the flour, eggs, and breadcrumbs— this is your breading station. Coat each slice of eggplant first with flour, then egg, then breadcrumbs. Once each slice is breaded, lay on the oiled baking sheet.
When all the pieces of eggplant are breaded, drizzle them with more olive oil and bake until golden brown and crispy, about 20 minutes. Remove from the oven.
Meanwhile, in a 10-inch cast-iron pan over medium heat, lightly toast the fennel seeds. Add half of the torn basil. Cover the fennel and basil with 2 cups sauce, followed by one-third each of the mozzarella and Parmigiano-Reggiano. Arrange the eggplant in a coil above the sauce and cheese, keeping it as tightly packed as possible. Cover with the remaining 2 cups tomato sauce, followed by the remaining mozzarella, basil, and parm. Bake in the oven for 45 minutes, or until the cheese is golden brown and bubbly.
Remove the eggplant parm from the oven and allow to rest for 15 minutes before inverting onto a serving plate or cutting board. Slice and serve with more tomato sauce and grated Parmigiano- Reggiano.
Excerpted from Dad in the Kitchen: Over 100 Delicious Family Recipes You'll Love to Make and They'll Love to Eat by Cory Vitiello and Chris Johns. Copyright © 2023 Cory Vitiello and Chris Johns. Photographs by Paula Wilson. Published by Appetite by Random House®, a division of Penguin Random House Canada Limited. Reproduced by arrangement with the Publisher. All rights reserved.