Kayla Grey always wanted to work in sports but, when she was growing up, there were very few female sports anchors in Canada. There were, in fact, no black female anchors. In 2018, she broke the glass ceiling and became the first black woman to host a flagship sports-highlight show in Canada – TSN's SPORTSCENTRE.
Grey also contributes to TSN's basketball coverage and served as a reporter for the Toronto Raptors during their historic NBA Championship run. She was also a reporter for the 2019 Toronto Raptors NBA Championship parade, attended by an estimated 1.5 million people Torontonians and watched by 5.7 million people across Canada. She appears regularly on a host of other shows including The Social and CTV's Your Morning.
Grey in fact, has a laundry list of accomplishments under her belt, aside from making television history. She was awarded the By Blacks magazine People's Choice Award in the TV Personality category. She was also honoured on Chatelaine's 2020 Women of the Year list, named one of Refinery29's PowerHouse Women of 2020, and Woman of the year in Post City Magazine. She has also been recognized by Women of Influence as one of the Top 25 Women of Influence in Canada for 2021.
It isn't just her accomplishments that make Kayla Grey inspiring. She speaks out about everything from Black Lives Matter to mental health to education. She is candid, smart, confident and the latest subject of #WomenInspiringWomen.
As a TV personality, you get to do some really interesting things like curate a collection for #eBayHolidayEdits with some of your favourite items from kicks to bags and jewelry. How did you pick the items and what are your tips for finding those rare sneakers online?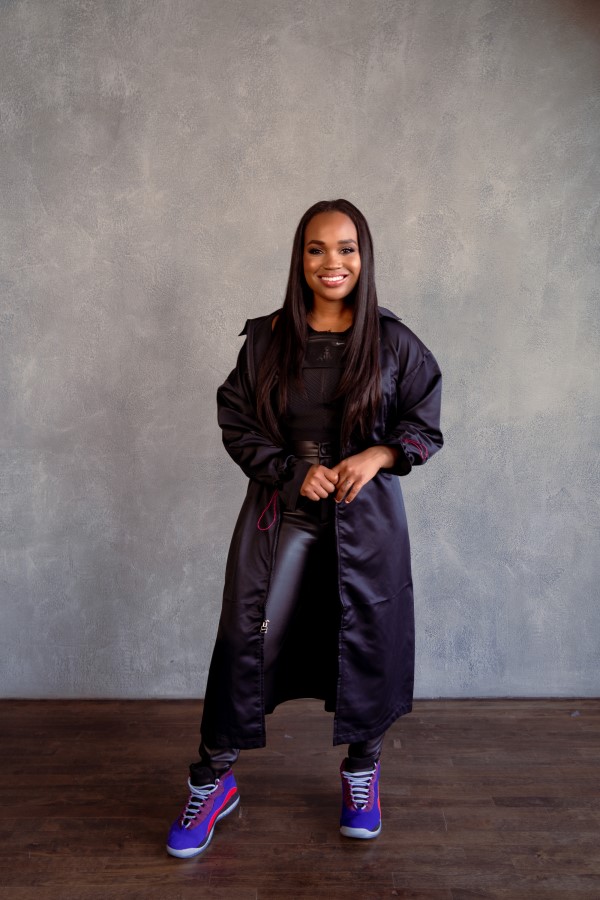 For my curation, I wanted to create a list of items that I would ask for. These items reflect what's in my closet. If anyone watches me on television, they know that I can dress up, but I also really enjoy dressing down in streetwear. I'm intentional about that. People often think that professionals should only look one way. This was a list for the people out there, like me, that like things that are practical and functional for dressing up or dressing down. Pair what you like with heels or kicks. That was the thinking for my curation.
There is a culture now that when there is a sneaker drop, that you just buy it. It's not about preference or what you like. Everyone just wants to line up and get the next hot thing. I don't work that way. It's about the colours that I like, or this shoe would look cool or this might match and that's how I do my searches. Sometimes it's shoes that nobody else wants so it's so much easier to find on eBay. Sometimes it's shoes that a lot of people want. That's the great thing about eBay – there are so many sellers that may what you are looking for and you can bid or buy straight up.
Like every person looking for their dream job, there are bumps along the way. Your first broadcast with TSN literally ended with a blackout. How did you bounce back from that and not lose your confidence?
I was so excited. I was finally live getting to do sideline and it was great. The next thing that you know, boom, it happened [the blackout]. Thinking about what I do now, covering the Toronto Raptors full-time things happen. Corona virus happened. We are still in the middle of a pandemic. It teaches you to always be ready for anything. Anything can happen in live TV – that's why we love it. I always say that it's the best form of reality television. You never know the outcome and you have to be able to react and adapt.
It's funny because I think that's where I find my confidence. Sometimes I go into something and I'm super prepared and the outcome strikes everything that I've prepared. Sometimes it is just knowing that I have those background nuggets if I need them. That's what helps me get ready for whatever comes my way. It's also not being so tied to storylines. For me, and what I do, I can't be. You have to be open to the fact that the stories going to change from the opening tip to the blackout in the third quarter.
As a woman in a male dominated industry, how do you deal with being underestimated or are you?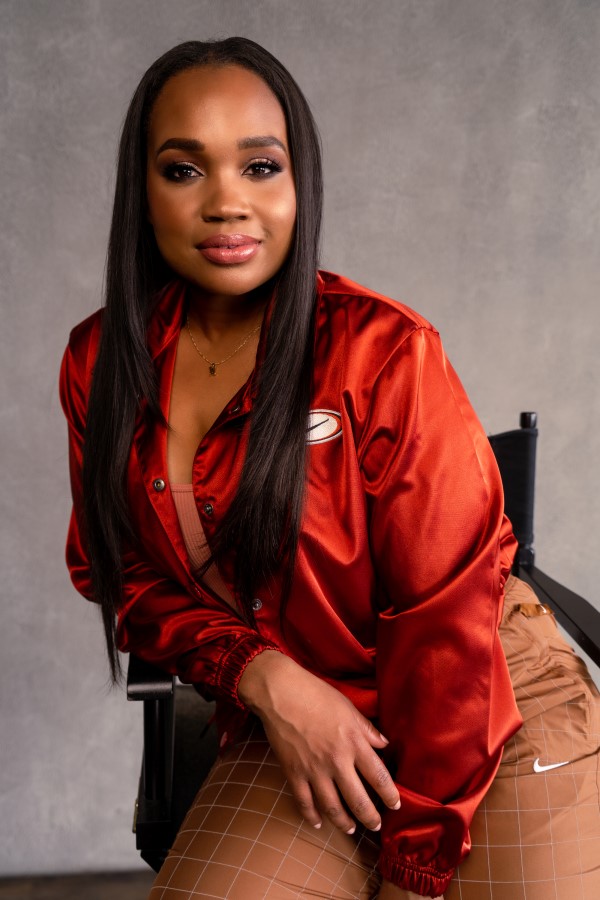 I felt like I was underestimated coming in, not only because I am a woman, but because I am also a black woman. There weren't a lot of people like me in this space. At first, I felt like I had to change the way I talked or dressed. Then I realized that I stick out like a sore thumb anyways because nobody else looked like me. You have to own it. You have to own that it is exactly what makes you YOU. That is why you got into the room in the first place. It's about your grit, your ambition, your style, your character and who you are.
People have preconceived notions about you without even knowing you. That's a fact of life. When people see me on TV, if they have the time, there are probably 100 things that they think about me. As hard as it is, you have to simply not care and stand in who you are, what you believe in and keep going. Once I got the fact that I can't control what anybody else thinks about me, I can only show up every single day hammered into my head, things started flowing. Jobs and shows came along. I attribute that to all of the hard work that I put in but also my authenticity.
A lot of hard work and dedication comes with a career in television. You've paid your dues in places like Winnipeg and Prince Rupert and laid down that groundwork. What do you say to people who don't realize that you have to pay your dues to take that next step?
We don't just show up. I had the beautiful experience of being able to go to small towns and make mistakes but also to learn. I learned how to shoot and edit my own stories.  I learned how to write. Most importantly, I learned how to make connections in a community, to ask people what they need and what's the most valuable thing that they want me to talk about on their newscast.
People often miss that. I'm able to show some personality and ad-lib because I prepare. What taught me how to prepare was that small market experience and that feeling of finding roots, growing them and sowing the seeds of that work. That's what people see now.
You said in an article in Canadian Business after landing the anchor job at SPORTSCENTRE: "I debuted as an anchor. I am the first Black woman to ever host a flagship sports-highlight show in Canada. But I didn't even want to talk about being a "first" that day. I didn't want people to think that was the only reason I was there." Do you still feel that way or do you wish that you had spoken more about what it was like?
I think at the time, I wish that I had owned that accomplishment more. I wish that I had owned what that meant for me, but also for young girls who might look up to me or look like me. It also puts everyone else on notice that I can't be the first and only – there needs to be more. I felt more pressure at the time, but I understand and forgive myself for why I wanted to keep things quiet, why I didn't want to come out and say anything and make a big deal. I just wanted to do the job and do it well.
There was also a little bit of fear if I messed up. I felt like if I made a mistake or tripped up one time that they would yank the opportunity away from me. That's unfair to put on other people, but it's also unfair to me. We are human beings. We work in live television. I can't get through a clean teleprompter read and you may hear me stumble, but that's what makes me who I am and makes me more relatable. I hold space for the 18-year-old me that had that debut, that was a little scared and had to overcome so much. Now, looking back, I wish that I had taken in exactly how important that moment was.
You were open that you were fearful about how being pregnant would impact your career. Having the benefit of hindsight, what would you say to yourself at that moment in time? What advice do you have for other women who feel the same way?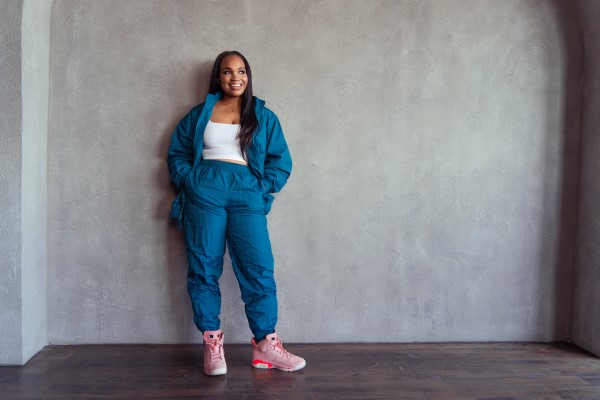 I came back six weeks after giving birth. It helped me realize some things. Take your time if you need to take your time. Do what feels right for you. Don't feel pressured into going back to work and don't feel pressured into staying home. That to me was the biggest lesson. I wanted to work. I love working on my craft. That doesn't mean that I love my son any less. It also doesn't mean that I love my work more.
Owning that I wanted to be at work was one of the biggest hurdles to get over. For others, it may be owning wanting to stay home. It helped me to get good at saying no to things, making that time and being super intentional. Sometimes when you are go, go, go, you have this fear that if you step away for a few months, that somebody is going to take your spot. You forget how much groundwork that you have laid down. How can someone else take your spot with all of the work that you've done, replace who you are and how you show up. Sometimes people need to miss you to appreciate that.
It puts you into this overdrive where you feel like you have to overcompensate with the work that you do when you get back. That's where boundaries get clouded and need to be reintroduced. That is part of the work that I do right now with my therapist. It's about introducing boundaries that make me feel comfortable and intentional about the time that I spend with my family and at work. I'm holding myself accountable at maintaining those boundaries and when it's time to be with my son, it's time to be with my son. No phones, no distractions. When I lock in on work, I try to be as efficient as possible and that's been really healthy mentally for me.
Finally, who inspires you?
Lisa Salters from ESPN. It's the way that she's able to build relationships with players, to go from NFL sidelines to the NBA sidelines. The way she is able to build long term story telling – she's just amazing.
Follow Kayla Grey on Instagram @kayla_grey