The Museum of Contemporary Art (MOCA) had its grand opening on September 22nd and Volkswagen Canada partnered with renowned experimental artist, Scott Froschauer, to create a one of a kind installation.  The outdoor exhibit housed Volkswagen's most progressive and luxurious vehicle to date, the Arteon.  This conceptualization of the vehicle marked LA-based Froschauer's Canadian debut.  The art installation was designed to be reflective of the belief that luxury is more than an image or a name, but rather a feeling and an experience stimulated by the finer things in life. Smart Luxury incorporates a sense of purpose, accessibility, quality and performance.  We had a chance to ask Froschauer a few questions at our tour of MOCA.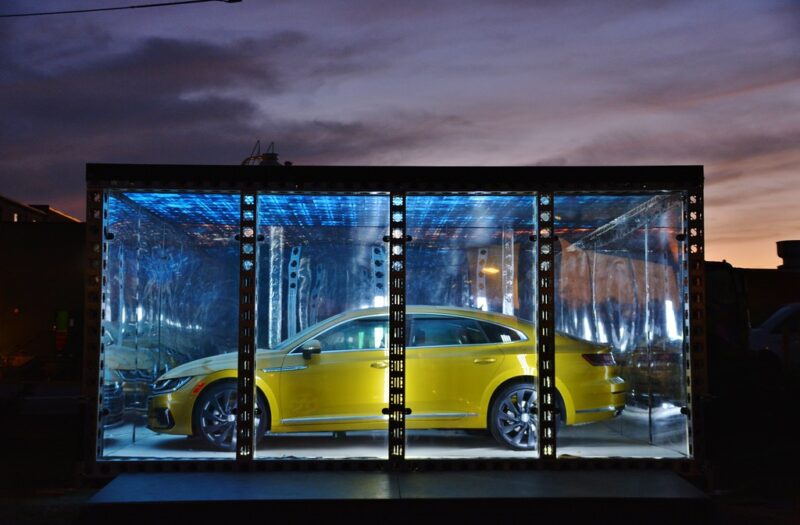 The exhibit is an interesting complement to your well-known "The Word on the Street" Project.  Was that intentional?
"The Word on the Street" Project was actually how Volkswagen found me.  I have incorporated a couple of clear signs in this installation.   The Word on the Street used the materials and visual language of street signs, replacing the traditional negative wording (Stop, Do Not Enter, Wrong Way…) with positive affirmations, that are missing from our daily life.
The Life in Smart Luxury installation looks like an aquarium meets Fremont Street (Las Vegas).  It is a unique way to showcase the Arteon.  How did you conceptualize this unique take on the vehicle?
I wanted to explore smart luxury while removing the artifice from it.  Contemporary art disdains artifice. Using raw, exposed materials, much like you see with most contemporary art museums, like MOCA, helps with that.  The overall inspiration for the installation was that design and engineering together create luxury.  Letting the engineering and design of Volkswagen's Arteon show through was always at the core of the project.  I wanted to create an emotional experience that created the idea of smart luxury in a way that is approachable for people who may like, but not always understand contemporary art.  Artists like Damien Hirst and Yayoi Kusama, famous for the Infinity Mirrors, were inspirations for this work. I wanted to create something that people could look at, from many angles and always see something a little different.
How long did it take you to conceptualize, design and install the exhibit?
It was an irrationally compressed schedule. It took about a month which was complicated by the fact that I was at the Burning Man Event and unavailable for ten days.  It is normally a much longer process.
Learn more about the Volkswagen Arteon at vwmodels.ca/2019/arteon and visit the Arteon exhibit at Toronto's Museum of Contemporary Art (MOCA) at 158 Sterling Road until October 21st, 2018.  Check out more of Scott Froschauer's art and learn more about what inspires him at http://scottfroschauer.com/