"The Historians" author, Cecilia Ekbäck is more than qualified to write Swedish historical fiction. After all, she was born in Sweden in a small northern town and her parents come from Lapland. Ekbäck's perspective also comes, in part, from living in places like Russia, Germany, France, Portugal, the Middle East and the UK. She now resides in Canmore, Alberta with her family. The Canadian-based author has three books under her belt including "In the Month of the Midnight Sun" and "Wolf Winter".  How place impacts people is what interests her and what drives her stories.
Ekbäck did not set out to write a book about World War II because so much has been written about the subject. She found the story of the Nordic countries, countries that had been brothers and had such different experiences during the war fascinating. The more she read, the more interested she became in eugenics – how the world thought about race. She learned it wasn't just Germany that studied it so closely. She also learned what Sweden knew when it came to what was going on with the Jews.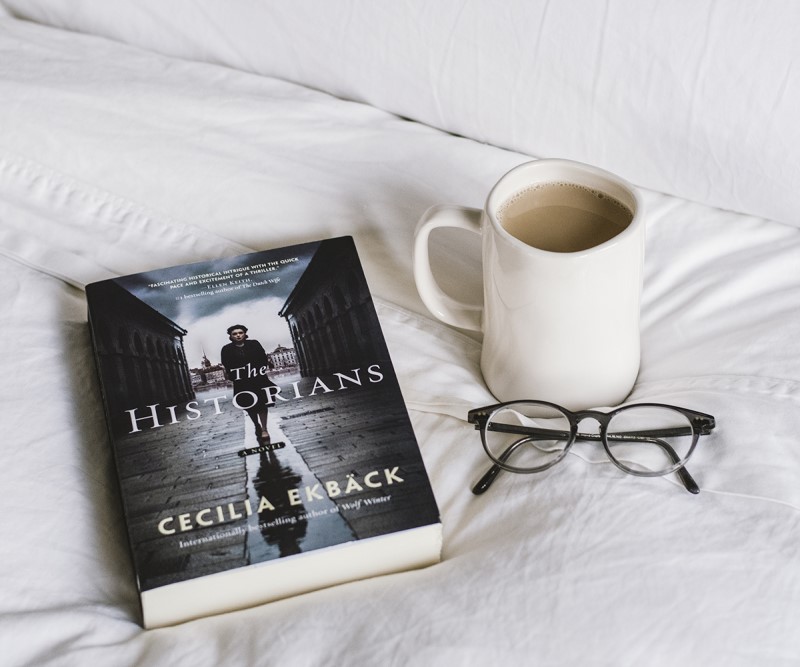 The book itself is fascinating – you will get to read our review to learn more. But, spoiler alert – we highly recommend it. Read more to get behind the pages of her latest book, "The Historians".
This is a heavily researched novel. As an author, how did you know where to begin?
The more that you write about things that people know like World War II for example, the more that you have to read to make sure that you don't get it wrong because people have a view. When I wrote a book about the 1700s, I was thinking that people won't actually know what I'm talking about, but with World War II, everybody does.
What I normally do is start by reading something that is overarching. I found this book about the Nordic countries and then I pull on threads if you like. I find bits that are interesting and dig deeper. In the end, I was reading biographies of people who were there during the war. I read an awful lot – my husband was complaining because there were books about Hitler everywhere.
When you write that way, you almost have to be a subject expert…
I think you do. All you are trying to do is get the world right so that people don't get hung up on it  because you ruin the reader experience. When it comes to something like World War II, people know so much, so that means that you need to know a lot too.
One of the things that really struck me as I was reading "The Historians" was my own lack of knowledge about the Sami people and the racial and cultural bias that exists in Sweden. We think of Scandinavia as this utopian place. Has anything changed for the Sami people because of the current BIPOC movement?
My honest answer is that I don't know. I've never come across BIPOC when I've looked into the Sami. I think that part of it is that the Sami's political struggle for increased influence and autonomy began in the 1950s. They have had a Sami Parliament since 1993. We cannot change the past, the way the Swedes looked upon the Sami and the way that we took land from them and forced them to change their traditional patterns of movement with their reindeer. But I think Sweden recognized early-ish that this needed to change.
I feel that we started things earlier than what you have seen in other countries. I'm assuming that it will have an impact [the BIPOC movement] but it hasn't come up. One of the challenges has been that the Sami are spread out across the four countries (Norway, Denmark, Sweden and Russia). In our Western way of thinking, everything is based on nations. The struggle has been that we are trying to put them into a box that might not be a fit. Sweden's constitution was amended in 2011 to confirm the obligation of the people to support the Sami.
When you write about Lapland, you need the Sami, the settlers and the church. In my research, those are the three things that keep coming back and whether people like it or not, their destinies are interlinked with one another. What has been sad with the Sami history, is that their tradition was an oral one so everything was spoken which means that there isn't a lot written and for a time, they weren't allowed to use their own language. They had to speak Swedish. A lot of their history was lost because it wasn't written down which is a tragedy.
World War II history is a huge trend in both fiction and non-fiction, but again, little is known about Sweden's part in the war. What were you surprised to learn about the country that you were born in when you researched "The Historians"?
My biggest surprise was how important the iron was to the Germans. I knew it was transported and sold throughout World War II but I hadn't realized the extent. There was awhile where 80% of Germany's iron came from Sweden. The negotiations that Sweden was carrying out with both the Germans and the Allies to stay neutral while doing what they felt was right for the country was surprising. It seems like in many periods during the war, it was really balancing on a knife's edge – it could be one step too far either way.
Something that surprised me was that our foreign minister Christian Günther, his role in the war was fascinating. He didn't leave a lot of notes behind, but there are some excellent books written about him and how he changed from being very pro-German to little by little, going the other way, much like Sweden did. Sweden was very pro-German and anti-Russian. A lot of our negotiations were done not because we were pro-German, but it appeared to be the lesser of two evils. That whole game that was going on was fascinating.
I was shocked by how much Sweden was involved in the race thinking. I knew that we had been, but I didn't realize the extent. Another thing that really disturbed me was to read about the Finnish concentration camps. They had Soviet soldiers in the camps and it wasn't like the Nazi camps but still, the mortality rate was very high. I felt that nothing was as clean as we thought it was. There was a lot to dig into.
"The Historians" is written from multiple points of view with many characters narrating the action. As an author, how challenging is to write this way versus in first person?
I find it easier. In every book that I write, I always think it will be written from one point of view and I always end up with several. The hard bit is that you need to know them all so you need to be able to walk in their shoes and you have to make sure that they are not too similar. The easier part is that you are able to see things from different points of view. In all of my books, what I have worked a lot with is that there isn't always a truth. Things aren't always black or white but depending on where you stand, you will see something from a different point of view.
How much of what drives Laura to find Britta's murderer is because of her own lack of maternal figure growing up?
I think that is true and I think that because Britta is the first one who just loves her. She doesn't need to do anything or be smart – she's just loved and she hasn't felt that kind of love before. It is those two things – the absence of a mother and having had a love that is conditional on performing and fitting in that drives her.
Which character did you feel most connected to and why?
When you are writing, you are connected to all of them. Britta and Laura are based on two of my best friends from when I was in my university years and they still are my closest friends. What I wanted to do with these characters is create this feeling that I had when you were at university. It was a time where everything was possible and you love your friends with abandon. I feel like I know Laura and Britta – they feel very close.
Laura thought that everything would stay the same with the group of five members and she went through a grieving process when that didn't happen.
For me, that's how it was in university. It was a reckless time when everything was possible. Then, suddenly, you have to grow up and you can't. When I was researching this book, I went to Sweden and I met up with my friends. I probably haven't seen them in twelve years. We were saying that these types of friends are amazing, you just step right back in to where you were and pick up where you left off no matter how much time has passed.
Sweden during World War II was modern. Laura had a career and Britta was a free spirit sexually, which was very different compared to North America in the same time period. Was self-determination for women a big part of Sweden's history?
Compared to different countries, I think it was, but I think it depended on where you lived. It was different in Stockholm. If you were to go up north, it would be very different. A lot of women worked during the war and many had secretarial jobs. The C-bureau that is mentioned in the book existed, recruited women and put them in situations where they would have access to Germans or Allies. Basically, they put them out there to be spies.  Compared to what I've read from other countries, I feel that was quite modern.
What is your writing process? How do you decide on a topic, find the characters and turn it into a book?
So far, for me, it starts with the place and the time. I decide first where I want to hang and the dilemma comes as I read about that time. For this book, the big thing was, isn't it interesting that these five countries ended up having such different experiences during the war? These experiences impact our countries to this day. Swedish immigration policy has been impacted by how we handled World War II. Once I had that dilemma, then the characters came little by little. My big problem is that I want to have too many [characters]. My books are filled with people and I end up having to cut some because it's always too many.
Finally, what's next for you?
I am starting my next book. When I went to university, during my second year, everything was in French. We were supposed to have read a book and report back on it. For some reason, I hadn't done it, so I invented this story on the spot about two boys on France. The only problem was that my teacher wanted to read the book. For the rest of the year, it was me trying to avoid him and him asking if I brought the book. I'm writing that story and it has been with me for thirty years. It's the story of a friendship between two boys, not being whole in your own right and needing somebody else to be whole. It's the first book that I'm writing that doesn't have a murder in it.
It has been difficult to get the arc and the tension going because normally somebody dies and it's easy. I am super excited about it though. It's set between the two World Wars in France in Marseilles and later in Paris. Because these characters have been with me for so long, it feels like it's time. They get to go on paper.