Ah the Crock-Pot, what would we do without it? As soon as the temperature drops and the days shorten, we all want to prepare warm and comforting meals at home. The Crock-Pot is ideal for cooking for the family on weekdays, and helps us to prepare recipes when we host at home on the weekends. It is a great gift idea for the holidays, and an excellent appliance for the busy mom. Here are three delicious recipes to try this winter:
Ham with Pineapple Glaze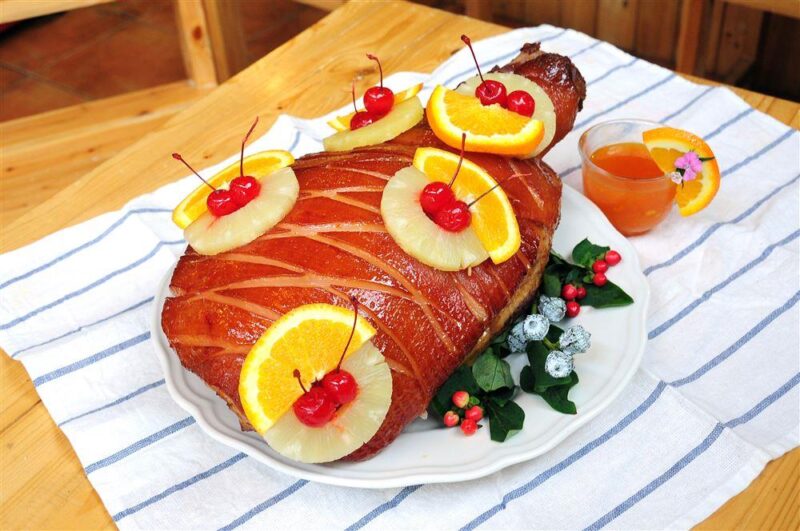 Ingredients:
3 to 5 Pound ham
10 to 12 Whole cloves
8 Ounce can sliced pineapples
4 Ounce jar maraschino cherries
1 Tablespoon maraschino cherry juice
2 Tablespoons of brown sugar
Instructions:
Pierce ham with whole cloves on all sides with until they are evenly distributed. Then place the ham in the Crock-Pot slow cooker.
In a medium bowl, drain the juice from the sliced pineapples and add 2 Tablespoons of brown sugar and 1 Tablespoon of maraschino cherry juice. Stir together until they become a glaze. Then pour the glaze on top of the ham. Next arrange the pineapple rings on top of the ham and place a maraschino cherry in the center of each pineapple ring. Cover and set on Low for 6 to 8 hours or on High for 3 to 4 hours. Before serving the ham remove the cloves.
Cheese Fondue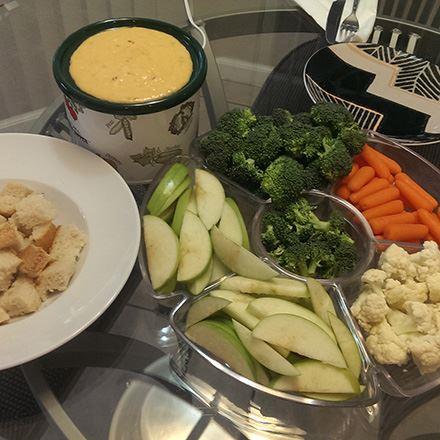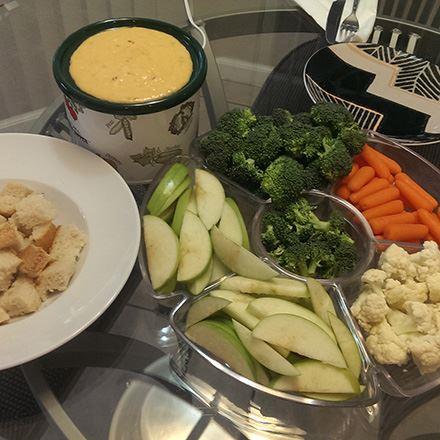 Ingredients:
1 Tablespoon margarine
1/4 Cup onion, chopped
2 Cloves garlic, minced
1 Tablespoon all-purpose flour
1/2 Cup dry white wine
1/4 Cup reduced-fat milk
8 Ounces cheddar cheese, shredded
8 Ounces Gruyère cheese
2 Ounces blue cheese
Instructions:
Combine all ingredients in the Crock-Pot stoneware. Cover cook on Low 2 to 3 hours, stirring once or twice, until cheese is melted and smooth.
Pork Tenderloin and Herb Roasted Vegetables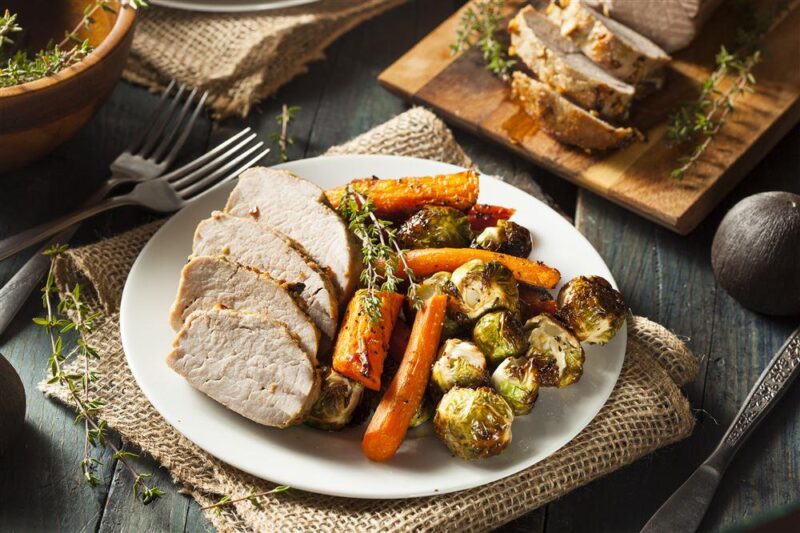 Ingredients:
3 Tablespoons extra virgin olive oil
1 Tablespoons grated Parmesan
4 Tablespoons fresh rosemary, divided
1 Teaspoon minced garlic
3 Potatoes, washed (do not peel)
1 Cup baby carrots
1 Onion, chopped
Salt and pepper to taste
1 Pork Tenderloin (about 1 1/2 Pounds)
2 Tablespoons Parsley
2 Teaspoon onion powder
2 Teaspoons garlic powder
2 Teaspoons seasoned salt
¼ Cup beef broth
2 Tablespoons vegetable oil
Instructions:
1. Place onions, carrots, and potatoes in a medium sized bowl.
2. Sprinkle with olive oil, Parmesan, half of the rosemary, an garlic. Add salt and pepper to taste.
3. Toss to coat all vegetables well.
4. Place coated vegetables in the Crock-Pot slow cooker.
5. Combine parsley, onion powder, garlic powder, remaining rosemary and seasoned salt in a small bowl to create the rub.
6. Rub pork tenderloin with seasonings.
7. Add vegetable oil to a skillet over high heat. Oil is hot enough once it starts to ripple. Add pork tenderloin and sear for 1 to 2 minutes per side.
8. Keep the pan hot while you place seared tenderloin over top vegetables in the Crock-Pot® slow cooker.
9. Pour beef broth in hot skillet to de-glaze, scraping up any brown bits. Pour juice in the Crock-Pot slow cooker.
10. Cover; cook on High for 3 hours and 30 minutes or on Low for 5 hours, or until pork tenderloin is cooked through and the vegetables are softened to your liking.
11. Once done cooking, place pork on a serving platter and let sit (covered) for 10 minutes before cutting.
12. Slice and serve with vegetables from Crock-Pot slow cooker.
Happy Cooking!