Make this Father's Day extra special for your dad. Many of us have not been able to see him for a while. Our Father's Day Gift Guides are our curated list of gift ideas from iconic and small businesses across Canada.  These Canadian brands all offer stories and experiences that any dad will appreciate. We made sure we curated gifts to suit different budgets and different types of dads.  First up are Canadian Father's Day Gifts under $50.
Make this year super memorable for your hero. This is a chance to support Canadian brands, family businesses and brave entrepreneurs. Don't forget to order early to make sure the gift arrives on time.
The Perfect Coffee Created for the Canadian Hockey Dad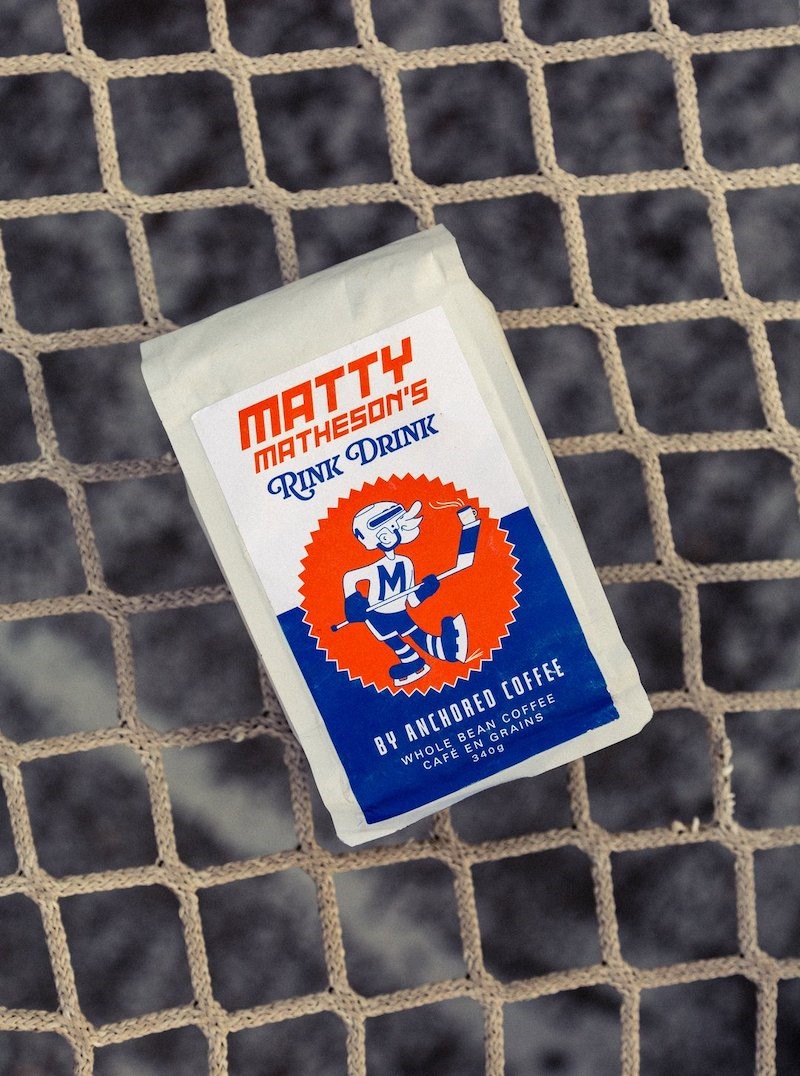 Canadian Celebrity Chef, Matty Matheson co-created this blend with Halifax coffee master roaster, Anchored Coffee. This coffee blend reminds Chef Matheson of the coffee he used to sip from his "grampy's cup watching Junior B Hockey in Fredericton, NB." Based in Halifax, Anchored Coffee is well-established on the East Coast and gaining popularity across Canadian coffee shops. Their brand mantra is "Transparently Sourced. Carefully developed. Consistently delicious." While you are on their site, check out their cool merchandise and add them to your order. Their coffee is roasted weekly for the freshest and most flavorful offerings of their delicious blends!
Matty Matheson's Rink Drink | Anchored Coffee | $23.00
The Smoothest Ratchet Screwdriver for Dad's Workshop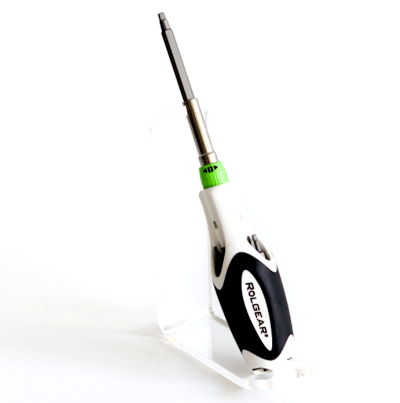 This patented screwdriver by Rolgear is definitely #BasicNotBasic. Rolgear is a family-owned company in British Columbia, that manufactures a full line of ratcheting screwdrivers. Founder, Robert Suter, invented the patented technology of his roller type ratchet with killer ergonomics. The man in your life will love this Rolgear screwdriver for the silky-smooth roller mechanism, whether in its forward, backward and neutral positions. Surprise him this Father's Day with this Canadian invention.
Multibit Ratchet Screwdriver 8 Tips (Power Bits) | Rolgear | C$24.95
Serve up an Award-Winning Chardonnay from Prince Edward County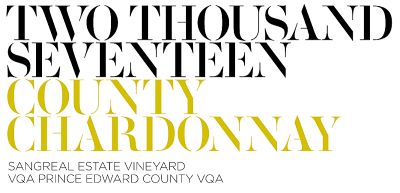 This Two Thousand Seventeen Chardonnay from Morandin Wines won a silver medal at the 2019 Wine Align National Wine Awards of Canada. With a 91 score, UK wine expert and writer Jamie Goode describes as "Nice pure fruit here. Shows pear, white peach and a nice citrus drive. Clean with some density to it, and a touch of nut and spice complexity. Very impressive". Morandin Wines rows all their grapes at their estate, Sangreel Vinyards in Wellington, Ontario. They primarily supply top restaurants in South Western Ontario, including the Drake Devonshire and Toronto's farm-to-table Montecito. There are less than 1,000 bottles available for this delicious Chardonnay. There is also free delivery with a minimum purchase of 6 bottles. Time to get Dad a fancy bottle and maybe just one for yourself.
Two Thousand Seventeen Chardonnay | Morandin Wines | $35.00
Handmade Canadian Savoury Delight for the Foodie Dad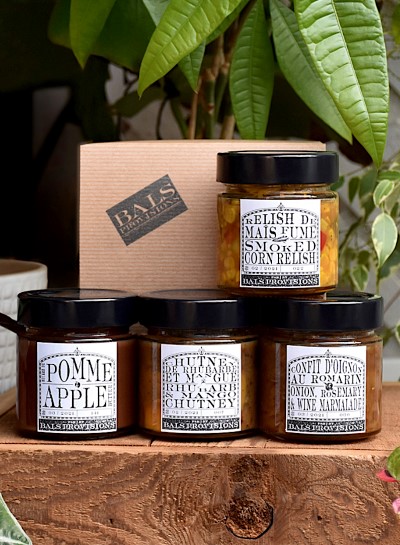 Bals Provisions' Founder Crystal draws inspiration from family recipes to create unique, preserved products prepared in small batches. She works with Quebec farmers to promote the wondrous bounty of locally grown produce. This Savoury Gift Box, created for foodies, features four delicious condiments – Rhubarb and Mango Chutney, Applewood-Smoked Corn Relish, Apple Butter, and Rosemary and Onion Confit with Chardonnay. Our love affair started with Crystal's to-die-for Boozetella chocolate spread. If your dad prefers sweet over savoury, there is also a Sweet Gift Box available at Simons. Remember, all products are made fresh on request. It takes approximately one week to prepare before shipping. You can also order other gift sets directly from Bals Provision on Instagram or Facebook. Nothing like a savoury idea from our Canadian Father's Day Gifts.
Bals Provision Savoury Gift Box | Simons | $40.00
Lava Beads with A Heart for a Little Zen for Dad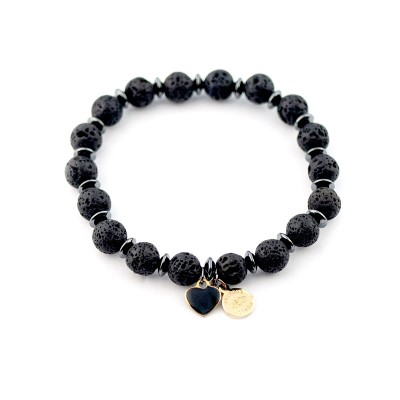 The Brave Heart Peppercorn Bracelet by Toronto's "fashionable kind" jewellery line, Twinkle Links, is totally Zen. Made with lava beads, this limited-edition bracelet is for strength and courage. 20% of all sales from the Brave Heart Collection go to support Hope for Hearts that fundraises for the Exercise Medicine Program for children with heart disease at The Hospital for Sick Children. This is definitely a gift with a heart for Dad. While you are at Twinkle Links, don't forget to check out their other collections for yourself! This bracelet is one of our favourite Canadian Father's Day Gifts and men's gifts.
BRAVE HEART– Peppercorn | Twinkle Links | $45.00