With spring in the air, it's time to begin thinking about all the fun adventures that we'll go on over the next few months. And while there's plenty of lowkey fun to be had, the moments that will really stick out are the times when we're on a grand adventure, and that means packing some bags and going on vacation.
There's no shortage of awesome travel trips you can take. You can head to a beach resort, enjoy a cosmopolitan city, or, yep, head to the great outdoors. In this post, we're going to focus on the latter option, outlining everything you need to do to have an awesome camping trip.
Research Areas
The world is a big and beautiful place! So before you do anything else, you'll want to research the camping options available to you. To make things as straightforward as possible, it'll be best to focus on outdoor destinations within driving distance of your home; international camping — or any trip that involves taking a flight — is possible, but it's logistically difficult since you have to take so much stuff with you. It'll be much more straightforward to drive.
Of course, that doesn't mean you have to go somewhere too close to your home. Anywhere with a 12-hour drive will be fine.
Outdoors-Ready Vehicle
And since you're driving, you'll need to make sure that your vehicle can handle all the terrain that you may encounter. Your car might be perfect for driving around the city, but is it just as perfect for driving in more rural areas? Even if your car is generally up to the task, it'll still be important to give your vehicle a bit of a tune-up, so you know that it's in full working condition before you set off for the great outdoors. There's nothing worse than breaking down when you're in the middle of nowhere!
Who's Coming?
Getting the right number of people is key to a successful camping trip. Too many people can make things overly complicated and could compromise some of the easygoing nature of the trip. Of course, if everyone has their own car, then it's a different arrangement — in that case, as many people as you want can come. But if you're going in one vehicle, it'll be key to ensure that everyone has space to sit comfortably in the vehicle and that you have enough room to take all the camping supplies with you.
Perhaps the most important part — making sure whoever comes is down for the adventure that is camping. It's not for everyone!
The Essentials
You'll need to get some camping supplies if you don't already have some. At the most basic level, you'll want a good tent (that's appropriate for the climate you're visiting), a sleeping mat, a sleeping bag, and a torch. As we'll see in the next section, there are plenty of things you can add that'll make your trip more comfortable and enjoyable, but if you're aiming to make this trip as inexpensive as possible, then those are the essentials you'll need. You can spend a fair amount of time outdoors with just those items alone, providing you have access to food and water!
The Extras
The above list of supplies will get you through a camping trip. But let's remember that this is your vacation, so the goal should be more than just "get through" it. With the right tools, you can live well on your camping trip — and actually, this is especially recommended if you're going for more than a couple of nights. So what kind of items are we talking about? If you have cooking equipment, a portable fridge, a 100W solar panel, a table and chairs, and a hammock, then you'll be able to really set up camp at your campsite. These items will give you an added touch of luxury that can make you fall in love with camping.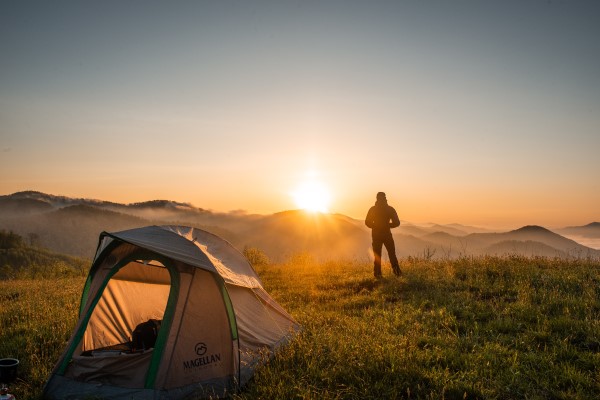 The Right Amount of Time
It's a tricky thing, to figure out exactly how long you should go camping for. If it's too short, then you won't get all the benefits of spending time in nature, plus you might spend almost as much time travelling to/from the campsite. Similarly, if it's too long, then you might begin yearning for a comfortable house and all that it brings — it's always best to leave before that moment arrives. If you have an open schedule, then a four-day camping trip is probably best. That'll give you time to sink into all the pleasures of the great outdoors, without overdoing it.
Packing the Car
First thing first: it's very easy to go overboard when you're packing for a camping trip. You can easily end up packing things which, realistically, you'll just never need. So it's best to create a thorough packing list and make sure that everything on there is an item that you'll actually use. From there, it's about smart packing. It can be a good idea to invest in some car storage units so you can pack your goods effectively. There's nothing worse than undertaking a long journey with bags and items cramping the vehicle.
Well-Prepared
In all likelihood, you'll be absolutely fine on your camping trip. However, it's important to take precautions just in case. Part of the appeal of venturing into nature is that you're far from civilization, but that can also be a drawback — if something goes wrong, there won't be a hospital around the corner like when you're in a city. You can prepare for everything by packing a good first-aid kit, making sure you have a phone signal, and researching where the nearest town to your campsite is.
A Sense of Adventure
Finally, don't forget the most important aspect — a sense of adventure! Camping can be uncomfortable at times, but that's just part of the fun. You'll be going on a vacation that's different from other kinds of trips, and that's a good thing. Throw yourself into the adventure and you'll be handsomely rewarded with an all-time great trip.