After speaking with Horror/Sci-Fi genre veteran, Brooke Lewis Bellas – one word sticks out in my head – determination. This is one determined woman who doesn't know the meaning of the word no. A veteran of the horror genre, she created her own opportunities as a producer and actress. She began producing at a time when women were fighting to get their own seat at the table. She acted and co-produced in "The Mourning" streaming now on Tubi TV and Amazon Prime. Her film, "The Day of the Living Dead" is now available on Amazon Prime. Brooke Lewis Bellas is also an author and a life coach. This interview is peppered with her tips on self-reflection and her wisdom. In her "spare" time, she is also a dedicated philanthropist. The make-no-excuses powerhouse is our latest #WomenInspiringWomen.
What positive changes have you seen for women in your 20 plus years in show business and what still needs work?
When I flash back to my humble beginnings in Philadelphia and New York City, there were so few female directors and producers at that time. About 18 years ago, I moved from New York to Hollywood and launched my company (Philly Chick Pictures) with the intention of creating more work for myself as an actress. There were so few female producers that people would tell me that I was a visionary for doing this on my own. It was unique at that time to be a female producer, especially in the independent world.
Eighteen years later, it is the norm now, especially in the independent film and TV world. That being said, I still feel that women statistically in the entertainment industry do not have equal pay and that needs to change. There are not enough female TV and film executives from Hollywood to Canada to New York, Atlanta, etc. If we could get more female leadership in executive roles, I feel that it would trickle down to where we are not just hiring women for the sake of hiring them, but for their vision and powerful creative judgment.
I don't believe in hiring by quota. I believe in hiring by talent and merit – women or men, it doesn't make a difference. But it is important to have more emphasis on female executives so that vision can trickle down to every aspect of the entertainment industry.
You have mentioned in the past that sci-fi/horror genres embrace women of all different beauty types. Why do they embrace all different types of women? Why do you think other genres are taking so long to come around?
As an actress who has done a lot of mainstream work over the years, I chose to embrace my notoriety in the horror world. The horror community as a whole is an interesting, unique community,  similar to the soap opera world, both internally and with our fan-base. I have battled with my own body image and am a celebrity ambassador for the Breaking the Chains Foundation where we deal with eating disorders and self-esteem issues including body dysmorphia.
I segue there, because the horror world embraced me and I always was drawn to it because it goes back to the Bettie Page/pin-up era. Women were curvy, voluptuous and it was embraced. The horror/thriller/Sci-Fi industry seems to welcome women who are not your typical Hollywood starlet who are very thin. Just to be clear, I don't judge any body type. They embrace women of all body types, ethnicities and there is more inclusivity.
From a pop cultural level, I feel the reason for that is because horror and Sci-Fi viewers and fan base are a bit off the beaten path. They are a more unique viewership where it is not just a mainstream embracing of a June Cleaver type from the old-school days of the Hollywood standard of what a woman should be like, look like. It broadens the scope overall. From my viewpoint, women in horror have each other's backs, no matter what. It is also true of the genres that we discussed.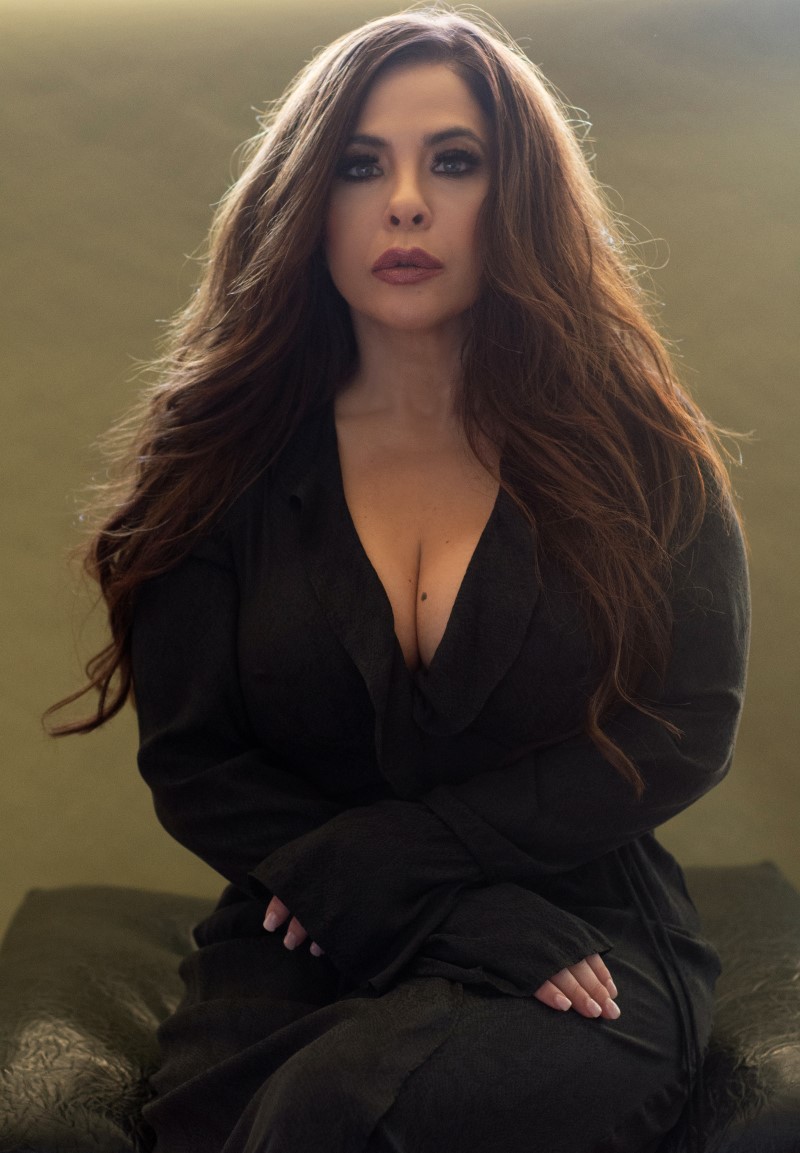 To answer the second portion of the question, and know that I am a proponent of female empowerment, we still haven't fully evolved in the traditional entertainment industry. We have to graduate to that place where we, as women no longer judge one another. Women still get stuck in a compare and contrast mentality. We get caught up in competition, and I'm guilty of it too. As much as I work on myself, and I'm a board-certified life coach, I own that I do it too, but I've trained myself to catch when I get caught up in it. As women, we sometimes get caught up in a scarcity consciousness and if we can move forward and acknowledge this within ourselves and not get caught up in the chatter and negativity, I think that we can graduate to a grand scale of success and really grow.
How did becoming a life-coach change how you work as an actress/producer?
When the economy crashed, everything changed. For the first time in my adult life, I lost everything. I lost my investors in my production company and I had to face how to support myself as a single actress in Hollywood, which is a very expensive city. I became a board-certified life coach with the intention of supporting myself. I was challenged by the Hollywood industry saying that you are an indie starlet, very well known in horror/sci-fi genre films – how can you possibly be a positive role model to women and teen girls? I decided to show them. You want to challenge me? I'll face adversity and show you.
It changed me, opened my eyes and taught me so much as a woman in general, but also as an actress, as a producer as someone who was committed to empowerment. I catch myself daily in my hot mess moments and still work with my coaches so that I can be as healthy I can be mentally and spiritually to help others.
In my book, "Coaching From a Professed Hot Mess" – I write that we are all perfectly imperfect. We need to embrace it. We are each a hot mess at any point of the day and I learned to embrace and own this and use it to help others. For actresses and artists out there, twenty-something years later, I'm still fearful and anxious when I walk into a TV executive/producer session. I can still feel like I'm not good enough, I'm not tall enough, I'm not skinny enough or seasoned enough. BUT coaching helps me to catch myself so that I can face my fears and step into them powerfully. It has helped me in every aspect of my life and career.
You have had a lot of different roles – actress, producer, writer, philanthropist and more. What is your most meaningful role and why?
If I have to answer from my soul, being an actress has been my dream since childhood. Every other aspect of the career that you just mentioned has been inspired by my acting career. When I have been down and out financially and had to create other jobs, become a life coach, become a producer, create my production company, it is all so that I can further my acting career. I was not spoon-fed anything. I did not come from a celebrity family in Hollywood, I truly did it on my own.
Being a very active philanthropist is important to me. I am committed to living as humble a life as I can. I believe in giving back and paying it forward so that every little bit of fame and notoriety that I have worked for and earned has been from a position of philanthropy. It's something that has been at the forefront of my life and career, but has become even more important during the pandemic and isolation.
Before the pandemic, I was constantly working 18-hour days working as an actress/producer, doing media appearances, walking red carpets and feeling blessed to do so. I sat back during the pandemic and watched so many people suffering – close friends and business associates losing everything. I'm only newly married, so I know what it's like to be a single woman working and sacrificing for my dreams and lately, I've been concentrating more on philanthropy and see how I can give back in a bigger way with a lot of different charities. This includes everything from the Actor's Fund to helping frontline workers and first responders to the Breaking The Chains Foundation.
You pursued your dream. What advice do you have for people who can't take the constant rejection that goes along with it?
To be brutally honest, I am just a fighter. When you grow up facing adversity, being a child experiencing chaos of any kind [my parents divorced when I was two] including chronic health issues from a young age, you learn to be scrappy. I have learned to be tenacious and find inner strength. We all face challenges and adversity in life.
One of the most powerful things that I have learned from coaching and from all of my power of mind courses over many years is choosing. I speak about it in my coaching book for adults and in [my other book] "Ms. Vampy's Teen Tawk: There's A Lotta Power In Ya Choices". When I spoke to teen girls and asked them if they had to pick one issue that they are most challenged with what would it be? I assumed that they would talk about their body and dating issues but the foremost answer was that they were horrified about making the wrong choices.
There is power in your choices and with every choice there is a consequence. A consequence resonates with us as a negative thing, but it is a positive thing. All it means is that with every choice that we make, there is a result and whether it is good or bad, is really up to us. We have more power than we think. When presented with a question, situation or opportunity, write down your options. I have been doing this my whole life and I have fallen on my face and failed miserably.
I have failed with my choices in men that I have dated, in the choices of projects that I have taken as an actress and producer, but I have learned so much from those failures and mistakes. What we want to do is take that learning and choose not to make the same mistakes again. When you are facing fears and down and out – just remember not to compare yourself to others. Be you, be fearless and vamp it out! That's how to face everything from your day-to-day problems, to your goals and dreams.
People assume that show business is all glamour all of the time, but there are many challenges. What happens when you are working on a project where you are both acting and producing?
I say this when I coach women a lot, you can have it all, but you can't have it all at the same time. I do believe that producing, in general, is one of the hardest jobs in the world. As a producer, I have put blood, sweat and tears to create my passion projects and to continue to be an actress. I firmly believe that if I had not become a producer, I never, as an unknown actress would never have been offered the lead or supporting roles that I have been given.
Producing is, in and of itself, an 18-hour day. For example, when I found the script for "The Sinatra Club" in 2004, I developed it with a team of producers, then we shot it in 2009 and distributed it in 2011. It was seven years of my life for a $2million indie film that I thought was worthy. It takes a ton of time, energy and sacrifice. I can only speak from my own experience, but when you are working as a producer and actress, some aspect suffers.
When I think back to "iMurders", for example, we had such a strenuous schedule and hardworking team. We were working with notable veteran actors like Gabrielle Anwar, Billy Dee Williams, Charles Durning and the list goes on and on. As an executive producer, I had to be at the top of my game and I allowed the producing stress to interfere in my acting performance. It is one of the worst acting performances that I've ever given, but that's on me. I learned from it and I hope that from that point on, I did better work as an actress.
I went into future projects where I have had to really vamp it out, be fearless, step into my power as an actress and not let what was happening on set interfere with my performance. I had to clear the chatter in my mind. This happened recently with an amazing TV pilot that I was an executive producer on and one of the leads, which was "Stripped" with Casper Van Dien. It's a project that I'm very proud of that will be coming to streaming services this year.
We went through the trenches as producers on this low-budget project. It was created by Mark Clebanoff and the amazing late actor Kristoff St. John. Kristoff St. John died shortly before we began production, That gives an indication of what the cast and crew were facing emotionally. This time, the producing part suffered a little bit, but I'm so happy that I learned from my past lessons. I'm proud of myself because I didn't let what was going on behind the scenes affect my acting. The role was created for me by Clebanoff and St. John – and how many actresses can say that they have a role created for them? I'm just so proud of this project.
Just remember that you are sacrificing things at all time. You need to stand in your power, even through fear. Face it and don't let one side of acting and producing, or whatever your dream is, affect the other.
What is next for you?
I took off two years from acting and producing to create my dream wedding at the Houdini Estate. It was incredible. The irony was that I never expected to be met with opportunities so quickly afterward, but I was. After the wedding, I just dove into opportunities and I think I manifested them because I was so hungry to do what I love and act again. I've been fortunate throughout this pandemic unlike a lot of my peers and I'm so sad about that.
We are in post-production on "Stripped". Another dear friend and creator Joshua Butler came to me and we shot a proof of concept for a horror/psychological thriller called "Red Rooms" and we produced it through Philly Chick Pictures.  I followed up with him in March 2020 when the pandemic hit so that we could stay creative. We filmed an entire streaming series throughout the pandemic. We shot, had rehearsals with our actors and did every single bit of this virtually. It was a learning curve and will be released this year.
In November of 2020, I was hired to executive produce, help create and act in a project titled "The Second Age of Aquarius" with Staci Layne Wilson who also created "Psycho Therapy" for me. Darren Smith of "Repo", for all of the horror fans out there, was a co-creator on this indie film. It is filled with heart and ingenuity and I'm so proud of it. It is a comedy/sci-fi with a lot of music. I got to play Tawny Stevens, the mother to the lead, Christina Jacquelyn Calph.
I have been doing a lot of charity work and had the honour of being a judge for the New York EMMYs. I've also been chosen to be a judge for Shriekfest's 20th Anniversary – one of the biggest horror festivals in the world. I was recently selected to the Phillytainment Celebrity Hall of Fame in my hometown of Philadelphia so I'm very excited about that.
It's been hard work – and I've been staying home and staying healthy and even had to turn down work. Remember to choose people, projects, philanthropy and read an empowering online magazine like DIVINE that offers positivity. It's about choosing positive messages when we are dealing with challenges, sadness and adversity.
Who inspires you?
My two icons are Elizabeth Taylor and Mae West because these two women faced a lot of challenges – from health to men to careers. I feel like I'm connected to them in some weird Hollywood way. Mae West was my height and body type, very short and voluptuous. She was a mouthy broad back in the day who fought the boys' club and broke through the system.
So did Elizabeth Taylor who was more powerful than Hollywood gives her credit for. Look at all that she did as a philanthropist for AIDS. These are two women that I look up to and love. I look for icons that are a little bit off the beaten path that are a bit quirky in some way and are outside of the Hollywood norm but have broken through. That is who really inspires me.